QB Devin Gardner says Michigan 'will win' 2013 game vs. Ohio State
Michigan QB Devin Gardner called his 2013 Wolverines 'a championship-caliber football team' that 'will win' vs. the Buckeyes.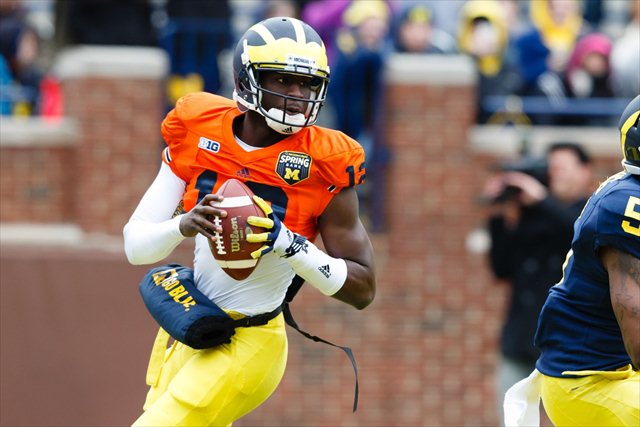 Brady Hoke has never shied away from stoking the rivalry fire between his Michigan Wolverines and Ohio State, pointedly referring to the Buckeyes as "Ohio" and refusing to wear the color red -- even when he coached a team that wore it as one of its school colors. So as a matter of principle, he wouldn't have a problem with one of his players expressing confidence when it comes to the biggest game on the Wolverines' schedule.
But it's impossible not to wonder if this is maybe too much confidence expressed by quarterback Devin Gardner. From the Detroit News on Monday, Gardner's comments on local radio about the 2013 Wolverines (emphasis added):
"We always have room for improvement, but this is definitely a championship-caliber football team that will win in the Big House against Ohio State," Gardner said. "We don't feel we're inferior to anyone in the country, and we're going to give it our all."
That's not exactly a guarantee (even if it comes close). The question from the radio host led Gardner into the response (though it asked if the Wolverines "can" win vs. Ohio State), and Hoke would absolutely say that he wants his team to privately feel every bit as confident about beating "Ohio" as Gardner is. If you're a Michigan fan, seeing your first-year starting quarterback this positive about his team's prospects -- he said he was "ecstatic" about where the team stood ahead of fall camp -- has to be a highly positive sign.
But rest assured that Gardner's comments will be tacked to every available Buckeyes bulletin board come the week of the teams' meeting (if not before), particularly given that Urban Meyer has not shied away from taking a shot at the "Team Up North" himself. Rest assured also that in the event of a Buckeyes win, no one from Columbus is going to let Gardner forget about them anytime soon. With Michigan having won just twice in the past 12 years of the rivalry, it might have been better for Gardner to let his play do the talking first.
Then again, if the Michigan-Ohio State rivalry is to return to the heights of the Bo Schembechler-Woody Hayes days -- as many fans on both sides believe Hoke and Meyer's presence will do -- no one ought to be coming into it meekly, or humbly. Gardner's bravado might not be wise, necessarily, but it is, for lack of a better word, swaggerrific -- and it's possible that trying to bring a little bit of swagger into the rivalry is what the Wolverines need to get it turned around.
SportsLine's computer model simulated every Week 12 game 10,000 times with surprising resu...

Though a marriage between the Vols and Gruden has been rumored for a while, it seems unlik...

Barrett Sallee is cashing on 67 percent of his best bets and gives 3 strong picks for Week...
The No. 16 Bulldogs will travel to Arkansas Saturday afternoon on CBS

The Owls are 7-3 overall and 6-0 in the Conference USA East division

Wisconsin has a chance to impress the College Football Playoff Selection Committee