Quick Hits: Alabama 52, Arkansas 0
Instant analysis of the Crimson Tide's rout over the Razorbacks.
Alabama Won: There was very little doubt about the Crimson Tide's dominance coming into its conference opener, and there should have been even less: On the road, against an opponent just seven days removed from a top-10 ranking, 'Bama met no resistance whatsoever en route to its most lopsided SEC win in Nick Saban's tenure.
Why Alabama Won: Alabama was Alabama: The Crimson Tide controlled every aspect of the game right from the beginning, especially along the line of scrimmage, where they opened holes for six different running backs to combine for 225 yards and six touchdowns. Playing without its starting quarterback, Tyler Wilson, Arkansas had no punch rushing or passing against the nation's best defense, and didn't help its cause by committing five turnovers – two interceptions, three fumbles – and an early special teams gaffe when the snap sailed over punter Dylan Breeding's head. Including that play, four Alabama touchdowns came as the direct result of Razorback giveaways.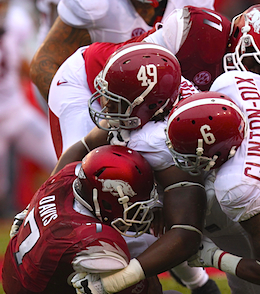 When Alabama Won: Like almost every other game the Crimson Tide will play this year, this one was more or less decided in February of 2009, 2010 and 2011, when Alabama signed the top-ranked recruiting class in the nation all three years. The talent gap shows, especially along the line of scrimmage, and it is demoralizing. Once the Tide took a 10-0 lead early in the second quarter, there were very few people in the stadium or watching or television who thought Arkansas had a chance to score twice without its starting quarterback, probably including most of Arkansas' sideline.
What Alabama Won:Another week at the top of the polls, with the deepening respect of the rest of the nation as the most unstoppable team in college football. Besides moving to 1-0 in conference play, the win was Alabama's second consecutive shutout against an SEC opponent (hello, LSU), and its third consecutive SEC game in which it held its opponent without an offensive touchdown. (Auburn scored on defense and special teams last November, but not on offense.) On Monday, there will be very few voters in either mainstream poll casting No. 1 votes for anyone else.
At which point, of course, Nick Saban will angrily remind everyone that they haven't really won anything.
What Arkansas Lost:Few teams survive an encounter with Alabama with dignity intact, and the Razorbacks' ambitions as a dark horse contender nationally or in the SEC were pretty much snuffed out in last week's inexplicable loss to Louisiana-Monroe. But this was a particularly gruesome beating, the most lopsided since the 2005 Razorbacks were crushed 70-17 by another top-ranked juggernaut, USC. The only solace is that Wilson is likely to be back in the lineup next week against Rutgers, and they won't have to face another team like this one again.
Well… at least not until LSU comes to town on Thanksgiving.
The 2021 Chick-fil-A Kickoff Game will feature Louisville and Ole Miss

The Fornelli 50 ranks teams based on nothing but their performance in 2017

Penn State better have its eyes wide open with a trip to Iowa City on deck this weekend
Ohio safety Javon Hagan has a rather unique personal tradition during games

Mississippi State has been good to Mullen, but he should be the next Bulldog to upgrade

Cowart was the No. 3 overall recruit in the 2015 class but has not panned out yet for the...