Quick Hits: Arkansas 24, Auburn 7
The Razorbacks roll on the road as Auburn's season turns into a complete disaster.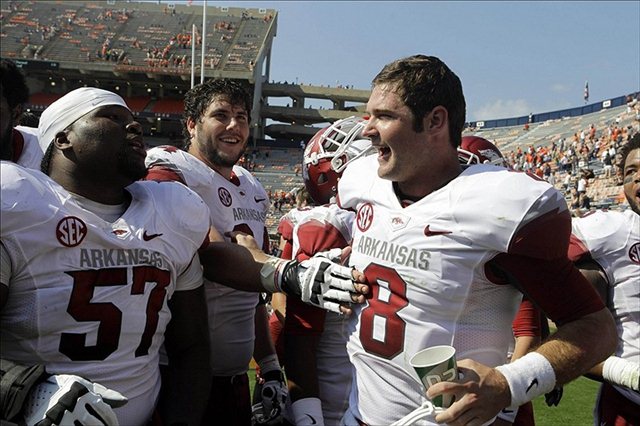 Arkansas had plenty to celebrate in Auburn on Saturday. (US Presswire)
ARKANSAS WON: It turns out there's a team in the SEC West in even worse shape than John L. Smith's Razorbacks, and that's Gene Chizik's Tigers, who progressed from disappointing to outright disaster with a non-competitive home loss to the 1-4 Hogs. The Tigers switched at halftime from struggling quarterback Kiehl Frazier to Clint Moseley, but neither made much of a difference: The Tigers turned the ball over five times and finished with a meager 321 yards against what had been one of the nation's worst defenses. Tyler Wilson enjoyed an efficient 20-of-27, 216-yard day and Dennis Johnson scored twice after taking over for Knile Davis at the starting tailback spot.
WHY ARKANSAS WON: Had he been told before the game his defense would hold the talented (if erratic, to this point) Arkansas offense to 372 yards and force a pair of turnovers, Chizik might have liked his team's chances given that the Razorbacks entered the game ranked 116th in the FBS in scoring defense at 40 points allowed per game. But as it turned out, the Auburn offense spent its bye week -- that's right, the Tigers had an extra week of preparation -- drinking even more lustfully from the River Suck than the Hog defense. Arkansas hadn't forced a turnover since the first half of its Week 2 game vs. ULM; helped by three picks from the Auburn quarterbacks, the Razorbacks forced five. Having only earned seven sacks thus far all season, the Razorbacks got their seventh against the shell-shocked Frazier/Moseley halfway through the third quarter and finished with eight. 
In short, Scot Loeffler's offense is as incompetent at this point as any in any BCS conference. The Hogs weren't world-beaters Saturday -- Wilson was more methodical than spectacular, and the Hogs secondary still had its share of breakdowns -- but until further notice, no matter how awful the SEC defense, it'll still be one that can keep Auburn comfortably in check.
WHEN ARKANSAS WON: Down 17-7 early in the fourth quarter, Auburn had actually driven near midfield when Mike Blakely fumbled -- his second crucial fumble of the season after a cough-up at the ULM 2 let the Warhawks back into that game -- and Arkansas recovered. Even if the Hogs hadn't turned around and converted it into Johnson's second touchdown, the Tigers had no chance of converting their two or three remaining possessions into the 10 points needed to tie.
WHAT ARKANSAS WON: The right to keep its dreams of a postseason berth alive, at least, and maybe even a modicum of momentum going into next week's highly winnable home game vs. Kentucky. 
WHAT AUBURN LOST: Its fourth game earlier in the season than in any year in program history. The insult to that injury: The Tigers are in serious danger of not going bowling, with four losses already and Alabama, Georgia, Texas A&M and tricky road dates at Vanderbilt and Ole Miss still to come on the schedule. Could Chizik actually be in danger of getting a pink slip? It's not likely, but if the season spirals all the way to 4-8 or 3-9, all bets will be off ... and after Saturday, there's no way to say that possibility is off the table.
Some early-season Big Ten games could shake up the national standings

Trust the Process as Tom Fornelli leads you toward his best bets in Week 4 of the season

The Crimson Tide basically have to be perfect these days ... or else
Guice is dealing with a 'minor injury' that has not been specified by coach Ed Orgeron

Professional college football bettors are loving Jim Harbaugh and Michigan against Purdue

Temple knocked off USF last year to claim the division title