Quick Hits: Baylor 41, No. 24 Oklahoma State 34
The Bears clinched their third consecutive winning season thanks to a surprisingly stout defensive performance.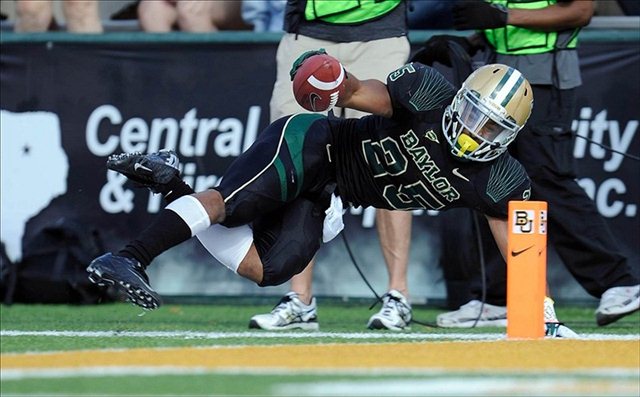 Lache Seastrunk is the best player on the field as Baylor clinches a winning season. (US Presswire)
BAYLOR WON: It wasn't just RG3. In their first season following the departure of their Heisman Trophy winner, the Bears finished 7-5 and clinched their third consecutive winning season by holding the Cowboys to just 34 points -- the sixth-lowest total for Mike Gundy's team in its past 28 games. The Bears rushed for 331 yards, 76 of them coming on a Lache Seastrunk touchdown run that pushed Baylor's lead to 41-27 with 5:11 to play. The run will go down as one of the top plays of Baylor's season after Seastrunk's quad muscle cramped on him with 35 yards to go. 
WHY BAYLOR WON: Anytime Baylor wins under Art Briles, the offense is going to deserve a healthy share of credit. Saturday was no different. The Bears finished with 623 offensive yards, quarterback Nick Florence racking up 367 of them (296 passing, 71 rushing) and Seastrunk running for another 179 of them. It was the Bears' offense that dominated the first half, scoring 31 points across its first five possessions (with the help of an Eddie Lackey pick-six) as the Cowboys scrambled for answers to the inside-outside running game featuring Seastrunk, Florence and Glasco Martin.
But in the end, it was Phil Bennett's much-maligned defense that made the critical plays as the Bears offense struggled to put the game away. (Four drives spanning the second and third quarters reached the Cowboy 17-, 24-, 6- and 5-yards lines, yielding a grand total of three points.) While the Cowboys finished with a healthy 563 yards of their own, the Bears were generally quick to tackle the Cowboy wideouts in space, harassed quarterback Clint Chelf into a series of erratic throws, and got stops when they needed them -- most notably in that same stretch between the second and third quarters when the Bear offense was amassing three points over some 30 minutes of game play.
The Cowboys' total in that same span? All of three points themselves, a failure for Oklahoma State -- and success for the Baylor defense -- that would eventually prove decisive when Seastrunk broke loose for the icing score.
WHEN BAYLOR WON: Despite Seastrunk's heroics, a Chelf touchdown pass with 1:16 to play meant Baylor had to recover an onside kick to finally seal the win.
WHAT BAYLOR WON: Even if 2012 wasn't quite as magical as the 2011 edition, winning seasons and bowl berths are nothing to sneeze at for a program that went 14 years without a winning record between 1996 and 2010 -- and beating the likes of Kansas State and the Cowboys (who had defeated the Bears 15 of the last 16 years) makes it all the sweeter. The only hitch: does it make it more likely that some bigger college football fish comes for Briles?
WHAT OKLAHOMA STATE LOST: A 7-5, 5-4 Big 12 season isn't anything for Gundy and Co. to hang their heads about given the substantial personnel losses from the 2011 Fiesta Bowl champions. But, after losing the heartbreaker to Oklahoma and the home game to Texas -- both games the Cowboys largely dominated -- there might be a nagging feeling that those seven wins weren't quite enough to really feel good about themselves.
Rhoads led Iowa State to three bowl games in seven years as head coach

The Georgia middle linebacker is one of the most valuable players in college football

Explaining my 2017 Heisman Trophy ballot and Jackson's tremendous season
Mayfield is the sixth Oklahoma player to win the Heisman since its inception

The Heisman Trophy will be presented to the best college football player this season

Army topped Navy for the second straight year in an absolute thriller in Philadelphia