Quick Hits: Kansas State 23, TCU 10
Instant analysis of the Wildcats' defensively driven win over the Horned Frogs.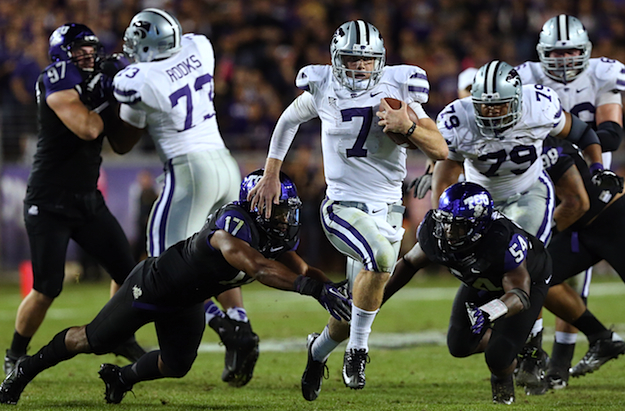 Collin Klein had a quiet night, by his usual standards, but it didn't stop K-State from running away with its tenth consecutive win. (US Presswire)
KANSAS STATE WON. After a solid week of speculation over the status of their star quarterback, Collin Klein, the Wildcats hardly needed him in Fort Worth, holding TCU out of the end zone entirely for the first 59 minutes. With that, K-State is 10-0 for only the second time in school history, and can see both the Big 12 title and the BCS Championship Game on the horizon.
HOW KANSAS STATE WON. K-State slogged through its worst game of the season offensively, by far, finishing with just 260 yards on a paltry 55 plays. But that looked almost explosive compared to TCU: Through three quarters, the Horned Frogs had punted on seven of nine possessions and crossed midfield only once, on a drive that ended with a missed field goal. They didn't get into striking distance again until well into the fourth quarter, by which point a 35-yard field goal by Jakob Oberkrom seemed purely cosmetic in the face of a 23-0 deficit. The Frogs' only touchdown came on a late, meaningless pass with 47 seconds remaining; the rest of the night belonged to the Wildcat defense.
For his part, Klein started slow, serving up an interception on his first pass of the game, and never really looked like his usual, efficient self. Still, he didn't turn the ball over again, and he did manage to break a 34-yard touchdown run on the Wildcats' first possession of the second half, extending the lead to 20-0. In this game, that qualified as insurmountable.
WHEN KANSAS STATE WON. Klein's run was the dagger, but the writing was on the wall as soon as the Wildcats moved ahead by two scores, on a 41-yard field goal by Anthony Cantele in the first quarter. Although K-State did very little on offense from that point on, TCU never threatened to cut into the advantage.
WHAT KANSAS STATE WON. One more week with a perfect record, one step closer to the promised land of the BCS title game. With Alabama's tumble from the top against Texas A&M, decimal points and "style points" are no longer relevant: If the Wildcats close out the regular season with wins over Baylor and Texas, by any margin, they're virtually guaranteed to punch their ticket to Miami.
On a slightly less dramatic note – though only slightly – K-State can also wrap up at least a share of the Big 12 title and the automatic BCS bowl bid that comes with it next week in Waco, for the first time since 2003 on both counts.
WHAT TCU LOST. The Frogs are already bowl eligible, thanks to last week's wild, double-overtime win at West Virginia, but with four losses in their last six and Texas and Oklahoma on deck to close out the regular season, their streak of seven consecutive winning seasons is in serious jeopardy. Prior to this year – its first in the Big 12 – TCU had won at least ten games in eight of the last ten seasons in Conference USA and the Mountain West, and hadn't won fewer than eight since 2004.
It looks like Jennings is slowly making his way back to the Vols after being dismissed last...

Offensive coordinator Brian Daboll's departure to the NFL has left a void at Alabama

Wilkins was considered a potential first-round pick in the NFL Draft
Brown will have two years of eligibility remaining

Chip Kelly has added some talent to his quarterback room from within the Pac-12

The 2017 season is in the books, and several big-name stars are jumping early to the NFL