Quick Hits: Mississippi State 28, Auburn 10
In a huge game for both head coaches, Dan Mullen's Bulldogs nearly ran Gene Chizik's Tigers out of the stadium.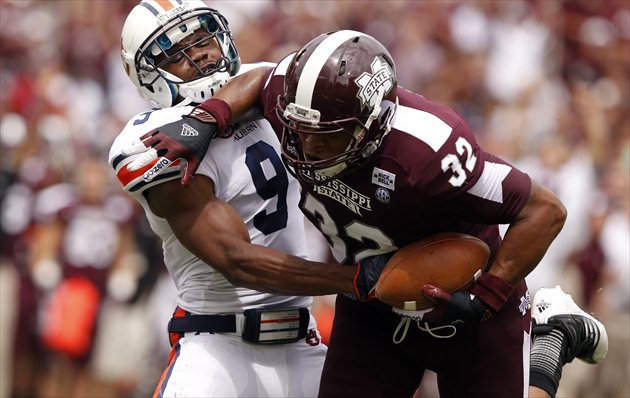 Marcus Green

and the Bulldogs were able to push Auburn around for all 60 minutes. (Getty Images)
MISSISSIPPI STATE WON: Dan Mullen can finally say he has beaten an SEC West team that isn't Ole Miss. His Bulldogs dominated Auburn from start to finish, holding the hapless Tigers offense out of the end zone entirely and watching Tyler Russell carve open the visitors' secondary to the tune of 20-of-29 passing, 224 yards, three touchdowns and no interceptions. If not for some special-teams mishaps -- a pair of missed field goals and a 100-yard kickoff return for a touchdown allowed to Onterio McCalebb -- Mississippi State would have run Gene Chizik's team clear out of Starkville.
WHY  MISSISSIPPI STATE  WON: There are a lot of reasons a team that won the turnover battle 5-1 and outgained its opponent 389-222 (with most of that Auburn yardage coming in garbage time, no less) earned the victory. But nowhere was the Bulldogs' advantage greater than at quarterback. Tyler Russell suddenly looks like the cool, confident customer that Mullen has been searching for at quarterback for years. Russell's numbers were nice, but even they don't do justice to how in command he was of the State offense --making reads, delivering throws (one 17-yard out thrown on the run late in the first half was NFL-caliber), and generally looking the part of the kind of quarterback that State can win games even bigger than this one with.
Meanwhile, Kiehl Frazier's second start for Auburn was a dramatic regression from his competent (if hardly spectacular) debut vs. Clemson. Frazier appeared utterly dumbfounded by the State secondary's ability to lock in on preferred targets Emory Blake and Phillip Lutzenkirchen, repeatedly throwing into coverage, scrambling aimlessly and looking every bit as discombobulated as Russell did composed. The sophomore finished the first half with more hideous interceptions (2) than completions (1) and an amazing minus-2 yards passing. Things didn't get a lot better for Frazier in the second half. Unless they get a lot better as the season progresses -- with Clint Moseley's shoulder injury likely too severe for him to see any action and true freshman Jonathan Wallace the only other option -- Auburn could be headed for a postseason at home. It was that bad.
WHEN MISSISSIPPI STATE WON: Frazier's third interception -- an awful, telegraphed throw in Blake's direction that Darius Slay gratefully picked to end a rare Auburn foray into the State red zone -- came with 9:08 to play and Auburn already trailing 28-10. Whatever tiny doubt remained in the outcome ended at that point.
WHAT MISSISSIPPI STATE WON: In addition to getting the "no SEC West wins over anyone but the Rebels" monkey off Mullen's back, the defensive lockdown put on by the Bulldogs defense earned them the right to call themselves legitimate division spoilers. They might not have stamped themselves as Mullen's best team just yet, but they sure looked the part Saturday. 
WHAT AUBURN LOST: Was this the worst loss of Gene Chizik's tenure? Given that the Tigers weren't even competitive against a program they had beaten 10 out of 11 years, in Chizik's fourth season, in a season in which they were touted as making huge improvements over the previous year, the answer is unquestionably yes. On the basis of their performance in Starkville, the Tigers will have to hustle just to make a bowl.
Here are the early lines for big Week 5 games from Vegas

Georgia jumped four spots to No. 8, while Florida State dropped 14 spots to No. 25

Louisville and TCU get big-time bumps after conference rivals fell on Saturday
The Bulldogs jumped up to No. 7 after an emphatic win over Mississippi State

The Penn State running back made a case that he's a legit Heisman Trophy contender

The Nittany Lions came up huge when they needed to against Iowa