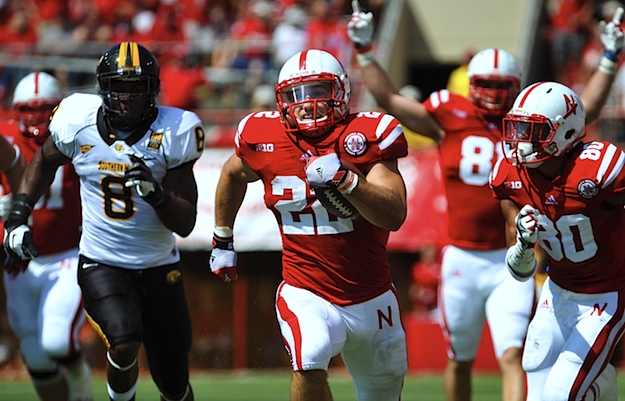 Nebraska won. Everybody knows Nebraska is all about running the ball, and that junior quarterback Taylor Martinez is much more comfortable relying on his legs than his arm. At least, that's what we thought based on previous returns. After today's season opener, it's clear that either a) Southern Miss' secondary is composed of a highly flammable polyurethane blend, or b) Martinez has made significant strides as a passer.
Why Nebraska won. To just about anyone who'd watched him the last two years, Martinez's stated goal of completing 70 percent of his passes this fall seemed like a pipe dream, to say the least, for a guy who hadn't even completed 60 percent in 2010 or 2011. But not only did Martinez hit his number today: He obliterated it, connecting on 26 of 34 passes (76 percent) for a 349 yards and five touchdowns, both career highs. His pass efficiency rating, 211.2, was a career-best when attempting more than 10 passes. In all, eleven different 'Husker receivers caught at least one pass, including a different receiver on all five touchdowns.
Ironically, Martinez – heretofore considered a glorified tailback who throws mainly out of necessity – didn't contribute in any meaningful way to a 273-yard afternoon on the ground, finishing with zero yards on five carries. After the first quarter, neither did All-Big Ten tailback Rex Burkhead, who left the game with an MCL strain after breaking a 57-yard touchdown run on his second carry of the season. Instead, the honors went to sophomore Ameer Abdullah (15 carries, 81 yards) and true freshman Imani Cross (11 for 62), who were more than adequate against an overwhelmed Southern Miss defense.
When Nebraska won. Up 28-17 midway through the third quarter, Martinez found Kyler Reed open for an 18-yard touchdown pass – his fourth of the afternoon – to extend the lead to a comfortable 35-17. From there, Braylon Heard slammed the door on Nebraska's next possession with a 10-yard scoring run right down Southern Miss' throats.
What Nebraska won. There's no way to compare the Golden Eagles' defense to the upper crust of the Big Ten, but it is not chopped liver, and the prospect of actual balancecould fundamentally change the way defenses prepare for and defend the Cornhusker attack. No point in getting carried away, but for that reason alone Nebraska fans should feel a little bit better about their prospects of competing in the conference than they did before kickoff.
Of course, that changes if Burkhead's injury turns out to be the type that keeps him out for any extended period of time. His status remains TBD.
What Southern Miss lost. The top two quarterbacks, junior Chris Campbell and true freshman Anthony Alford, both showed flashes, but ultimately Southern Miss' offense found the end zone only once (the Eagles' other touchdown came on a 100-yard kick return by Tracey Lampley), which was almost as disconcerting as the torching of the defense. USM only managed one play, a 24-yard touchdown pass from Campbell to Dominique Sullivan in the second quarter, that covered more than 20 yards.