Quick Hits: No. 1 Alabama 21, No. 5 LSU 17
Alabama puts together one fateful drive to punish Les Miles for his mistakes.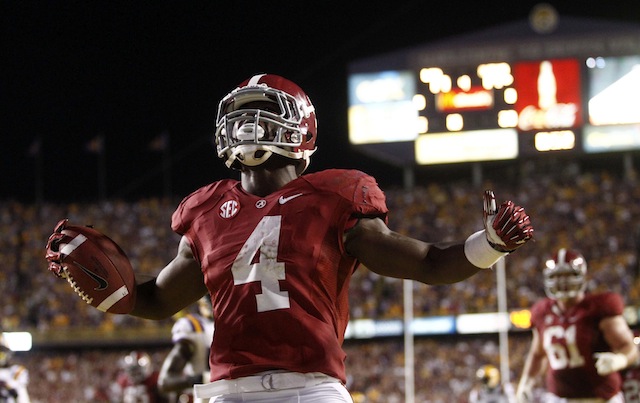 T.J. Yeldon's name went into Alabama history with his game-winning touchdown. (US Presswire)
ALABAMA WON.  Outgained, outplayed, down 17-14 with barely more than 90 seconds to play, their offense having done next-to-nothing all second half, in the most hostile atmosphere college football has to offer, the Tide had no business winning ... and they won anyway. AJ McCarron guided the Alabama offense 72 yards in 5 plays, the final 28 of them coming on a screen pass to T.J. Yeldon that immediately goes down as the call of the year and one of the classic plays in Tide and Tigers history.
Zach Mettenberger was brilliant in defeat, hitting 24-of-35 for an incredible 298 yards, a touchdown, and no interceptions against the nation's No. 1 defense. His performance gave the Tigers a 435-328 advantage in total yardage and could have (and maybe should have) won the game, but major issues for LSU in Tide territory -- a failed fake field goal, two field goal misses, and a failed 4th-and-1 -- kept Alabama alive just long enough for the mindblowing finish.
WHY ALABAMA WON. Because Les Miles just kept rolling the dice ... until the exact moment he should have, leaving his team to come up snake eyes all the same. Miles was his usual riverboat gambling self all game, dialing up not only the fake field goal in the first half but an onsides kick after cutting the Alabama lead to 14-10 in the third. Then came the decision to go for it on 4th-and-1 at the Tide 24 and 8:42 to play. Though Drew Alleman is no sure thing at that distance, points in a game like this one are precious, and the play called -- a "quarterback" sneak with tailback Spencer Ware -- never had a chance vs. the loaded Tide front.
Did going 0-for-3 on those gambles scare Miles out of going for it when he should have? With under 2 minutes to play, and facing 4th-and-6 at the Tide 28, Miles sent Alleman out to try a career-long 45-yarder when a touchdown would lose him the game either way. Meanwhile, Mettenberger had been absolute money all second half and had burned the Tide over and over and over on third down--and a first dowbn there, with Alabama out of timeouts, would have ended the game. That gamble was the smart one, but Miles played it "safe" with his overmatched kicker anyway.
By now, you know how the story ended, a story that's going to haunt Miles, his Tigers, and anyone who bleeds purple-and-gold for years to come. Alabama won the game -- full credit is due McCarron and Co. for their epic final drive, to offensive coordinator Doug Nussmaier for the perfect screen pass call to Yeldon, and to the Tide defense for doing just enough to keep the game in hand -- but LSU lost it, too, and Miles's game decisions had more to do with that loss than anything else.
WHEN ALABAMA WON. The way Mettenberger was throwing the ball, 53 seconds seemed enough time for the Tigers to at least get into position for a Hail Mary. But Mettenberger instead checked down to Jeremy Hill on consecutive plays, and after Hill was tackled inbounds both times, the Tigers' final snap was a hopeless sack deep in their own territory.
WHAT ALABAMA WON. 
For starters, the season finale at Auburn means the Tide really only have one possible SEC loss remaining--and with LSU and Texas A&M with two losses already, Alabama is now all-but-officially on its way to Atlanta. But of course the Tide have their sights set higher than just division titles, and they're also now one victory -- over the Aggies at home next week -- from being able to cruise towards that date with Georgia (
yes, it's going to be Georgia
) with an undefeated regular season. A road game at Baton Rouge was without question the highest hurdle remaining for Alabama before the SEC Championship game and arguably an even higher one than that ... and as difficult as it was, it's now in their rearview mirror.
WHAT LSU LOST. Though LSU may still finish 10-2 and go to a top-tier bowl game, this Tiger season will be defined -- fairly or not -- by what happened Saturday. For a few glorious minutes, the Tigers had everything, or awfully close to it: the win over Alabama, their revenge for January, the SEC West championship, their biggest victory given the teams' recent history since winning the national title in 2007. They'd deserved it. It was all right there. And then in those 43 seconds that it took Alabama to drive those 72 fateful yards, all of it was snatched away. 
Like all sports, college football can be cruel. It's never crueler than it was to LSU in Death Valley Saturday.
#TrustTheProcess as Tom Fornelli offers his best bets for the first week of bowl action

Saban isn't going to win Alabama's special election, but the Crimson Tide coach got some l...

The Sooners' quarterback and Badgers' rusher stood out among their peers this season
Clark led UAB to an 8-4 overall record, 6-2 in conference this season

SportsLine simulated every bowl game 10,000 times for pick'em leagues and confidence pools

The Tigers are going worldwide for their next punter