Quick Hits: No. 10 Florida 14, No. 4 LSU 6
LSU's problems in the ground game became a full-blown crisis vs. Florida, with the final score the result.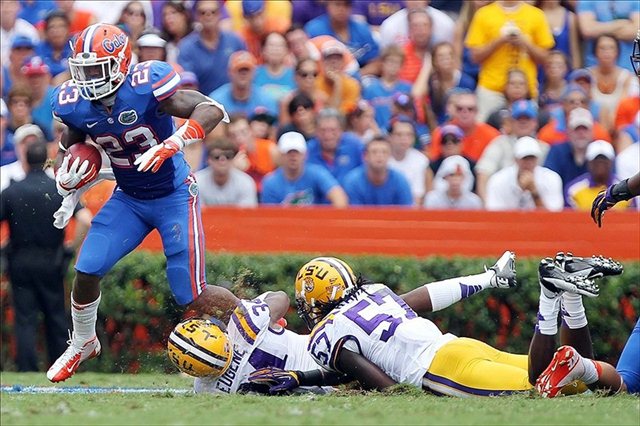 LSU had plenty of issues in trying to corral Mike Gillislee. (US Presswire)
FLORIDA WON:  The Gators announced themselves as full-blown national title contenders and sent LSU tumbling from the ranks of the unbeaten with a victory that felt more comprehensive than the final score. Behind 146 yards and two touchdowns on 34 mansome carries from Mike Gillislee, Florida dominated the ground game on both sides of the ball, and without any push up front another erratic game from Zach Mettenberger meant the Tigers offense struggled through all four quarters. It finished with just 203 total yards, eight first downs, and zero second-half points.
WHY FLORIDA WON: Because once again, when it came down to a winner-take-all second half, the Gators did to LSU what they did to Texas A&M and Tennessee -- man up, hand the ball to Gillislee and Jeff Driskel behind their veteran line, and dare the opponent to stop them. And though the Tigers came into the game with far more of a defensive reputation (particularly along the defensive line) than either the Vols or Aggies, the result was the same. Nowhere was that clearer than on the 11-play, 77-yard touchdown drive extending the Gators' tenuous 7-6 lead to 14-6 early in the fourth quarter -- a drive on which the Gators ran on all 11 plays, repeatedly opening gaping holes for Gillislee and Mack Brown and eventually giving Gillislee an untouched 12-yard scoring run. How committed were the Gators to the run? Their final 24 offensive snaps were running plays, a stretch that included both touchdowns and the game-icing first downs.
After LSU was outrushed by Towson by a narrow margin last week, Les Miles' biggest fear had to be a far more substantial rushing deficit vs. the Gators -- and at 191 yards to 42 (and a miniscule 1.7 yards per-carry average for the Tigers), those worst fears were realized. Miles' team can get back into the national championship discussion with a win over Alabama later this season, but it's going to take a dramatic improvement in both running and stopping the run to make that happen.
WHEN FLORIDA WON: After converting one fourth down late in the fourth quarter, Miles passed on trying a second one on fourth-and-15 from his 30. But with one first down meaning the Tigers would need a miracle and a second basically icing the game, Driskel wriggled free on third down for one, and an LSU facemask on the next play provided the second. By the time LSU got the ball back, 9 seconds were remaining, and it was all over save for the desperation hook-and-ladder and the shouting.
WHAT FLORIDA WON: Let's count it up: 1. the biggest game of Will Muschamp's tenure; 2. a place solidly within the polls' Top 10 and possibly top six or seven if voters look at their best-in-the-country list of victims; 3. a place alongside the Georgia-South Carolina winner as co-favorites to win the SEC East; 4. a firm place within the national championship conversation, even with the Gamecocks, Bulldogs, and Florida State Seminoles still to come. 
WHAT LSU LOST:  Any and all margin for error where their championship goals are concerned. One more loss, and the Tigers will not repeat as SEC or SEC West titlists, and will have no chance at redemption from their BCS title pratfall last January. 
The Tigers are going worldwide for their next punter

Led by Heisman Trophy winner Baker Mayfield, the Big 12 finished with seven first-team sel...

Schiano would have made $4.4 million in Year 1 with annual raises as part of a six-year de...
Dykes spent this season as an offensive analyst at TCU

The 'Wyoming Wild Man' notched six tackles for loss as a junior in 2017

Zaycoven Henderson was charged with aggravated assault with a deadly weapon