Quick Hits: No. 12 South Carolina 38, Arkansas 20
South Carolina was simply better all-around against Arkansas.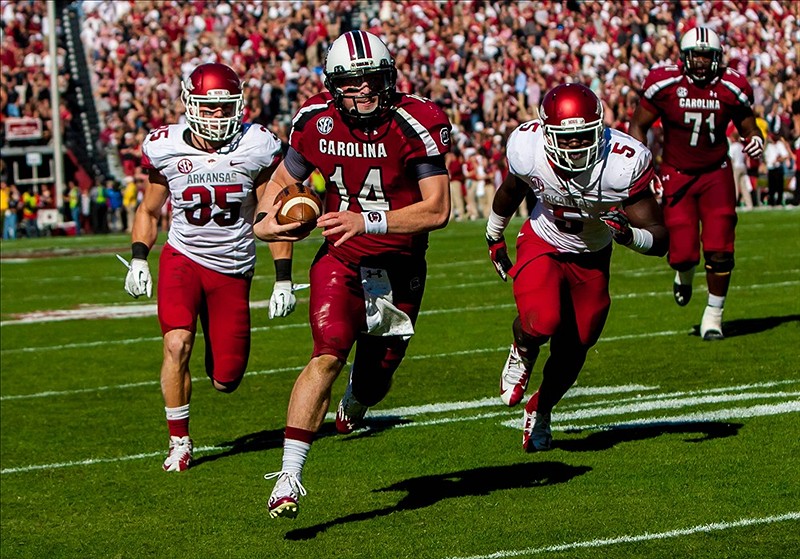 Connor Shaw had another easy game vs. the Arkansas secondary. (US Presswire)
SOUTH CAROLINA WON. The Gamecocks have been all but bulletproof at home since Connor Shaw took over as quarterback in the middle of the 2011 season, and to extend the metaphor, no one's going to accuse the sloppy current iteration of the Razorbacks of packing armor-piercing bullets. Shaw finished a hyper-effiicient 14 of 22 for 272 yards and two touchdowns and led the Gamecocks to five consecutive scoring drives spanning the second and third quarters -- drives aided by a D.J. Swearinger pick-six -- to turn a four-point lead into a 38-13 rout.
WHY SOUTH CAROLINA WON: Is it boring to say "because the Gamecocks are the better team in every conceivable facet of the game"? No one expected the Razorbacks to have an advantage in certain areas, of course. There's no one in the Hog front seven with anything like the explosiveness of Jadeveon Clowney, who continued cementing his argument for All-America status with a monstrous, unstoppable day; Arkansas' injury-hampered secondary has been flammable all season, and again left Gamecocks receivers embarrassingly open on a regular basis; and with red-zone offense a problem all season for the Hogs, against the stout Gamecocks defensive line (featuring tackle Kelcy Quarles, back from injury and looking no worse for wear) it's no shock Arkansas twice settled for field goals -- the second in the third quarter with the game already threatening to slip away -- after driving inside the Carolina 10.
But Arkansas might have hoped Tyler Wilson and Dennis Johnson could at least hold their own head-to-head against Shaw and the tailback-by-committee that's replaced Marcus Lattimore. No such luck. Johnson fumbled inside the 10 reaching for a first down, foiling yet another red-zone possession; Wilson was erratic throughout and threw the back-breaking interception to Swearinger that took the game from "within reach" to "blowout." The final score wasn't an accurate assessment of the comprehensiveness of the Gamecocks' victory.
WHEN SOUTH CAROLINA WON: We mentioned the Swearinger pick-six, right? Down 24-10, Arkansas had just moved across midfield with 11 minutes left and its sights set on making it a one-score game. Swearinger put an end to that, snatching Wilson's worst pass of the day and taking it back 69 yards for the score. Even with 25 minutes to play, the chances of the Hogs overturning a 21-point deficit were basically nil.
WHAT SOUTH CAROLINA WON: The Gamecocks will continue ruing their losses at LSU and Florida (and the SEC's schedule-maker) that will have kept them from the SEC East title, but 10-win seasons still aren't anything to sneeze at in Columbia, and with Wofford up next week, Steve Spurrier is one win at Clemson from his third in a row.
WHAT ARKANSAS LOST: At 4-6 and with games at Mississippi State and LSU still to come, Saturday's game versus an opponent it has completely owned in recent seasons may have been its final chance at a bowl game in 2012.  
The movie will zero in on former Penn State coach Joe Paterno during the Jerry Sandusky sc...

Bidding for Salaam's trophy, which the auction house says was obtained legally, ends Satur...

Locksley has been the offensive coordinator at Illinois and Maryland during his coaching c...
Many NFL-eligible juniors ignore advice provided by the league and risk going undrafted each...

Snyder died in Manhattan, Kansas, on Wednesday

Locksley joined Alabama's staff in 2016