Quick Hits: No. 13 Oklahoma 50, West Virginia 49
Oklahoma survives an outrageous night from Tavon Austin to come away with a win in Morgantown.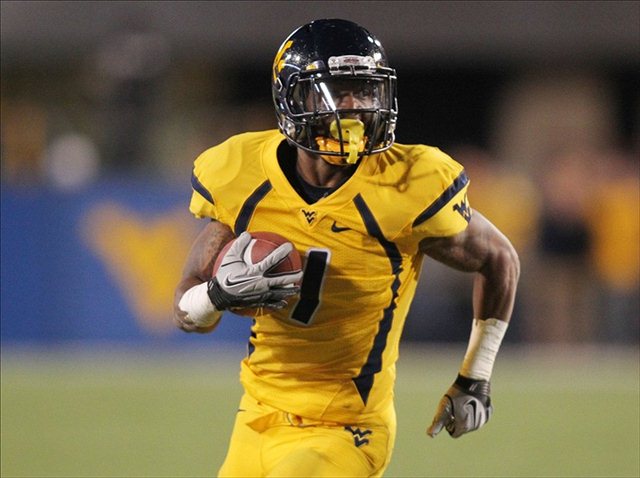 Tavon Austin had the game of his career Saturday, even in defeat. (US Presswire)
OKLAHOMA WON. The Sooners gave up a school record 777 yards -- an astonishing 426 of them to Tavon Austin alone -- and still came out of Morgantown with the victory, thanks to a massive game for the now-somewhat-overlooked Landry Jones. The senior threw for 554 yards and six touchdowns, the last of them a fourth-down conversion to Kenny Stills -- the pair's fourth touchdown hookup of the night -- with only 24 seconds to play and the Sooners down five.
Still, the first memory many will have of this game is Austin's phenomenal performance: 344 yards rushing on 21 carries, 82 receiving on 4 receptions, and 146 on kickoff returns for a grand total of 572 all-purpose yards.
WHY OKLAHOMA WON. In a broader sense, it's because West Virginia's defense still just doesn't have a clue when it comes to stopping big plays--not only did Jones strafe the Mountaineer secondary from the get-go, not only did Damien Williams break free for a 48-yard rushing touchdown in the first half, but it never really got any better. With the 'Eers up 49-44 in the closing seconds, Jones once again found Justin Brown for 36 yards to take the Sooners from the WVU 48 and hurry-up near-desperation mode to the WVU 12 and the winning touchdown firmly within reach.
But of course, the Mountaineers had plenty of big plays of their own, which means that in a truly tennis-style "break serve" kind of game, things were ultimately decided by which team could avoid missing out on a viable scoring opportunity. Three times in the second half, Oklahoma entered the WVU red zone; they scored three touchdowns, including the game-winner on 4th-and-3 from the 5.. The Mountaineers, meanwhile, had a 4th-and-1 on the Oklahoma 12 in the third quarter; Andrew Buie was stuffed, prompting this highly animated reaction from Dana Holgorsen.
In the end, just that contrast -- oh, and Tyler Bitancurt's missed extra point -- was enough to give the Sooners the win.
WHEN OKLAHOMA WON. Not until Geno Smith's Hail Mary from midfield was knocked down on the game's final play.
WHAT OKLAHOMA WON. The Sooners are suddenly in the thick of the Big 12 race again, needing just wins over Oklahoma State and TCU with a Kansas State loss to Texas to claim yet another conference championship. Another 10-win season is still very much alive as well. Not bad for a team left for dead where major prizes were concerned after the loss to Notre Dame.
WHAT WEST VIRGINIA LOST.  A fifth straight game, meaning a season that saw the Mountaineers rise into the national top 5 just a few short weeks ago needs a win over either Iowa State or Kansas -- thank goodness for Kansas -- just to finish in a bowl game. The streak is their first five-game skid since 1986.
Barrett Sallee is cashing on 67 percent of his best bets and gives 3 strong picks for Week...

The No. 16 Bulldogs will travel to Arkansas Saturday afternoon on CBS

The Owls are 7-3 overall and 6-0 in the Conference USA East division
Wisconsin has another chance to impress the committee

With the College Football Playoff in its sights, can the Bulldogs get back on track?

The Fighting Irish need a bounce back game in the worst way after losing to Miami