Quick Hits: No. 15 Texas A&M 29, No. 1 Alabama 24
Texas A&M shocks the nation's No. 1 team with an incredible performance from Johnny Manziel.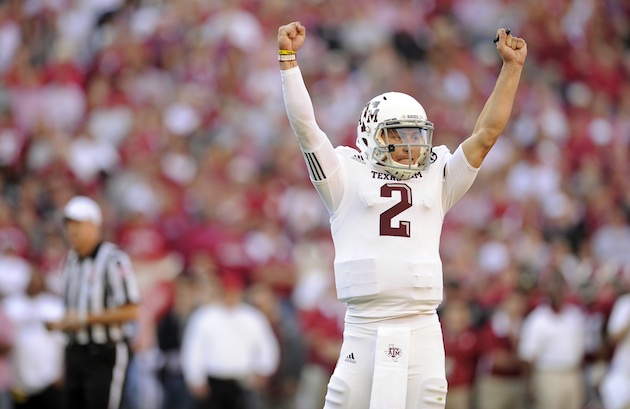 Even Alabama couldn't stop the incredible Johnny Manziel. (US Presswire)
TEXAS A&M WON. The Big 12 team they said couldn't compete in the SEC has slain the conference's biggest dragon of all. Johnny Manziel put together maybe the biggest, best performance in college football this season, completing 24-of-31 passes for 253 yards and two touchdowns, rushing for 91 yards, committing no turnovers, and throwing the perfectly-arced fade to Malcome Kennedy with 8:37 left to give A&M the winning margin. AJ McCarron hit Amari Cooper for a 54-yard score on Alabama's next possession to pull the BCS No. 1 back within a score, but on the Tide's final drive the junior quarterback -- who had entered the game without an interception in 290 consecutive passes -- was picked off for the second time, on a poorly thrown out route on fourth-and-goal from the 2.
Alabama jumped offside on fourth-and-2 on A&M's ensuing possession, allowing the Aggies to run out the clock -- and possibly end the SEC's reign over the BCS championship. 
WHY TEXAS A&M WON: Because Manziel is just that good. The redshirt freshman seemed to wear down and lose his focus in his previous efforts against the top-notch SEC defenses of Florida and LSU, unable to stop the bleeding as the Aggies lost 10- and 12-point first-half leads, respectively.
Manziel once again came out with guns blazing, baffling the Tide with both his arm and his ridiculous ball skills -- most visible on his fumble/pluck ball back down out of the air/fire touchdown sequence (see below) for a 20-0 lead. But it looked like the same old Aggies as the Tide reeled off 17 in a row. But that's when Manziel flashed the arm that's made him so much more than just another dual-threat quarterback, hitting Ryan Swope with a series of pinpoint downfield passes and Mike Evans with precise shorter gains to hand the momentum back to A&M ... and with the touchdown pass to Kennedy, ultimately seal the game.
Consider: this came not just against the nation's No. 1 defense but at Alabama, in a thunderous Bryant-Denny Stadium atmosphere and with the pressure of toppling the nation's No. 1 team on his shoulders. McCarron has garnered plenty of Heisman buzz after his last-gasp drive against LSU, but only one quarterback on the field in Tuscaloosa was truly worth mentioning in the same sentence with that award -- and because that player plays for A&M, they won the game.
WHEN TEXAS A&M WON: For all of Manziel's brillance, the biggest series of the game belonged to the A&M defense, which after Alabama's first-and-goal 1. forced McCarron to scramble for nothing. 2. swallowed up Eddie Lacy for a gain of 1. 3. corralled McCarron after a mazy scramble that set up the fateful fourth-and-goal. 4. got the interception from DeShazor Everett to all but seal the game. For all the talk surrounding Alabama's defense, the Tide offense is hardly a slouch -- it came into the game averaging more yards per play than all but eight other FBS teams. Holding the Tide to 24 points in Tuscaloosa is a smashing success for Kevin Sumlin and defensive coordinator Mark Snyder. 
WHAT TEXAS A&M WON: The Aggies remain technically alive for the SEC West title (Alabama would have to lose to Auburn, though, so no breath-holding), but the biggest reward for beating Alabama will simply be beating Alabama. A win like that one has seemed to elude the Aggies for a long, long, long time, and for Sumlin to come away with one in his very first season unquestionably stamps A&M -- in coaching, in poise, in the recruiting fallout -- as a program positioned to challenge in the division for a long time to come.
WHAT ALABAMA LOST: The Tide isn't out of the national championship race yet -- Kansas State still has TCU and a resurgent Texas to deal with, Notre Dame still must survive USC, and even seemingly invulnerable Oregon still could face the Trojans again in the Pac-12 title game. But Alabama no longer controls its own destiny, and after giving up 400 yards of offense for two consecutive weeks, it's questionable whether the Tide was ever quite that good to begin with. The SEC West is still all but a certainty, the SEC championship still a likelihood, another BCS bowl game a virtual lock. But what Alabama really wanted out of this season -- another crystal football -- likely slipped out of its grasp Saturday.
THAT WAS CRAZY: Johnny Manziel, folks:
Professional college football bettors are loving Jim Harbaugh and Michigan against Purdue

Temple knocked off USF last year to claim the division title

Guice is dealing with a 'minor injury' which has not been specified by coach Ed Orgeron
These are the best bets to make in Week 4 including Florida-Kentucky and Oklahoma State-TC...

Two players died as a result of playing college football on Saturday

Gary Danielson previews this week's SEC on CBS Game of the Week from Nashville