Quick Hits: No. 16 Texas A&M 38, No. 17 Mississippi State 13
It was all Aggies in Starkville.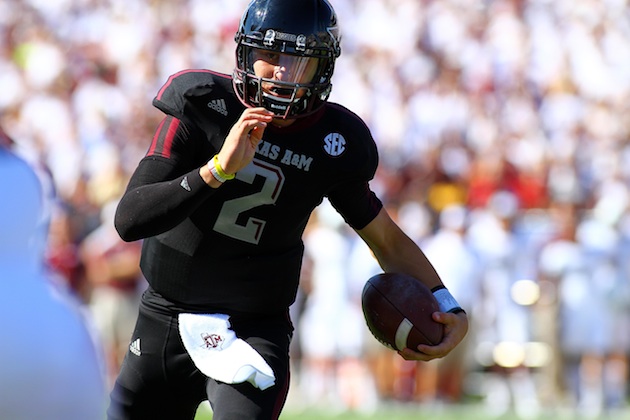 Johnny Manziel had another massive game in another Aggie rout. (US Presswire)
TEXAS A&M WON. Anyone still think the Aggies don't belong in the SEC? For the second straight week, Kevin Sumlin's team went on the road and flat-out mauled one of their new SEC West rivals, throttling Tyler Russell on defense and doing whatever they wanted on offense en route to a 24-0 halftime lead. Despite State's defensive pedigree, Johnny Manziel was free to do Johnny Manziel things all game long, finishing a ridiculous 30-of-36 for 311 passing yards and adding 129 more yards (and two touchdowns) on the ground.
WHY TEXAS A&M WON. Though A&M's coaching staff is in its first season in College Station while Dan Mullen's is in its fourth in Starkville, it was the Aggies who appeared comfortable, confident and fluid in their offense. Mullen arrived at State with a reputation as a spread-option offense guru from his years at Florida under Urban Meyer, and there were times in his first two seasons when the Bulldogs lived up to that billing. But the 2011 edition never seemed to find its identity, and similar problems reared their ugly heads Saturday as Russell struggled to make any impact and the running game came and went. While his final numbers weren't awful -- 19-of-30, 212 yards, 1 touchdown, 1 interception -- Russell failed to deal with some early A&M pressure, never got into rhythm and seemed tentative when Mullen's offense asked him to run.
The truth is Mullen's offense works best with a quarterback who beats defenses with his legs as much as his arm. Russell's just not that player -- meaning that, unlike A&M's attack (which couldn't fit Manziel any better if Manziel had drawn it up himself), there's not one thing that State really does well. Result: no points with the game in doubt and only 13 total against an Aggie defense that hasn't quite been the '85 Bears away from College Station.
WHEN TEXAS A&M WON. A&M's final possession of the first half -- a 10-play, 83-yard march taking 3:46 off the clock -- didn't end in a touchdown; Taylor Bertolet's short field goal put the Aggies up 24-0. But it proved that even after the Aggies' early blitzkrieg, State had no answers for Manziel and Co., and that A&M would be able to score whenever it wanted to if the game ever got close.
WHAT TEXAS A&M WON. The Aggies dispelled any and all doubts that their runaway wins over Arkansas and Auburn were flukes. They appear to be on their way towards a nine-win debut for Sumlin ...  and possibly a legitimate challenge for Alabama next week in a possible letdown situation for the Tide.
WHAT MISSISSIPPI STATE LOST. The Bulldogs' early-season victory over Auburn finally got the "can't beat anyone that matters in the SEC West" monkey off of Dan Mullen's back. But Auburn's unraveling and now a home loss to the division's newcomer that wasn't even as close as the final score might have put that monkey right back where it was.  
The Alabama QB has a new look after the Tide claimed another national title

Young was injured during Miami's Orange Bowl loss to Wisconsin

The movie will zero in on former Penn State coach Joe Paterno during the Jerry Sandusky sc...
Bidding for Salaam's trophy, which the auction house says was obtained legally, ends Satur...

Locksley has been the offensive coordinator at Illinois and Maryland during his coaching c...

Many NFL-eligible juniors ignore advice provided by the league and risk going undrafted each...