Quick Hits: No. 18 Texas Tech 56, TCU 53, 3 OT
Texas Tech continued its bounce-back season with a thrilling overtime win at TCU.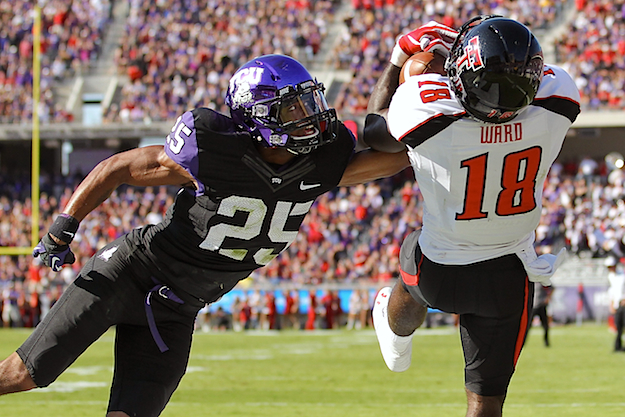 Eric Ward and the Red Raiders did just enough to get out of Fort Worth with a win. (US Presswire)
Texas Tech Won. The Red Raiders blew a 10-point lead in the final three minutes of regulation but managed one more touchdown than TCU in the third overtime to keep their long-shot Big 12 title hopes alive. For coach Tommy Tuberville, his team's second consecutive win over a ranked conference rival – this time on the road – is another thumb in the eye of skeptics.
Why Texas Tech Won: After torching West Virginia for six touchdowns in last week's upset in Lubbock, Red Raiders quarterback Seth Doege burned the Horned Frogs for seven touchdown passes – four in regulation, three in overtime – to four separate receivers. More importantly, the Raiders were turnover-free for the first time this season: Despite being significantly outgained overall, 516 yards to 388, Tech's defense intercepted TCU quarterback Trevone Boykin twice and forced the Horned Frogs to settle for field goals on six separate trips inside the Raiders 30-yard line.
When Texas Tech Won: It looked like it was all over but the shouting with 4:06 remaining in the fourth quarter when Tech tailback Kenny Williams broke free for a 47-yard touchdown run that extended the Raiders lead to 10 points, 36-26, with very little time for TCU to answer. Instead, the Horned Frogs responded with a quick touchdown drive, a quick defensive stop, and another efficient march to tie, sending the game into an extra session on a 42-yard field goal by freshman Jaden Oberkrom with 18 seconds to go.
In overtime, both sides traded touchdowns for the first two frames, including a tricky reverse pass from Doege to Jakeem Grant that caught the Frogs napping on the first play of the second OT. It wasn't until the Tech defense forced a field goal in the third session, though, that the Raiders finally had another opportunity to put the game away, and took it on a clinching, 8-yard strike from Doege to Alex Torres.
What Texas Tech Won: At 3-1 in conference play, the Raiders remain in the thick of the Big 12 race with impressive wins over two ranked teams, West Virginia and TCU, already in their pocket and dates with Kansas State and Texas on deck. At 6-1 overall, the Raiders are also bowl-eligible, which should officially end any lingering speculation about Tuberville's job status.
What TCU Lost: The Frogs' second Big 12 loss in three weeks effectively eliminates them from the conference race, and that's against the part of the schedule that was supposed to be gravy: From here on out, TCU's last five games are against Oklahoma State, West Virginia, Kansas State, Texas and Oklahoma. Suddenly, an outfit that won at least 11 games in each of its last four seasons in the Mountain West can't even take a bowl game for granted.
That Was Crazy: The temperature in Fort Worth was well over 80 degrees, but that's just how much this guy loves his Frogs:
Maybe I'm wrong, but in my mind, that's pretty much the last person you want to be seated next to when his team loses a nail-biter.
The Irish will wear them on Nov. 18 against Navy

The fourth-year coach of the Nittany Lions led the program to the 2016 Big Ten Championshi...

Yes, you read that right: The Bad Boy Mowers Gasparilla Bowl will be held in St. Petersbur...
James, who missed the 2016 season but has bounced back healthy, may be indestructible

Wakeyleaks appeared to be a one-off incident, but it goes down more often than you might t...

A look at the first conference power rankings of the 2017 college football season