Quick Hits: No. 19 Mississippi State 41, Tennessee 31
The Bulldogs get a huge night from Tyler Russell and keep Tyler Bray in check on their way to a 6-0 record.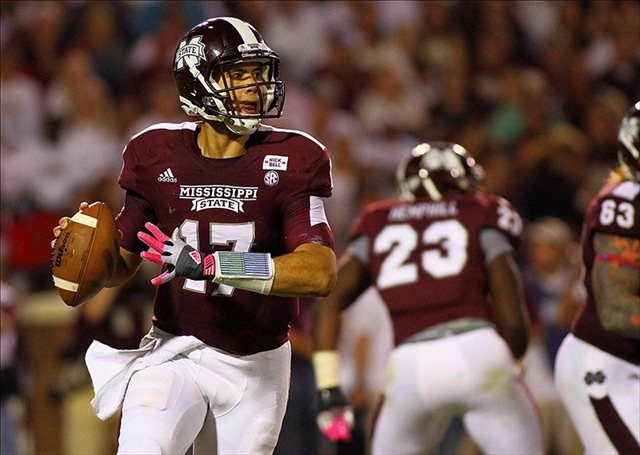 Tyler Russell had the best game of his Bulldog career to beat Tennessee. (US Presswire)
MISSISSIPPI STATE WON. In a battle of two teams from the SEC's middle-class that started 2012 with designs on being upwardly mobile, it was the Bulldogs who made the plays that mattered--and who look to be on the verge of giving their coach a breakthrough campaign. The Bulldogs' Tyler Russell outplayed the more-celebrated quarterbacking Tyler on the other sideline, hitting 23-of-37 for 291 yards and two touchdowns while Bray hit 13-of-24 for only 148 yards and threw the game's only interception. But the key play was delivered by State corner Johnthan Banks, whose fourth-quarter strip of the Vols' Devrin Young (and subsequent fumble recovery) stalled a Tennessee rally and set up a critical Bulldog touchdown.
WHY MISSISSIPPI STATE WON. With Banks, safety Nickoe Whitley, and several other SEC-caliber defensive backs, State came into the season with a reputation as the best SEC secondary not located in Tuscaloosa or Baton Rouge ... and maybe even one as good as the ones there. 
They lived up to that billing and then some against the Vols, seemingly rattling the vol receivers -- Justin Hunter badly alligator-armed a key failed third-down conversion in the third quarter -- and limiting Bray to mostly underneath throws. Though the Vol running game continued its surprising 2012 renaissance with 206 big yards (and a healthy 6.2 per-carry average), without Bray's patented downfield throws and Hunter and Cordarrelle Patterson's ability to stretch the defense, the Tennessee offense sputtered as often as it soared. With Russell guiding the Bulldogs to 41 points of their own, that wasn't enough.  
WHEN MISSISSIPPI STATE WON. Dan Mullen could have played it safe, kicking a field goal on 4th-and-goal from the Tennessee 9 with 14 seconds remaining and his team up 34-31. Instead he chose to end all doubt, calling for a pass to the back of the end zone which Malcolm Johnson hauled in with one hand in a play State fans will relive for years. 
WHAT MISSISSIPPI STATE WON. The Bulldogs' sixth game of the year, a not-insignificant accomplishment for a program that unlike many of their SEC West brethren still considers a bowl appearance something less than an annual event. But at 6-0 (3-0 SEC), the Bulldogs have their sights set even higher. Assuming  they get past Middle Tennessee State next week, they'll head to Alabama Oct. 27 as high in the SEC pecking order as they've been since the days of Jackie Sherrill.
WHAT TENNESSEE LOST. Whatever slack in Derek Dooley's rope that remained when this season began is gone. The Vols are 3-3 overall but a damning 0-3 in SEC play, and even if none of those three games were easy -- vs. Florida, at Georgia, at State -- Dooley's 1-10 mark in his last 11 SEC games will speak much louder than the strength of schedule. With SEC East contention completely out of reach, the Vols simply have to focus on reaching their easier November slate (Troy, Missouri, Vanderbilt, Kentucky) with their spirit and health intact--easier said than done with Alabama and South Carolina up next.
A concert is a nice way to break up preseason camp

Mills was arguably Georgia Tech's most important player coming into the season

Hugh Freeze's phone records reportedly show another troubling pattern for Ole Miss
They aren't necessarily great teams, but they're teams I'm really interested in following this...

The Irish will wear them on Nov. 18 against Navy

The fourth-year coach of the Nittany Lions led the program to the 2016 Big Ten Championshi...