Quick Hits: No. 2 Alabama 32, No. 3 Georgia 28
Alabama wins a classic among classics, using a dominant ground game, one huge pass and one lucky break to survive Georgia.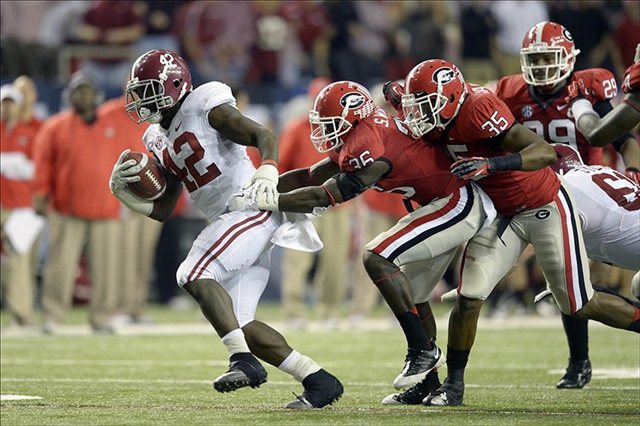 Georgia simply couldn't stop Eddie Lacy and the Tide ground game. (US Presswire)
ALABAMA WON: The Crimson Tide will have a chance to play for their third national championship in four years after winning a true college football classic in the most dramatic fashion possible. AJ McCarron hit Amari Cooper on a play-action 45-yard bomb for the winning touchdown with 3:15 to play -- the fifth lead change of the game, an SEC Championship Game record. Georgia's last-gasp drive ended at the Alabama 5-yard line when Chris Conley caught a deflected pass in bounds with no timeouts. 
Until the Cooper touchdown, the game had been defined by the play of both teams' unstoppable tailbacks. Alabama's Eddie Lacy and T.J. Yeldon combined for 337 yards and three touchdowns on 45 carries. Georgia's Todd Gurley racked up 121 yards and two touchdowns of his own. 
WHY ALABAMA WON: The old truism is that to win in the SEC, you have to run the ball and stop the run. Though Alabama didn't quite shut down the Georgia running game -- Gurley averaged a healthy 5.2 yards per carry -- the Tide picked their spots, most notably on a huge third-and-1 stuff of Gurley that set up the Cooper bomb with good field position.
But neither team did anything as well as Alabama ran the ball. The touted Tide line lived up to its very fullest potential over the second and third quarters, repeatedly blowing the Georgia line off the ball. For all of his pass-rushing prowess, Georgia linebacker Jarvis Jones struggled to deal with the rampant Tide linemen, who opened up huge gashes for Lacy and Yeldon. Even when the Bulldogs got to the tailbacks (usually in the secondary), Lacy and Yeldon plowed forward for a bevy of yards-after-contact. 
Some of the results were immediate: an SEC Championship Game record 347 yards rushing, a seven-runs-on-seven-plays touchdown drive for a 25-21 lead early in the fourth quarter. But some of them were more subtle, too. When McCarron ran play-action on the game's critical play, Cooper had more than enough room to make what proved to be the winning reception.
WHEN ALABAMA WON: Not until Conley's ill-fated reception on the game's final play, which had been intended for Malcolm Mitchell -- running a fade in the end zone -- but was deflected by C.J. Mosley at the line of scrimmage and fell right into Conley's lap. His instincts resulted in a catch. After he was brought down at the 5, time ran out.
WHAT ALABAMA WON: Oh, nothing much. Just the SEC championship -- the Tide's first since 2009 -- and a berth in the BCS Championship Game against Notre Dame. The stakes really weren't that high.
WHAT GEORGIA LOST: A golden, glittering chance at Mark Richt's first national championship. The SEC title. A loss so heartbreaking it could hang over the program for months. And almost certainly any shot at a BCS bowl game. 
It doesn't seem fair that, after playing a game so great, Georgia could be rewarded with so much pain. But this is college football, and it never gets any better than it got in the Georgia Dome on Saturday. 
The 72-yard punt return was perfectly executed by the Trojans

We have now reached "peak #GRUMORS"

As an imperfect person, Mayfield is the perfect candidate for a now-imperfect award
Add these to the list of things Mayfield has apologized for this year

The Bulldogs leaned on a strong running game to dispatch of the Wildcats on Saturday

NCAA football scoreboard, highlights and updates from the biggest Week 12 games