Quick Hits: No. 2 LSU 12, Auburn 10
LSU didn't do much offensively, but it did enough to escape Auburn with a win.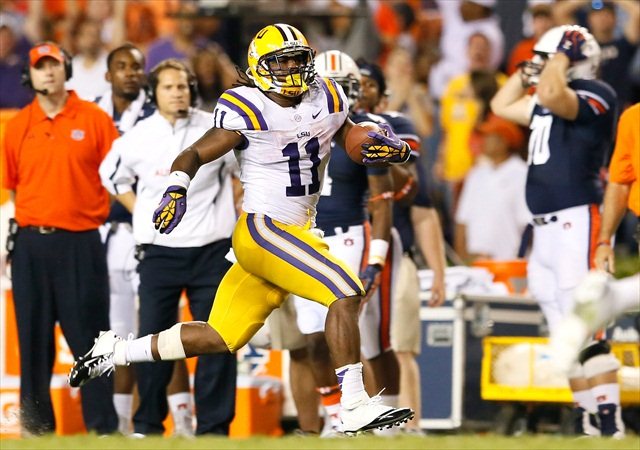 Spencer Ware and the LSU offense did just enough to see off Auburn. (Getty Images)
LSU WON. The nation's No. 2 team made hard work of their trip to the Plains, gaining just 351 total yards, scoring just one touchdown, and committing two costly first-half turnovers. But a single Drew Alleman field goal was enough to outscore the toothless Auburn offense 3-0 in the second half and come away with a 12-10 win. Spencer Ware rushed for 90 yards and caught two passes for 44 more, including a 33-yard reception on a late third down that all-but-clinched the win for LSU.
WHY LSU WON. Because in the end, Auburn just doesn't have the offensive weapons necessary to make a dent in a defense the caliber of LSU's. The Tigers went into halftime with a 10-9 lead on the strength of a 26-yard touchdown drive following a Zach Mettenberger fumble and a 42-yard field goal drive, the latter one of only two Auburn drives of more than six plays or 40 yards on the night. But the second half was an exercise in prolonged futility for Scot Loeffler's overhauled unit, with Auburn's six possessions finishing punt-interception-punt-punt-punt-interception. Sam Montgomery was a terror at defensive end with 3.5 tackles-for-loss, defensive tackle Anthony Johnson seemed to be in the backfield on every running play Auburn attempted, and even when Kiehl Frazier had time -- particularly in the second half -- he found no one open.
And when Auburn did find a glimmer of hope, safety Eric Reid seemed to be poised to snuff it out, as he did on one critical late third-quarter play; Auburn speedster Onterio McCalebb broke through the line and seemed on his way to a repeat of his game-winning long touchdown run from 2010 when Reid reached out, grabbed a handful of jersey, and hauled McCalebb down to hold the gain to 20 yards. Auburn would punt from the LSU 40 four plays later and never threatened again. That Auburn simply doesn't have a player like Reid to carry the load on offense proved to be the difference when otherwise the two offenses proved equally punchless.
WHEN LSU WON. Not until the second-to-last play of the game, when Frazier misfired on a deep crossing pass to Emory Blake from his own 37. With Blake open, a good pass might have given strong-legged Auburn placekicker Cody Parkey a shot at the dramatic 50-yard-plus game-winner. Instead Frazier was left to try one final desperation pass that LSU easily picked off to end the game.
WHAT LSU WON. Given that Oregon isn't blowing the doors off of Arizona as we type this, the right to call themselves the No. 2 team in the country for another week. The Tigers also move to 1-0 in the SEC and preserve their usual status as SEC West, SEC, and national title contenders--though after such a feeble offensive performance against a defense ranked 95th in the FBS entering this week, the gap between the Tigers and Alabama at the top of the SEC West certainly seems a little wider now than it did before kickoff.
WHAT AUBURN LOST. Their third game in the month of September for the first time in school history, and at 0-2 in the SEC -- with Georgia and Alabama still to come -- the Tigers will have work to do just to make the postseason. On the plus side, the Tigers' dramatic improvement on defense will ease at least some of the pressure off of Gene Chizik ... assuming that improvement pays off in more than a moral victory next go-round. 
Freeman will not play in the New Mexico Bowl on Saturday

SportsLine simulated every bowl game 10,000 times for pick'em leagues and confidence pools

Grier will return to West Virginia for the 2018 season instead of entering the NFL Draft
The Chick-fil-A Peach Bowl just got spicy

Anderson had been under investigation for an incident at a bar in Cleveland County, Oklaho...

Between Arizona State and Tennessee, no one would have guessed how this coaching cycle turned...