Quick Hits: No. 5 Georgia 51, Tennessee 44
Georgia scores 51 points, racks up 559 yards, and still needs a last-minute stop to earn the win.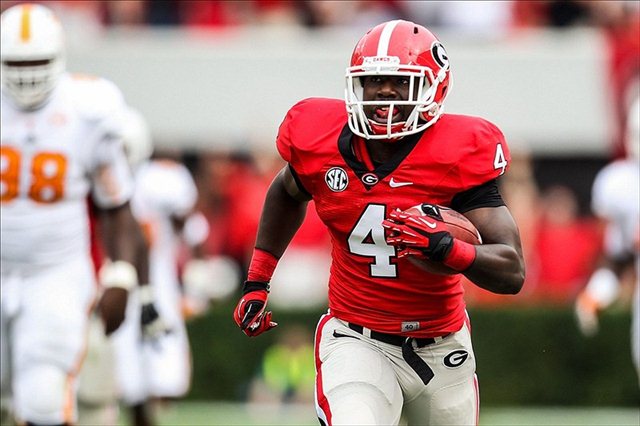 Keith Marshall had plenty of running room vs. Tennessee. (Getty Images)
GEORGIA WON. With multiple opportunities to put the Volunteers away, the Bulldogs just kept letting Derek Dooley's team back up. But with three chances to tie the game in the fourth quarter, Tyler Bray turned the ball over all three times, letting the Bulldogs escape with a wild -- and frankly, not-all-that-impressive -- home victory. Aaron Murray threw for 271 yards and two touchdowns, but the stars for Georgia were freshman tailbacks Keith Marshall and Todd Gurley, who ran for a combined 293 yards and five touchdowns on 34 carries--an incredible 8.6 yards-per-carry average.
WHY GEORGIA WON. It wasn't because of its defense. Todd Grantham's vaunted unit wasn't responsible for all 44 Volunteers points -- one Tennessee touchdown was a pick-six, and two other Dawg turnovers gave the visitors short fields -- but Bray and Co. still finished with 477 total yards. Most damningly, one of the worst rushing games in the SEC picked up 196 of those on the ground at 4.9 yards an attempt -- terrible numbers for a defense that finished 2011 as the No. 11 rush stoppers in the country. 
But the Dawgs got away with their generosity, thanks to a Tennessee defense that's even more generous when it comes to big plays. The Vols had already been struggling with a leaky back seven coming into the game (if you remember Trey Burton's 80-yard touchdown run for Florida, among other examples) and did not improve things in Athens. That 8.6 yard-per-carry average for Marshall and Gurley was built on the back of a 75-yard Marshall touchdown run, a 51-yard Gurley touchdown run and another 72-yard touchdown run for Marshall. Murray, meanwhile, averaged a healthy 11.3 yards per pass and had a 32-yard strike of his own.
If Tennessee needed some help in the turnover department to reach 44 points, the Dawgs earned every one of their 51 ... with the caveat that few defenses in the country right now are as willing to give up the long scoring play as the Volunteers.
WHEN GEORGIA WON. Not until Bray's final pass -- designed to get Tennessee into position for a 40- or 50-yard Hail Mary -- was tipped an intercepted, ending a three-possession run for Tennessee that began with an ugly Bray interception and continued with a needless Bray fumble. Suffice it to say that fourth quarters have not been the junior's strong suit this season.
WHAT GEORGIA WON. A 5-0 start and a continued perch atop the SEC East. But there's no dodging the concerns over whether the defense is truly championship caliber ... or, more to the point, beat-South Carolina-in-Columbia-next-week caliber.
WHAT TENNESSEE LOST. Another game to a ranked team, like every game against a ranked team Derek Dooley has coached in Knoxville. It wasn't necessarily realistic to expect the Vols to come out of Athens with the win, but sooner or later, Dooley will have to beat one of the proverbial "big boys" ... or Tennessee will have to go looking for someone who will.
THAT WAS CRAZY: Of the four long Georgia touchdowns, Gurley's 52-yarder was the prettiest:
The movie will zero in on former Penn State coach Joe Paterno during the Jerry Sandusky sc...

Bidding for Salaam's trophy, which the auction house says was obtained legally, ends Satur...

Locksley has been the offensive coordinator at Illinois and Maryland during his coaching c...
Many NFL-eligible juniors ignore advice provided by the league and risk going undrafted each...

Snyder died in Manhattan, Kansas, on Wednesday

Locksley joined Alabama's staff in 2016