Quick Hits: No. 6 South Carolina 35, No. 5 Georgia 7
Breaking down South Carolina's demolition of the Bulldogs.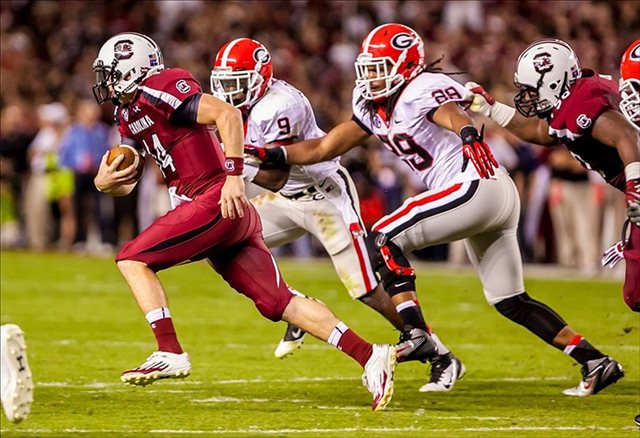 Even Jarvis Jones couldn't help Georgia keep Connor Shaw in check. (US Presswire)
SOUTH CAROLINA WON: The Gamecocks winning at home over the Bulldogs isn't any major surprise, but the fashion in which Steve Spurrier's team seized control of the SEC East race was nothing short of jaw-dropping. Carolina utterly dominated the nation's No. 5 team from start to finish, jumping out to a 21-0 lead behind two easy Connor Shaw-led touchdown drives and an electric Ace Sanders punt return, then smothering the previously explosive Georgia offense to the tune of 224 total yards and 58 scoreless minutes. Aside from one second-quarter fourth-and-goal snuffed by the Bulldogs at the 1, at no point after the first six or seven minutes did Georgia even look like it might make the game something other than a humiliation.
WHY SOUTH CAROLINA WON: There's a laundry list of reasons -- Georgia's feeble special-teams play, Shaw continuing to play like one of the nation's best quarterbacks at home, Marcus Lattimore continuing to treat the Georgia defense like his own personal plaything -- but the biggest factor was that Georgia had no answers for the South Carolina defensive line. Ends Jadeveon Clowney and Devin Taylor and tackles Kelcy Quarles and Byron Jerideau harried Aaron Murray virtually every time he went back to pass, and Todd Gurley and Keith Marshall routinely found one or more of them in their respective faces before they could even reach the line of scrimmage.
The individual numbers for Clowney, Taylor, Quarles, and Jerideau might not do them justice, but these will: Aaron Murray, 11-of-31, 109 yards, zero touchdowns, 1 interception; Todd Gurley, 13 carries, 39 yards, no touchdowns; Keith Marshall, 12 carries, 37 yards, no touchdowns.
WHEN SOUTH CAROLINA WON: Whatever chance Georgia had for a remarkable comeback required a strong response when the Bulldogs received the opening kickoff of the second half. After one first down, the next four plays went swing pass to Rantavious Wooten for loss of 5, incomplete, incomplete, punt. Game over.   
WHAT SOUTH CAROLINA WON: Try the No. 4 ranking in the country, the favorite's role in the SEC East -- unless you want to elevate Florida to co-favorite's role, which we won't stop you from -- and most satisfyingly, a third consecutive win over their biggest rival on the schedule. The partying in Columbia will go long, long into the night. 
WHAT GEORGIA LOST: Well, they didn't lose a streak of not being shut out since 1995, thanks to Ken Malcome's last-minute consolation touchdown. But that's the end of the good news. The Georgia defense that looked out of sorts vs. Tennessee is officially a question mark; the offensive line will have to go back to the drawing board before facing the likes of Florida; and the special-teams problems that have plagued coach Mark Richt the last couple of seasons (particularly against the Gamecocks) haven't been solved, either. The Dawgs' season isn't over, but without some help from the Gators and some major steps forward, it's hard to see them realizing their championship goals in 2012. 
Memphis outscored Houston 42-21 in a wild second half win on the road

Scott leads the Spartans with 408 rushing yards

One of the finest restaurants in Columbia has a unique partnership with University of South...
While Mother Nature has wreaked havoc, some teams have been just plain bad so far this sea...

Bryce Love's video game season and early-season turnarounds lead our group

Trust the Process as Tom Fornelli leads you toward his best bets for Week 8 of the season