Quick Hits: No. 7 Georgia 37, Ole Miss 10
Georgia started slow but capitalized on a flurry of Rebels mistakes to coast to victory.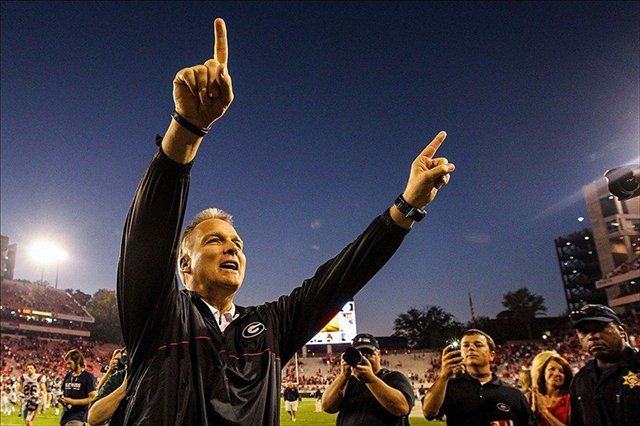 Mark Richt has his team pointed toward Atlanta. (US Presswire)
GEORGIA WON: The Rebels landed a few early blows, but just when it looked like Georgia might really hit the canvas, the Bulldogs launched a series of haymakers to end the first half and start the second -- a 40-yard touchdown pass on third-and-25, a 42-yard touchdown pass one drive later, another 77-yard touchdown march on the drive after that -- and now it's Florida whose SEC East chances have been knocked out. If Georgia can simply defeat 2-7 Auburn next week, the Bulldogs will head back to Atlanta and play for the SEC title for a second consecutive season. 
 In addition to hitting the momentum-turning third-and-25 strike to Tavarres King with 15 seconds left in the first half, Aaron Murray carved up the Rebels secondary (and put his iffy showing vs. Florida behind him) to the tune of 21-of-28 for 384 yards and four touchdowns.
WHY GEORGIA WON: If you're a double-digit underdog on the road in the SEC, it goes without saying that you can't make mistakes. But maybe someone should have said it to Ole Miss anyway, because the Rebels made some absolute whoppers. The most glaring was the secondary losing track of King on the aforementioned third-and-25 play, but even turning a 10-7 Rebels advantage into a 14-10 deficit doesn't do it justice -- it came following back-to-back sacks that had taken Georgia out of field-goal range, giving Ole Miss a shot in the arm after their 10-0 lead had dissolved, and had the Rebels poised to go into the locker room with both the lead and a heavy dose of confidence. It's not often that one play before halftime can be pointed to as the decisive play of the game, but it really was all downhill -- all downmountain, all downEverest --  for Ole Miss after that point.
But that wasn't the only major misstep for Hugh Freeze's team. Having recovered a Todd Gurley fumble inside Georgia territory in the second quarter, the Rebels went inside the Dawg 20 on the next snap with a pass to Vincent Sanders ... who fumbled the ball away. The Rebels got a stop inside their own 20 by forcing another fumble ... and Bo Wallace threw up a horrid interception on the very next play. Down 28-10 in the third, the Rebels needed a touchdown to get back in the game ... and Jeff Scott tried to bounce a zone read handoff outside in his end zone. Safety, 20-point lead, kickoff to Georgia, game over.
The Rebels played better -- certainly in the first half -- than the final score indicated, and the Bulldogs certainly deserve credit for putting their boot on Ole Miss's proverbial throat when the opportunity presented itself in the second half. But if not for just that handful of brain-melt plays, Ole Miss could have very well put a real scare into the BCS No. 6. 
WHEN GEORGIA WON: Tempting as it might be to go with King's half-closing touchdown, the true deathblow was fullback Zander Ogletree's 8-yard TD run on Georgia's second possession of the second half -- one that capped a 21-0 Bulldog blitz spanning the second and third quarters that took less than 6 minutes of game time. Even if 28-10 wasn't necessarily an insurmountable lead, the 100-percent shift of momentum from Ole Miss' sideline to Georgia's meant the chances of a comeback were nil.
WHAT GEORGIA WON: You can go ahead and start buying your hotel rooms in Atlanta, Dawg fans -- with only hapless Auburn standing in their way, the Bulldogs will be playing in the SEC Championship Game. And if the opponent there is Alabama and the Dawgs get some other help near the top of the polls, they could even play their way into the BCS title game -- so yes, Saturday's win, even if it was "just" over Ole Miss, was about as big as wins get.
WHAT OLE MISS LOST: Their first shot at bowl eligibility -- and with Vandy, LSU, and Mississippi State the rebels' three remaining games, even shots that come on the road at a future division-winning likely 10-2 team aren't ones that they can simply afford to brush off.
Rutgers' offensive line challenged a local curling club to a match

These five teams have the best chance of being the Group of Five darling this coming year

Drevno had been running the Michigan offense for three seasons
Aaron was reportedly shot while trying to protect his girlfriend when a fight broke out at...

An assistant-by-assistant look at changes Saban made to the Tide's staff ahead of 2018

Find out when Nick Saban, Kirby Smart and the rest of the coaches will speak ahead of the...