Quick Hits: No. 8 West Virginia 48, No. 11 Texas 45
Instant analysis of the Mountaineers' upset win over the Longhorns.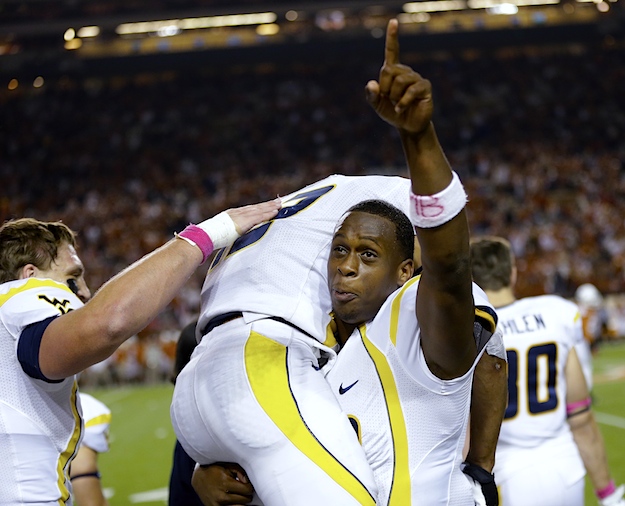 West Virginia Won. After three quarters of back-and-forth fireworks, the Mountaineers outscored Texas 14-0 in the fourth to clinch a critical road win in Austin. With that, West Virginia bolsters its credentials in both the Big 12 and BCS championship races, and earns its first victory over a top-10 opponent since the 2007 Fiesta Bowl.
Why West Virginia Won. Quarterback Geno Smith will likely maintain his grip on the top of the Heisman charts, thanks to four more touchdown passes – three of them to his favorite target, ex-high school teammate Stedman Bailey – with no interceptions. (Smith now has 24 scoring strikes for the season, ten of them going to Bailey, and still has not been picked off in 169 attempts.) But the star of the show was sophomore tailback Andrew Buie, who finished with career highs by far for total yards (274), rushing yards (208) and carries (31) in place of injured starter Shawne Alston, and scored twice. Before tonight, Buie had never cracked the 100-yard barrier on the ground, and wound up going well over 200 against a defense widely regarded as the best in the conference.
For the night, West Virginia only punted once, though Texas was able to force Smith into a pair of fumbles in the face of a strong pass rush and held Smith to "only" 269 yards through the air, easily his lowest output of the season. But the Longhorns also missed multiple opportunities with the ball in Mountaineer territory, blowing possible scoring chances with a fumble in the first half, two failed fourth down conversions and a critical missed field goal in the fourth quarter. Meanwhile, West Virginia was 5-of-5 on fourth down conversion, and came away with points after all five.
When West Virginia Won. Up 41-38 midway through the fourth quarter, the Mountaineers caught a break when Texas failed to capitalize on Smith's second fumble of the night in his own territory, pushing a field goal to tie the game wide left. From there, West Virginia turned to Buie, who carried seven times for 63 yards on an 8-play, 76-yard march that milked more than four minutes off the clock. By the time Buie crossed the line on his second touchdown run of the night, Texas had just 1:18 remaining to make up a 10-point deficit.
What West Virginia Won. The Mountaineers remain undefeated at 5-0, and with a tough road win over a fellow Big 12 contender, arguably cleared the tallest hurdle en route to a potential conference championship. After last week's air show against Baylor, they also demonstrated dramatically improved balance defensively and in the running game against a far more physical opponent, and will likely reap the rewards in Sunday's polls.
What Texas Lost. With Oklahoma and Kansas State remaining on the schedule – and on West Virginia's – the Longhorns are not out of the Big 12 race by any means, though their margin of error is significantly reduced. But they're still trying to get over the hump against With the fourth quarter fade, Texas lost seven consecutive games against ranked teams dating back to 2010.
Here are the early lines for big Week 5 games from Vegas

Louisville and TCU get big-time bumps after conference rivals fell on Saturday

Georgia jumped four spots to No. 8, while Florida State dropped 14 spots to No. 25
The Bulldogs jumped up to No. 7 after an emphatic win over Mississippi State

The Penn State running back made a case that he's a legit Heisman Trophy contender

The Nittany Lions came up huge when they needed to against Iowa