Quick Hits: Ole Miss 41, Auburn 20
Ole Miss snaps a 16-game SEC losing streak and potentially puts Gene Chizik's job in jeopardy.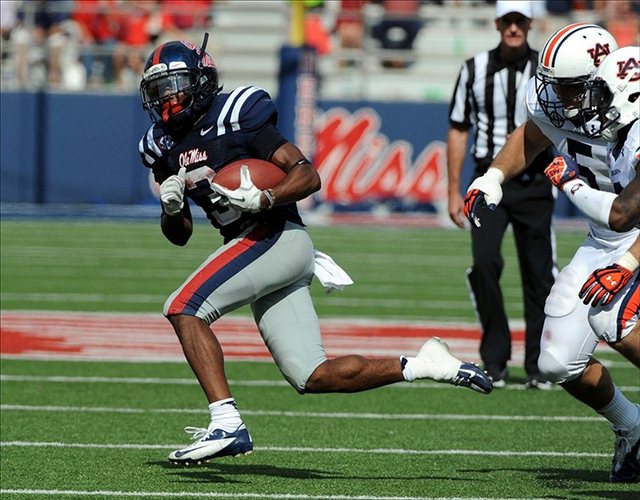 Auburn had no answers in the second half for Jeff Scott. (US Presswire)
OLE MISS WON. It took Hugh Freeze just three tries to snap the 14-game SEC losing streak left him by predecessor Houston Nutt, as his resurgent Rebels dominated the second half and moved to 4-3 this season with a 41-20 win over Auburn. The contrast between the two coaches in Oxford couldn't be starker -- as Freeze continues to make a terrific first-year impression, Gene Chizik may be in legitimate danger of losing his job only two years after winning a national championship. At 1-5 and with games against Texas A&M, Georgia, and Alabama still to come, a bowl is already out of the question, and the Tigers could easily finish the season 3-9.
WHY OLE MISS WON: Whether you want to blame (or credit) the coaching staffs, the available offensive talent on either side, or blind luck -- like the kind that allowed Jeff Scott to roll over an Auburn tackler, avoid a whistle and sprint away for a Michael Dyer-esque 55-yard touchdown reception that sealed the game in the fourth quarter -- only one team was ready to play in the second half. Save one damaging errant snap (that the Rebels gratefully recovered in the end zone for a quick 14-0 lead) the Tigers offense looked as sharp as it has all season in building three scoring drives and tying Ole Miss 17-17 at the half.
After the break? Not so much. The Rebels went 73 yards in four plays on the first possession of the third quarter and never looked back. It was Scott who found rushing lanes, rather than Auburn backs Tre Mason and Onterio McCalebb; it was Bo Wallace who looked comfortable in the pocket, and not Clint Moseley; it was the Rebels defense that had adjusted, and not Auburn's. Final score for the second half: 24-3. 
After the Rebels' late-game meltdown vs. Texas A&M, nothing will make Freeze happier than that. 
WHEN OLE MISS WON: When Scott did this:
Two touchdowns to make up in under 6 minutes? Auburn didn't have a chance, and sure enough Moseley was promptly picked to make it official. 
WHAT OLE MISS WON: After the past two years under Nutt, no one outside of Oxford expected the Rebels to be in bowl contention. But with four wins already in the book, a winnable game at Arkansas next week, and home dates still to come against Vanderbilt and rival Mississippi State, Ole Miss can dream. At the very least: with the 16-game SEC streak dead and buried, the rot and decay of the Nutt era is officially over.
WHAT AUBURN LOST: Any prayer of a bowl appearance, and in all likelihood one of only two opportunities to avoid a winless SEC season and 3-9 overall mark. The other comes next week at Vanderbilt. Lose that one, and the temperature on Chizik's seat will reach surface-of-the-sun-quality levels.
Getting Leavitt back was obviously high on Cristobal's list of priorities

Cristobal's first game at Oregon ended the same way Chip Kelly's did

Conner Manning and the Panthers dominated the Hilltoppers in the Cure Bowl
You can only go to the well so often before it dries up

The Trojans beat LSU earlier in the year and now have their first 11-win season as a FBS t...

Saban has never been a fan of the early signing period and made it clear that hasn't chang...