Quick Hits: Ole Miss 41, Mississippi State 24
Instant analysis of the Rebels' Egg Bowl rout over the Bulldogs.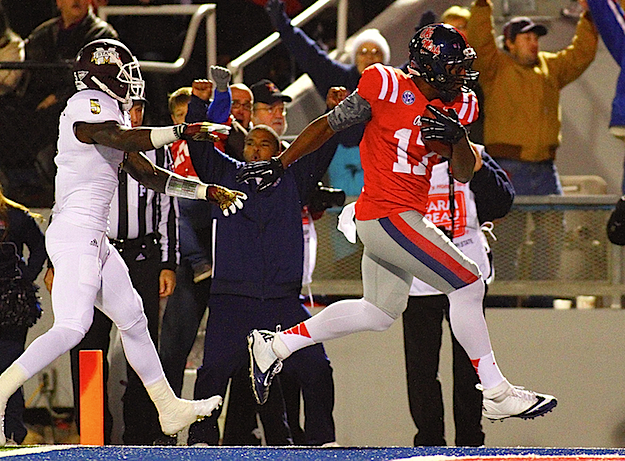 Jamal Mosley takes in one of five Rebel touchdowns from the arm of quarterback Bo Wallace. (US Presswire)
OLE MISS WON. The Rebels ripped off 24 consecutive points in the third and fourth quarters to turn a tie game at the half into a lopsided rout, reclaiming the Golden Egg Trophy in the process for the first time since 2008. With a .500 record and a bowl game on the horizon, the bottom-up rebuilding project under first-year coach Hugh Freeze is well ahead of schedule.
WHY OLE MISS WON. The first half was a back-and-forth barnburner, featuring offensive touchdowns for both teams on plays covering 25, 42 and 77 yards from scrimmage, as well as a 100-yard kickoff return by Mississippi State's Jameon Lewis. But the night ultimately belong to Ole Miss quarterback Bo Wallace and his top receiver, Donte Moncrief, who connected seven times for 173 yards and three touchdowns, two of them coming on consecutive possessions in the third quarter. Altogether, Wallace delivered his third consecutive game over 300 yards of total offense (296 passing, 40 rushing) and a new career high for touchdown passes with five.
The Rebels' run was also aided by field position: Their first two touchdown drives of the second half both began on MSU's side of the field, following an interception and a short punt.
WHEN OLE MISS WON. Although the offense was able to cash in, the Rebel defense really turned the tide by shutting down Mississippi State in the third quarter: The Bulldogs' first four possessions of the second half yielded three punts, a turnover and a single first down, and all four were immediately followed by Ole Miss scores. The dagger came with the Rebels leading 27-17 with under five minutes to go in the third, when Wallace hit Moncrief for a 16-yard scoring strike following a personal foul facemask penalty against MSU that set Ole Miss up in the red zone.
WHAT OLE MISS WON. At 6-6, the Rebels are bowl eligible, and have now won as many games in Freeze's first season as head coach as they did in Houston Nutt's last two seasons combined. (At least as importantly, they were also competitive against the heavy hitters in the SEC West, leading both LSU and Texas A&M in the fourth quarter before succumbing late and managing to fend off ritual slaughter at Alabama.) More importantly for the locals, though, they can finally claim in-state bragging rights again after three consecutive losses that ceded momentum in the state to the Bulldogs.
WHAT MISSISSIPPI STATE LOST. A month ago, the Bulldogs were 7-0, ranked 13th nationally and beginning to allow fantasies of darkhorse BCS run creep in. With this loss, they've dropped four of their last five – all against SEC West rivals – by a combined 83 points, and appear bound for the Gator Bowl, at best. Historically, 8-4 is a banner season for Mississippi State. Under the circumstances, it's a cold wake-up call.
The movie will zero in on former Penn State coach Joe Paterno during the Jerry Sandusky sc...

Bidding for Salaam's trophy, which the auction house says was obtained legally, ends Satur...

Locksley has been the offensive coordinator at Illinois and Maryland during his coaching c...
Many NFL-eligible juniors ignore advice provided by the league and risk going undrafted each...

Snyder died in Manhattan, Kansas, on Wednesday

Locksley joined Alabama's staff in 2016