Quick Hits: South Carolina 17, Vanderbilt 13
South Carolina survived multiple Vanderbilt opportunities and an injury to Connor Shaw to win 17-13 in its season opener.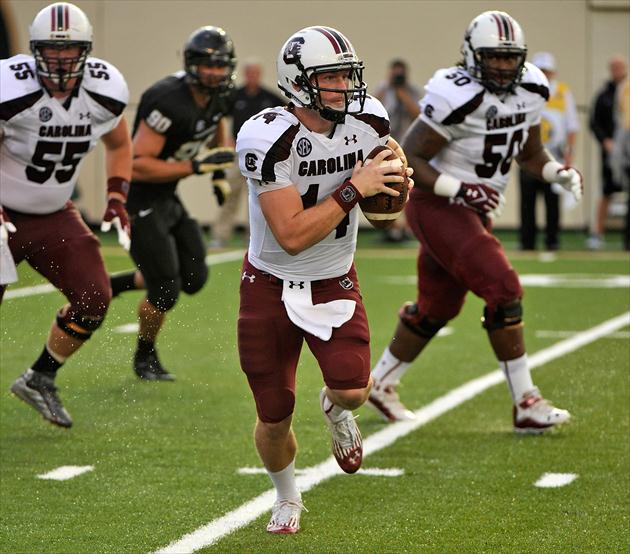 Connor Shaw overcame a shoulder contusion to lead the Gamecocks to a gutty win. (Getty Images)
South Carolina won: No one will call it a thing of beauty -- the two teams combined for just 556 yards and as many turnovers as touchdowns -- but the Gamecocks did just enough to escape Nashville with a 17-13 win and their realistic SEC East chances intact. Connor Shaw injured his shoulder late in the first half but returned to lead the critical 9-play, 76-yard touchdown drive that put South Carolina ahead for good with 11:25 to play. Marcus Lattimore  looked like his old self in his first game back from last October's ACL tear, by-and-large, rushing for 109 yards and two touchdowns.
Why South Carolina won: Because, simply put, Vandy finished drives the way six-year-olds finish watching Gone With the Wind. Thanks to several stout defensive possessions and short South Carolina punts, the Commodores enjoyed terrific field position throughout the game; added to a handful of longer drives, Vandy finished the game with eight possessions in South Carolina territory. The number of points scored on those drives? Six. 
The most awkward failure was on the 'Dores' second attempt, when they turned first-and-goal on the 5 into a hideous Shaq Wilson interception on a third-down throwback screen, one that turned into a Lattimore touchdown just a few plays later. But if that 14-point swing hurt, two of Vandy's second-half failures were deadly. Late in the third and again early in the fourth, the 'Dores faced 3rd-and-5 at the Gamecock 36 and 43, respectively, with a touchdown all but clinching the victory. Results? Sack the first time, two-yard pass the second time, and no points.
The Commodores did a lot of things they needed to do to win the game: they totally shut down the Gamecock passing game (who averaged a rough 3.7 yards per-attempt), got some big plays in the passing game, despite his yardage total didn't let Lattimore run wild, and won the turnover battle. But until James Franklin and his players come up with more production with the end zone in sight, they're going to continue to come up short against the SEC's upper crust.
When South Carolina won: When Jordan Rodgers' long fade to Jordan Matthews fell incomplete on 4th-and-7 with 1:47 to play. Though Gamecock safety D.J. Swearinger appeared to interfere on the play, Matthews also had the ball hit him squarely in the hands--capping an evening pockmarked with drops from the usually reliable Commodore receivers. 
What South Carolina won: The right to remain in the top 10 next week and continue dreaming about SEC and national titles. But the offense will have to improve dramatically for the Gamecocks to actually contend for those honors.
What Vanderbilt lost: A golden opportunity for their first home win over a top 10 team since 1964, and more to the point, their sixth consecutive SEC game decided by 7 points or less. Same as it ever was, we guess, Vandy.
For more up-to-the-minute news and analysis from SEC bloggers Daniel Lewis and Larry Hartstein, follow @CBSSportsSEC.
Scott leads the Spartans with 408 rushing yards

One of the finest restaurants in Columbia has a unique partnership with University of South...

While Mother Nature has wreaked havoc, some teams have been just plain bad so far this sea...
Bryce Love's video game season and early-season turnarounds lead our group

Trust the Process as Tom Fornelli leads you toward his best bets for Week 8 of the season

A tough end to the 2017 slate will have Notre Dame against the ropes for the rest of the s...