Quick Hits: TCU 20, Texas 13
Instant analysis of the Horned Frogs' upset over the Longhorns, nearly five decades in the making.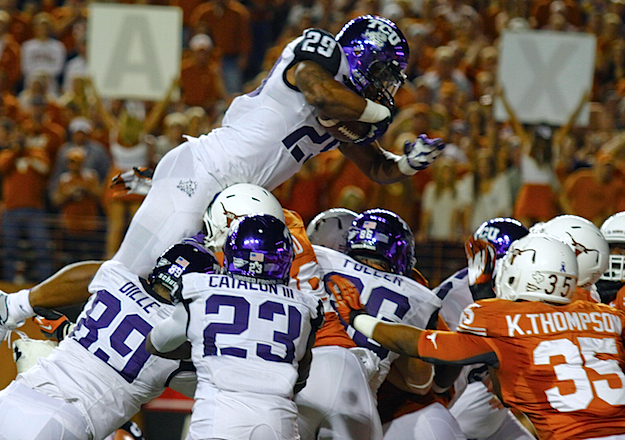 Matthew Tucker goes over the top for TCU's first touchdown in Thursday night's 20-13 upset over Texas. (AP)
TCU WON. Playing with a freshman quarterback on the road and a lineup ravaged by injuries and attrition, the Horned Frogs went ahead early, never broke on defense and held on late for the biggest win of their Big 12 debut. The last time TCU beat Texas in Austin? Nov. 18, 1967, during the Lyndon Johnson administration.
WHY TCU WON. The offense stormed out of the gate, marching 94 yards for a touchdown on the opening series of the game, and found some sustained success on the ground with 221 yards. But the night really belonged to the TCU defense, which forced four turnovers and held the Horns to season lows for both points and total offense. With virtually none of the usual support from the ground game, Texas' starting quarterback David Ash struggled so mightily that he was pulled at the end of both halves for Case McCoy, who didn't fare much better. Between them, Ash and McCoy were sacked three times, picked off three times and didn't complete a pass covering more than 19 yards.
When Texas did move the ball, it was for naught, or close to it: The Longhorns' first six trips into TCU territory resulted in two interceptions, two turnovers on downs and just six points on the board courtesy of a pair of field goals. They finally found the end zone with 3:07 remaining in the fourth quarter, which turned out to be too little, too late.
WHEN TCU WON. Texas trailed from start to finish, but did get one last shot to pull even after its lone touchdown, taking over at its own 34 with no timeouts, 1:44 remaining and needing another touchdown to either send the game to overtime at 20-20 or set up a two-point conversion to win. That decision was rendered moot on the second play of the ensuing series, when McCoy was flushed out of the pocket and launched an extremely ill-advised prayer into a pack of TCU defenders downfield. One of them, Sam Carter, came down with the pick, and the offense kneeled out the victory.
WHAT TCU WON. Besides guaranteeing their eighth consecutive winning season, the victory was the Horned Frogs' first over their old Southwest Conference rival since 1992. Otherwise, TCU had lost 29 straight to Texas dating back to 1968, by an average margin of 24 points per game.
As an additional footnote ahead of next week's visit from Oklahoma, the Frogs are now 4-1 against Big 12 opponents on the road, but 0-3 in Fort Worth.
WHAT TEXAS LOST. Tangibly, the Longhorns were officially eliminated from any darkhorse runs at the Big 12 title or a BCS bowl. More importantly, though, for a team that's endured so much disappointment over the last three years, was the abrupt halt to the growing sense of forward momentum over the last three weeks. Tonight was the sixth game Texas has dropped since 2010 as at least a 7-point favorite, all six of them on its home field.
Before tonight, it was beginning to look like the Horns had moved past all that. Since the 63-21 debacle against Oklahoma in October, they rebounded to win four in a row, and seemed to turn a corner this month in reassuringly routine wins over Texas Tech and Iowa State. That was especially true for Ash, who was benched for McCoy in the fourth quarter of a narrow escape from Kansas on Oct. 27, but seemed to rediscover his solid September form against the Red Raiders and Cyclones. Against TCU, it took less than a half for Ash to find himself stuck in the same revolving door with McCoy that defined the team's stagnation in 2011. A year later, by their usual standards, the Longhorns still appear to be going nowhere fast.
The Nittany Lions came up huge when they needed to against Iowa

It just might have been the best game of the season so far

Projecting the new AP Top 25 poll college football rankings after Week 4
Stay with us all day Saturday for updates and highlights from Week 4 of the 2017 season

Georgia dismantles Mississippi State between the hedges Saturday night

The Horned Frogs looked a lot like their old selves on Saturday afternoon in Stillwater