Quick Hits: TCU 39, West Virginia 38 (2 OT)
Instant analysis of the Horned Frogs' wild win in Morgantown.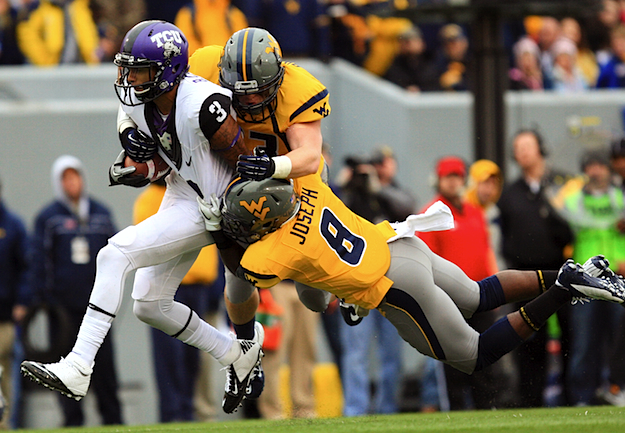 TCU WON: Three times the Horned Frogs faced a do-or-die situation with the game on the line, and three times they delivered, hitting a long touchdown pass in the final two minutes of regulation, blocking a field goal in the first overtime and connecting on a game-winning two-point conversion in the second OT to fend off a third consecutive defeat. West Virginia had two opportunities to ice the win on a Tyler Bitancurt field goal at the end of regulation and again in overtime, and came up empty on both occasions.
WHY TCU WON: In wild, dramatic fashion, by the skin of its teeth. With the game tied at 24 and both offenses in uncharacteristic funks in the fourth quarter, West Virginia's electric Tavon Austin broke the stalemate with a 76-yard punt return that put the Mountaineers up 31-24 with just 5:37 to play. After trading punts, TCU's offense found itself facing a bleak situation, second-and-19 from its own 6-yard line with less than two minutes to play, when the Mountaineer secondary was stricken by one of its occasional bouts of paralysis:
Trevone Boykin's 94-yard strike to a wide, wide-open Josh Boyce tied the game at 31, where it remained after Bitancurt pushed a game-winning field goal attempt wide with just 13 seconds remaining.
In overtime, TCU's Jacob Oberkrom returned the favor, missing from 37 yards out on the Horned Frogs' first possession, setting up what should have been a chip shot for West Virginia to put the game away. Instead, Bitancurt's second game-winning attempt was blocked, giving the Frogs new life in a second overtime. On the first snap of the second OT, Mountaineers quarterback Geno Smith hit his old high school teammate, Stedman Bailey, for a touchdown that put West Virginia in front 38-31. On the second snap, TCU responded with a trick play, on which wideout Brandon Carter took the handoff on an apparent end-around, then pulled up and hit a wide open Corey Fuller for a quick touchdown that pulled the Frogs back within a point, 38-37.
WHEN TCU WON: From there, TCU rejected the standard extra point to tie, opting instead for an all-or-nothing two-point conversion to win (or lose). On the decisive play, Boykin rolled right and threw a low, sinking pass to Boyce, who went down to snatch the ball off turf for the winning points. Instant replay upheld the call on the field, and TCU hit the buses with their biggest win of the season.
WHAT TCU WON: With their sixth win, the Frogs are bowl eligible in their first season in the Big 12, which was beginning to look a little dicey against a back-loaded schedule that closes against Kansas State, Texas and Oklahoma. More importantly, facing imminent defeat on multiple occasions, on the road, they managed to pull themselves out of a potential tailspin: Before today, TCU had lost three of four since starting quarterback Casey Pachall left the team following a drunk driving arrest in early October. If nothing else, the Frogs are not going down without a fight.
WHAT WEST VIRGINIA LOST: The Mountaineers, on the other hand, have lost three in a row, a sobering fall for a team with serious BCS and Big 12 championship ambitions on the heels of a 5-0 start. Unlike the last two losses, demoralizing blowouts at the hands of Texas Tech and Kansas State, at least this loss was competitive. Whether that makes it any less demoralizing in light of so many blown opportunities, we'll find out next week at Oklahoma State.
College football bowl games were all announced on Sunday, and you can check out the entire...

SportsLine simulated every bowl game 10,000 times for pick'em leagues and confidence pools

Everything you need to know to watch and pick the Las Vegas Bowl on Saturday
Everything you need to know to watch and pick the Camellia Bowl on Dec. 16

Everything you need to know to watch and pick the New Mexico Bowl on Dec. 16

Everything you need to know to watch and pick the Cure Bowl on Saturday