Quick Hits: Texas A&M 58, Arkansas 10
The Aggies run the Hogs clean out of Kyle Field for their first SEC victory.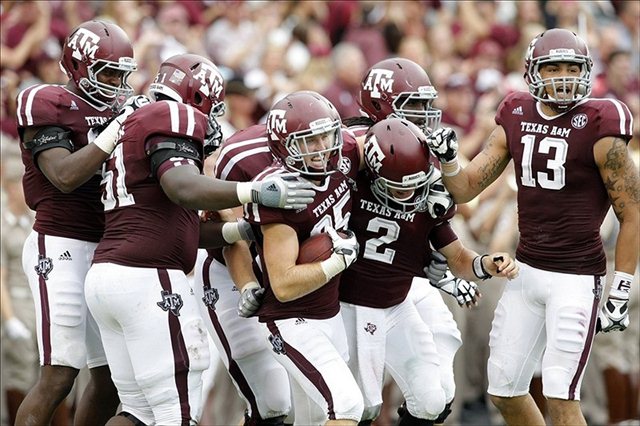 Ryan Swope (with ball) and Texas A&M had plenty to celebrate. (US Presswire)
TEXAS A&M WON. The consensus entering the 2012 season was that Missouri was ever-so-slightly the more likely of the SEC's two newcomers to make some serious noise. That notion might have been put to bed for good Saturday by the Aggies, who responded to an early 10-7 deficit by ripping off the game's final 51 points and sending the visiting Razorbacks tumbling to a 1-4 start that's somehow even less impressive than the record.
A&M redshirt freshman Johnny Manziel continued his rise as maybe the SEC's most dangerous dual-threat quarterback, running for 104 yards and a score while hitting 29 of 38 passes for 453 yards, three touchdowns, and no interceptions.
WHY TEXAS A&M WON. Because popular Internet terms like "tire fire" or "dumpster fire" don't do justice to the Arkansas secondary which, at this point, is something like you'd see if you took all the tires and garbage, covered the moon with them and then set them on fire. A week after allowing Rutgers' Gary Nova -- a quarterback who'd struggled at times against Tulane and Howard -- to throw for nearly 400 yards and five touchdowns, Manziel seemed to barely have to try to find an open receiver. The Razorbacks' play was best exemplified by one three-play, second-quarter sequence. Manziel hit Nehemiah Hicks and Ben Malena for easy back-to-back completions, 20-plus yards and a touchdown. With the Aggies starting their next drive at the 20, the Razorback secondary buckled down ... and allowed Ryan Swope his own Oklahoma land rush-style, 10-acre homestead in which to catch the ball and race for an 80-yard touchdown.
It didn't help the Hogs that they were missing injured cornerback Tevin Mitchel, or that their best two players -- quarterback Tyler Wilson and running back Knile Davis -- have suddenly become turnover machines. But until the Razorbacks' defensive woes are "solved," these kinds of walkovers might become commonplace ... or they would, if they weren't already commonplace for the sad-sack Hogs.
WHEN TEXAS A&M WON. Down 30-10 in the third quarter, Arkansas needed a quick stop from its defense after pinning the Aggies at their own 9. Result: 7 plays, 91 yards, 10-yard Christine Michael, 37-10 lead. Good night.
WHAT TEXAS A&M WON. Could the Aggies be the team with the best chance of upsetting the SEC West apple cart? On the evidence of Saturday's showing, Manziel's rapid progression, and LSU having to visit Kyle Field, it's hard at this point to argue otherwise. With Kevin Sumlin's offense humming and Mark Snyder's defense looking surprisingly feisty -- even with Wilson and Davis struggling, holding the Razorbacks to 10 points is an accomplishment -- the Aggies appear on their way to a big season.
WHAT ARKANSAS LOST. With LSU and South Carolina still on the schedule, any and all margin of error for just making a bowl game. With Iowa righting the ship, the Razorbacks are officially college football's biggest disaster of 2012.
Guice was ruled out for Saturday but convinced Ed Orgeron to let him play in a limited rol...

Greg Huegel suffered a knee injury during Wednesday's practice

The Wildcats and Utes open conference play on Friday night
Eichorst's firing on Thursday sets Riley's seat ablaze, even if a decision won't be made i...

Eichorst had been at Nebraska since 2012

Three straight titles makes it seem like 'Alabama and everybody else' in the SEC