QUICK HITS: Utah State 27, Utah 20 (OT)
It took overtime but Utah State captured their first win over in-state rival Utah since 1997 thanks to Chuckie Keeton and a solid defense.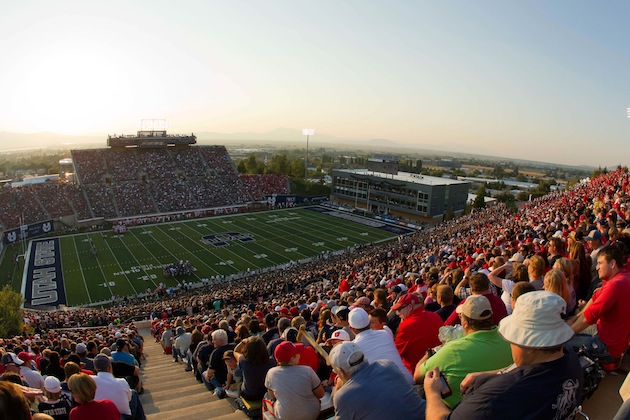 UTAH STATE WON: It wasn't a great performance by any stretch of the imagination but Gary Anderson and his squad picked up a big win against an in-state rival that will no doubt mean a lot to the program going forward. Just when it seemed like Utah was about to take control of the game, the defense stepped up and the offense did just enough to eek out a home win against the Pac-12 team in overtime. Quarterback Chuckie Keeton was efficient and used his legs when necessary to move the ball downfield on his way to over 302 yards of total offense but the total team effort allowed the Aggies to make history in Logan Friday night.
HOW UTAH STATE WON: Timely plays might be the best way to describe the huge upset by the Aggies. They kicked off scoring by blocking a punt that was scooped up and taken all the way back for the program's first blocked kick for a touchdown in a decade. After taking a 13-0 lead in the 1st quarter though, everything started to go wrong and the offense went punt, punt, missed FG, fumble, punt, fumble to let the Utes right back in and tie the game up. Keeton showed off his moxie late however as his team went 66 yards in three plays to go-ahead in the middle of the 4th. Though the USU defense allowed Utah to tie the game and send it to overtime, the offense came back with an easy drive in the extra frame capped off by a Kerwynn Williams one-yard, untouched score.

WHEN UTAH STATE WON: For a time there, it seemed as though Utah's Joe Kruger being ejected for throwing a punch was going to be one of the major turning points in the game as Utah State scored a go-ahead touchdown. The Utes battled back however and managed to even it before the end of the 4th quarter and it seemed like a new ballgame at the time. It wasn't until the Aggies had a seven point lead in overtime when they knocked down a 4th down, Hail Mary-type pass by Jon Hayes until they truly had won it and the field storming could commence.

WHAT UTAH STATE WON: It was their first win over "big brother" since 1997 and as big as that was for Utah State, this year's team overcoming a second half surge and still winning is a step in the right direction going forward. The Aggies were one of the worst teams in the country in the 2nd half last season (four blown double-digit leads after halftime) and they apparently were able to correct their issues despite after looking like that same old 'going to blow it' team once they took a two score lead. As a non-conference game it doesn't mean much to the squad looking to take home the WAC title in the overall picture but anytime you play a rival and win at home it's a huge boost for morale -- especially given how dominant Utah has been in the series.

WHAT UTAH LOST: There was a question as to how deep the Pac-12 is this year and with the Utes losing to a WAC team, it appears to be not very much after elite teams like USC and Oregon. There wasn't much inspiring from this, simply plenty of issues to correct before getting into much tougher Pac-12 play over the coming weeks. Some thought that the Utes would be the team that could challenge USC in the South Division when they host the top three team on a Thursday night in Salt Lake City but based on how they played Friday, the team is a long, long way from doing that. Add in the fact that there's a tough Holy War match up with BYU coming up and Utah could be looking at a rough two-game stretch before heading into conference play.
THAT WAS CRAZY: This was not pretty but it was a strangely effective flea-flicker for Utah that kicked off their scoring and seemed to be a big momentum shift in the 2nd quarter to send them on their way (via SBNation).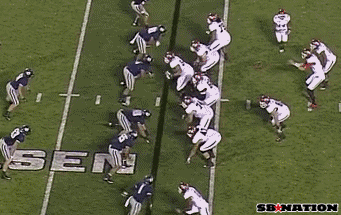 Guice was ruled out for Saturday but convinced Ed Orgeron to let him play in a limited rol...

Greg Huegel suffered a knee injury during Wednesday's practice

The Wildcats and Utes open conference play on Friday night
Eichorst's firing on Thursday sets Riley's seat ablaze, even if a decision won't be made i...

Eichorst had been at Nebraska since 2012

Three straight titles makes it seem like 'Alabama and everybody else' in the SEC