Quick Hits: West Virginia 31, Iowa State 24
Instant analysis of the Mountaineers' come-from-behind win in Ames, their first victory of any kind since early October.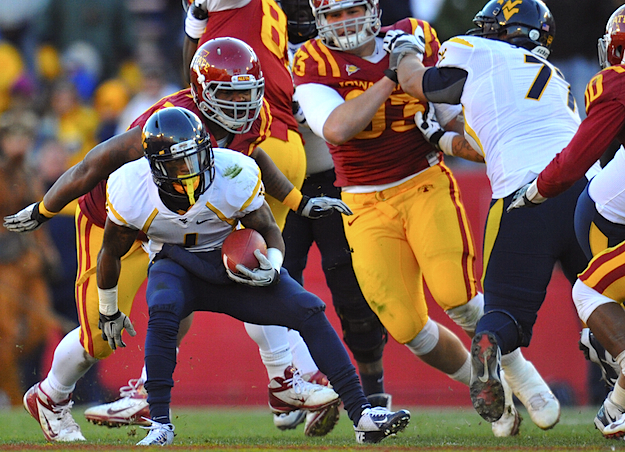 Tavon Austin went off again in West Virginia's first victory in nearly two months. (Getty Images)
WEST VIRGINIA WON: Tavon Austin turned in another big day, Iowa State fumbled away a late opportunity in the red zone and the Mountaineers escaped Ames with their first come-from-behind victory of the year. The win was West Virginia's first of any kind since a 48-45 triumph at Texas on Oct. 6 that moved WVU into the top five of the polls, before the season descended into the pit of a five-game losing streak.
WHY WEST VIRGINIA WON: Compared to last week's 572-yard explosion against Oklahoma, Austin's afternoon was fairly anticlimactic. By any other standard, it was spectacular as usual: With 261 yards as a rusher, receiver and return man, Austin exceeded 200 all-purpose yards for the seventh time in 11 games and improved his season average to 235 yards per game -- well ahead of his national-best pace in 2011. The biggest chunk of that total came on the biggest play of the game, a 75-yard sprint to the end zone with 6:31 remaining in the fourth quarter that turned out to be the game-winning touchdown.
West Virginia also got a significant boost on the ground from running back Shawne Alston, who played thunder to Austin's lightning with 130 yards and a touchdown on 18 carries. Friday was the first time Alston has been healthy enough for a full workload since the season opener, and the first time WVU has sustained a viable between-the-tackles ground game since its last victory.
WHEN WEST VIRGINIA WON: Trailing 31-24 after Austin's late touchdown, Iowa State responded by marching 60 yards in 10 plays to the WVU 7-yard line, aided by a pair of 15-yard flags against the Mountaineers defense. On first-and-goal following a drive-extending pass interference penalty, however, safety Darwin Cook jarred the ball loose from Cyclone tailback Jeff Woody, and safety Karl Joseph pounced on the fumble at the goal line with just under four minutes to play. From there, the offense moved the chains three times on runs by Austin and Alston and kneeled out the final minute.
WHAT WEST VIRGINIA WON: With their sixth win, the Mountaineers can finally claim bowl eligibility from a season that once held BCS potential. And although they cannot salvage a winning record in Big 12 play, the prospect of a three-game winning streak to end the season (including wins next week against last-place Kansas and in a bowl game) would go a long way toward taking the sting out of the offseason.
WHAT IOWA STATE LOST: ISU was already bowl-eligible coming into this game but missed a golden opportunity to clinch a winning season. Depending on how the Big 12 bowl lineup shakes out, there's still a chance -- a distant one, but a chance -- that the Cyclones are left out of the postseason altogether.
Led by Heisman Trophy winner Baker Mayfield, the Big 12 finished with seven first-team sel...

Schiano would have made $4.4 million in Year 1 with annual raises as part of a six-year de...

Dykes spent this season as an offensive analyst at TCU
The 'Wyoming Wild Man' notched six tackles for loss as a junior in 2017

Zaycoven Henderson was charged with aggravated assault with a deadly weapon

Patterson is a former No. 1 recruit in the country