Quick Hits: West Virginia 70, Baylor 63
Instant analysis of the Mountaineers' record-breaking win over the Bears.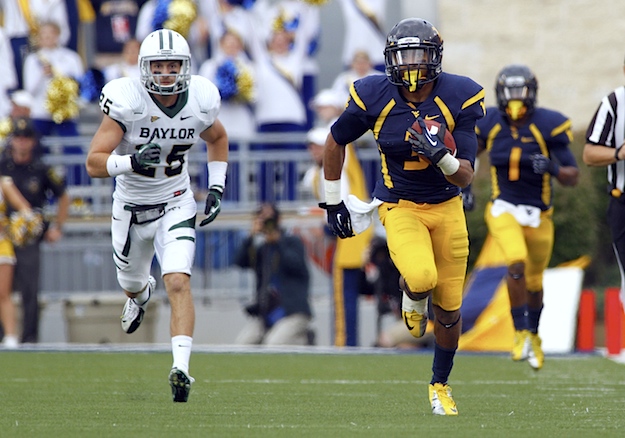 West Virginia Won. Eventually, although it may be more accurate to say the Mountaineers survived: The meeting of two up-tempo, high-octane offenses resulted in an explosive reaction that left both defenses badly burned. Between them, Baylor and West Virginia generated 1,507 yards of total offense, 67 first downs, 19 touchdowns and 133 points. That was three points shy of the highest-scoring game in NCAA history.
Sixteen of the game's 19 scoring drives took less than three minutes. Combined, the offenses were 23-of-31 on third down. Six different players finished with at least 100 yards receiving, including one player on each side – Baylor's Terrance Williams and West Virginia's Steadman Bailey – who accounted for more than 300 yards apiece. Mountaineer quarterback Geno Smith put the ball in the air 51 times, and had more touchdown passes (8) than incompletions (6).
Also, there were three punts. You know, in the name of keeping it old school.
Why West Virginia Won. Baylor's defense didn't exactly have a great track record coming into this game, but Smith's numbers would be hard for most quarterbacks to replicate against air: With 45 completions for 656 yards and eight touchdowns, he shattered school records in all three categories, all of which he had previously set in January's Orange Bowl rout over Clemson. More amazingly, 40 of his 45 completions and all eight touchdowns went to just three receivers, Steadman Bailey, Tavon Austin and J.D. Woods.
For his part, Bailey set single-game school records with 303 yards and five touchdowns – four of them from at least 20 yards out – but there was also enough room in the books for Austin, who set a new West Virginia mark with 14 receptions. When you finish with 287 all-purpose yards and two touchdowns, as Austin did, and you're only a footnote in this section, that it is a big, ridiculous day.
When West Virginia Won. The Mountaineers moved ahead for good in the third quarter, when they were able to break serve by forcing the Bears into a missed field goal and a punt on defense while the offense scored three consecutive touchdowns to turn a 35-35 tie at the half into a burgeoning rout at 56-35. Baylor was in catch-up mode from that point on, but wasn't truly out of it until West Virginia converted a 3rd-and-1 in the final minute.
What West Virginia Won. In its first conference game as a member of the Big 12, the Mountaineers proved they're up to the accelerated pace of their new conference, and then some. Smith began the day as the tentative frontrunner in early Heisman straw polls, and only increased his lead.
What Baylor Lost. Assuming few Baylor fans were harboring series fantasies about an undefeated season based on a 3-0 start against non-conference patsies, not much. Incredibly, the Bears have not lost a step offensively in the absence of program messiah Robert Griffin III, and in fact may be slightly moreexplosive than they were with RG3 at the controls the last two years. If the offense is keeping pace, though, then the already flammable defense is taking several steps back.
Expert picks for the top games during Week 8 of the 2017 NCAA football season

Leach wants a rally outside Texas Tech's stadium for $2.5 million he believes he is owed

It's the beginning of the end for a number of teams with College Football Playoff hopes
Every season has early surprises, but which ones are most capable of finishing the job?

Our computer model simulated every Week 8 college football game 10,000 times with surprising...

The bye weeks means there's more time for Smart to hit the recruiting trail