Raising Arizona: Inside RichRod's recruiting machine on signing day
Jokes abound on signing day at Arizona, but landing a class to help end the Wildcats' Rose Bowl drought is serious business. Here's a look inside RichRod's recruiting machine.
More recruiting: 247Sports 2014 Class Rankings | Signing Day recap
TUCSON, Ariz. -- It was way too early Wednesday morning at Arizona's Lowell-Stevens Football Facility.
It was also way too Dudek.
That would be 32-year-old Wildcats recruiting coordinator Matt Dudek. At 7 a.m. a director counted down the seconds to Arizona's livestream of college football's national holiday.
"Welcome to the original OKG recruiting show," Dudek crowed into the camera.
OKG is acronym for Our Kinda Guys -- a unifying term Wildcats coach Rich Rodriguez has used since 2001. Boise State and Chris Petersen dispute the origin, but let them have their own signing day show with a ball-of-recruiting fire ready to go Monte Hall on your sorry behind.
Dudek is part game-show host, part den mother, part target for Rodriguez's staff that will enter its third season here in the fall. Short jokes, it seems, always with the short jokes for the rotund, 5-foot-7 balding native of McKeesport, Pa.
"I don't want to cut you off at the knees," one Arizona assistant chided Dudek on-air. "You wouldn't appear on camera."
At 7 a.m., Dudek already has been in the facility for three hours, in time to receive an early fax from a signee back East. Not that it mattered.
"I don't sleep" the night before, he said. "It's Christmas. You know you're going to get presents.
"If we go to the national championship game, I'll be juiced up but not as much as I am now."
During the four-hour show Dudek interviewed his boss (Rich Rodriguez) three times and introduced 23 of the 25 members of this year's class, which is ranked top 30-ish among the various recruiting gurus. In Year 3 of the RichRod Regime it's good to know that one of the faces of the program, on this day, is a funky MC.
"You look like a rap star," Rodriguez says of Dudek's specially made OKG hoodie.
Or maybe it should be recruiting OG.
Like hundreds of other recruiting coordinators, it is Dudek's job to organize, categorize and entertain recruits -- on a max of 40 NCAA-sanctioned bucks a day for official visits. But how many in his position have two masters degrees and twins? How many of those have that hoodie adorned with a font that looks suspiciously like the RUN-DMC logo?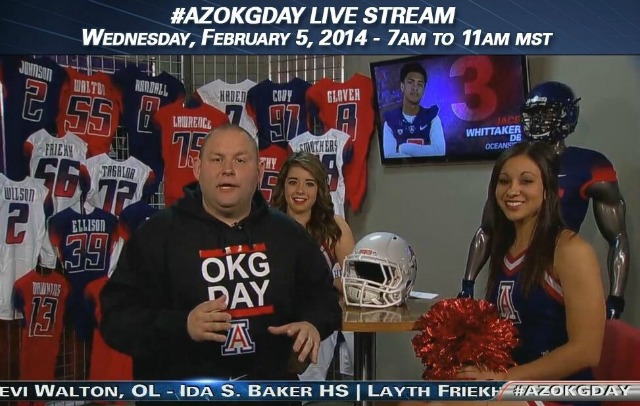 "I'm becoming the old, fat, white guy," Dudek kidded. "I'm going to lose my street cred."
As a recruiting coordinator the man is overqualified. As a schmoozer -- both of teenagers, parents and Wednesday's livestream audience -- underrated doesn't begin to describe it.
Dudek left a Fortune 500 job to get into the profession. Former Pittsburgh coach Dave Wannstedt called one day and convinced him to leave his job as manager of Maxim Crane Works at age 22. Rodriguez called when he came here three years ago.
By that time Dudek had helped recruit the likes of LeSean McCoy and Aaron Donald to Pittsburgh. By Wednesday his star was firmly hooked to Rodriguez, 16-10 in his first two seasons in this portion of the Arizona desert. That has included a pair of bowl wins and an upset of then-No. 5 Oregon last season.
Rodriguez and his right-hand rotund man landed nine early signees (one transfer, two high schoolers, six jucos), 16 high-school seniors, five "grayshirts" (enrolling a year from now) and 10-12 preferred walk-ons.
That's approximately 35 new players for a program that perpetually lives under the label of The Only Pac-12 School Never To Get To The Rose Bowl.
That is not insignificant in a state where rival and Pac-12 South defending champion Arizona State looms. Arizona is attempting to raise its profile in a conference that could -- top to bottom -- legitimately be the best in the nation. Sorry SEC.
"We're going to do something that no other University of Arizona team has done before," Dudek proclaimed. "That is, get in the Rose Bowl and get in the hunt of the national championship."
Recruiting coordinators can yap like that on the sport's high holy day. It's all smack talk until someone gets smacked in the mouth. That's for the fall. On this day, Dudek was comic relief with a work ethic. Rodriguez has always had his share of characters on staff. That's because, despite the ugly departures from West Virginia  and Michigan, RichRod has been a character himself.
"I like most of it," he said of recruiting, "Parts of it I don't. There are times when you feel like a school girl chasing Justin Bieber."
"The old Justin Bieber," Rodriguez qualified, "not the current one."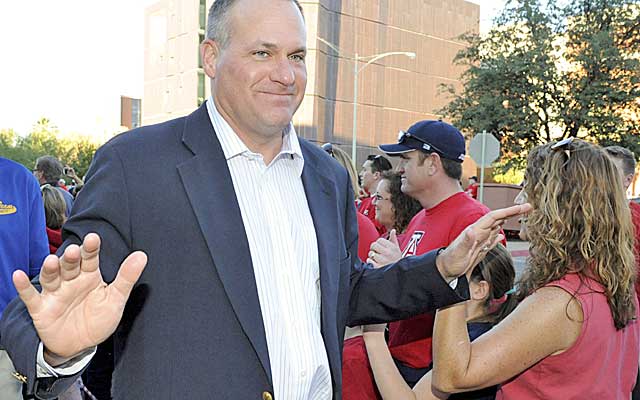 Fueled with early morning coffee, fruit and pastries, Dudek and company put on a surprisingly slick show. Arizona legend Lance Briggs as well as a number of that day's signees called in. RichRod hosted a segment with a certain balding sportswriter. As if on cue, the day's only undecided prospect, defensive lineman Marcus Griffin of Bellevue, Wash., faxed in his letter of intent during the livestream.
There are worse places to do all this than Tucson. But there are better jobs than this too, convincing teenagers to swear allegiance to a college football program.
"Sixteen-to-20 year old kids are my livelihood," Dudek said proudly.
One of his boss' few hard and fast recruiting canons is that a commitment is a marriage vow. If you visit another campus after committing to Arizona, you might be dead to RichRod.
Herschel Walker would be the exception, Rodriguez said, "but if it's Sally Walker ..."
Dudek left that high-paying job working for the nation's largest crane rental company. He now takes great pride in herding Wildcats. He also takes the slings and arrows of outrageous barbs. Always with the short jokes, these guys.
The 6-2 Rodriguez actually signed off from the livestream Wednesday, firing off this line while standing next to his 5-7 recruiting ball of fire:
"We look like the number 10."
Rodriguez is a realist. He has assembled, more than signed, this year's class.
Offensive lineman Freddie Tagaloa was a captain at Cal last year. That doesn't suggest unhappiness, but things do change. Tagaloa had a previous relationship with Arizona offensive line coach Jim Michalczik, who coached him at Berkeley. Tagaloa transferred, won a Pac-12 appeal and will have to sit out only the 2014 season. (Pac-12 intra-conference transfers have to sit out two years.)
"We got big in a hurry," Rodriguez said.
So big that the famous sun in Tucson is in danger of being blotted out. Tagaloa is 6-8, 330 pounds. That's not as big as the shadow projected by 6-8, 340-pound offensive lineman Jordan Poland from San Diego.
Dudek, live on camera Wednesday morning, turned to some Wildcats cheerleaders and said Poland, "could probably eat one of these girls for lunch."
And so it went. Wildcat Nation went crazy over the loyalty shown by receiver Cam Denson. A local kid, the Arizona player of the year, committed 13 months ago and didn't waver. A huge hole was created by the loss of 2012 national rushing leader Ka'Deem Carey (No. 2 in 2013) who just left for the NFL. Enter Fresno, Calif., tailback Nick Wilson.
"To say you're going to have a great season because of the signing class?" Rodriguez the realist asked. "C'mon. What do we know?"
Only that Alabama winning another signing day probably means some sort of continuation of the SEC's dominance. Other than that, recruiting has become so much about projecting forward that something is happening out there. It's not clear what it is.
Two years ago few knew about the redshirt freshman quarterback at Texas A&M. Fast forward and Jameis Winston just made it two redshirt freshmen in a row to win the Heisman.
On Wednesday, the Arizona staff had this year's class so nailed down that they were already on the phone to 2015 seniors. The Wildcats already have offered Nathan Tilford, a nifty little tailback from Upland, Calif., that USC is also in on.
Tilford is a ninth-grader, a high-school freshman. Class of 2017.
Rodriguez already has his eyes on a freshman quarterback who lives under his roof. Rhett Rodriguez got his first recruiting letter about a month ago. It wasn't from Arizona.
"That's good," Rodriguez told his son, "but if you're good enough there's only one college coach you're playing for."
A brief pause ...
The lede to this story -- actually to every national recruiting roundup in the country -- would have been easy: Arizona signed a Friekh -- pronounced freak.
That would be four-star offensive lineman signee Layth Friekh from Glendale, Ariz. Had someone convinced Layth's parents, the kid's last name could have/should have been pronounced a different, more marketable way. Remember when a certain Notre Dame quarterback was Joe Thees-man?
Think of the possible pun headlines: Thirteen Tackles By Friekh, Friekh Gains Starting Job, Arizona develops Friekh.
Alas, it turns out that Friekh is pronounced frek, with the short-e sound.
Wait, then that means Friekh rhymes with Shrek ...
RichRod rising
Three years ago this month RichRod was out of a job. He had been fired at Michigan. But that's not what has defined him.
Tucson is more his kind of town, Arizona more his kind of program. AD Greg Byrne -- the profession's reigning king of Twitter -- meshes nicely with a coach who hasn't texted since Aug. 28, 2012. Look it up.
When he got here, Rodriguez inherited a team that couldn't make it to the sidelines during spring practice for popsicles.
"They were too damn out of shape," he said. "Now they can jog over and get popsicles. We've made progress. Next step Rose Bowl."
Eaaaasy there, hoss. The rebuild starts right here in the state. Arizona State won the division -- and the latest Territorial Cup by 37 points. The first national championship game of the playoff era will be staged up the road in 11 months in Glendale, Ariz.
The Wildcats first need to get back in the Top 25 on a consistent basis. A $75 million football facility has dressed up Arizona Stadium. If kids don't commit to a coach, they certainly commit to the swag.
Out of a germ of an idea from Rich's wife Rita came this promotional video, "Hard Edge."
Ken Griffey Jr.'s son Trey plays here. Carey's presence reinforces the fact that at its core, Rodriguez's offense is about a power running game. Along with Chip Kelly, Gus Malzahn and a handful of others, RichRod is one of the godfathers of the zone-read spread offense.
Forget Michigan. Please. Bad fit. Bad time. Instead, remember Steve Slaton, Pat White and Noel Devine in the same backfield at West Virginia.
"When they were back there at the same time," Rodriguez said, "they were the fastest backfield in college ball."
Not exactly saying that's going to happen here, but the construction project will not be boring. Including walk-ons, there will be eight quarterbacks trying to replace B.J. Denker. Among them are Texas transfer Connor Brewer and juco transfer Jerrard Randall.
"People say, 'You collect quarterbacks,'" Rodriguez said. "I do. It's better than collecting sea shells."
Many schools ago Randall was a four-star No. 10 dual-threat prospect out of Miami Gardens, Fla. Randall committed to Oregon, didn't qualify, matriculated to LSU then Northeast Mississippi Community College before landing here.
"I kind of like guys that have a chip on their shoulder," Rodriguez said, "want to prove themselves all over again. We're not going to get 105 five-stars."
That kind of sums up Arizona at the moment. Linebackers Scooby Wright and Nate Phillips emerged last year as freshman All-Americans. For the second straight year, the Wildcats won eight games. Arizona should never be the 4-8 they were in Mike Stoops' last season (2011). However, they still have that oh-for-the-Rose Bowl stigma.
Arizona will be in the discussion for having the best set of receivers in the country. Austin Hill (81 catches in 2012) returns after blowing out his ACL in spring practice. Notre Dame transfer Davonte Neal went from returning punts in the 2013 national championship game to being a walk-on here.
Neal appealed to the NCAA twice for immediate eligibility to be near his newborn daughter Baylee and her mother. The association was not sympathetic.
"When she told me she was pregnant, I immediately went into [thinking], 'What do I have to do for the baby and you?' Neal said. "[The situation] is not what we wanted but it's what we have and it's a blessing."
The one-time Gatorade Arizona prep player of the year will have to pay his own way until the summer when he will go on scholarship. He'll be able to play in the fall and technically count toward the recruiting class of '15.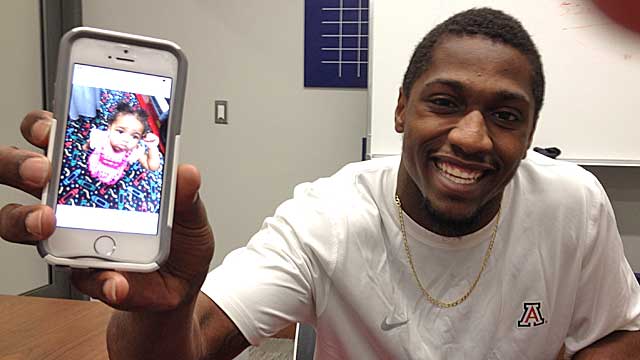 Texas transfer Cayleb Jones -- a Class of 2013 recruit -- will join him on the field. The son of a former NFL player, Jones was charged with felony aggravated assault for hitting a Texas tennis player. The charges were eventually reduced to a misdemeanor.
Rodriguez said he has no concerns about character issues.
"It's a lot different than a second chance for me," Jones said. "I wasn't able to display what I could do at the place I was before. I have developed such a confidence."
Jones and Neal will always have the scout team experience from last fall as they awaited their chance. Together they are a pair of what the industry calls "bounce backs," sort of like the scrappy head coach himself.
"The old, humbling scout team," Jones reminisced. "There were fights at least once a week. For Davonte and me, we developed a sense of pride."
The overqualified recruiting coordinator is finishing up after killing it on the livestream.
Matt Dudek secretly wants to be that NFL GM someday but knows "there's only 32" of those jobs. Being an AD wouldn't be bad but, "I don't want to go to a women's tennis match the day of the Super Bowl."
So here he is chasing teenagers on another signing day, enduring the short jokes and being asked why -- why a psychology degree and a master's in education have led to this?
"Every morning I wake up and I love doing it," Dudek said. "Plus, I'm way too inappropriate to be in the classroom."
An OKG, it seems, forever.
An assistant-by-assistant look at changes Saban made to the Tide's staff ahead of 2018

Find out when Nick Saban, Kirby Smart and the rest of the coaches will speak ahead of the...

It wasn't only the massive $75 million contract that got Fisher to depart for College Stat...
Weinke was injured when Florida State lost to Tennessee in the 1999 BCS title game

It was one of the busiest offseasons for the assistant coaching ranks

Oliver's star has already been born, but 2018 is when it will truly be recognized