Ranking FBS college football coaches by playing career, 1-128
A look at the 128 head coaches of the FBS level, and their achievements before they moved from gridiron to sideline.
Back in March we took a look back at the playing careers of all 68 NCAA Tournament coaches, a study offering strong evidence that the leadership/borderline control freak gene can be detected early, and often takes on the form of an undersized, high-effort point guard.
Replace 'point guard' with 'quarterback,' and you have a key discovery from our similar study of the nation's top-level college football coaches, offered below. Many current FBS coaches played the signal-caller role as collegians, a few on the sport's highest stage, but many more well beneath the radar.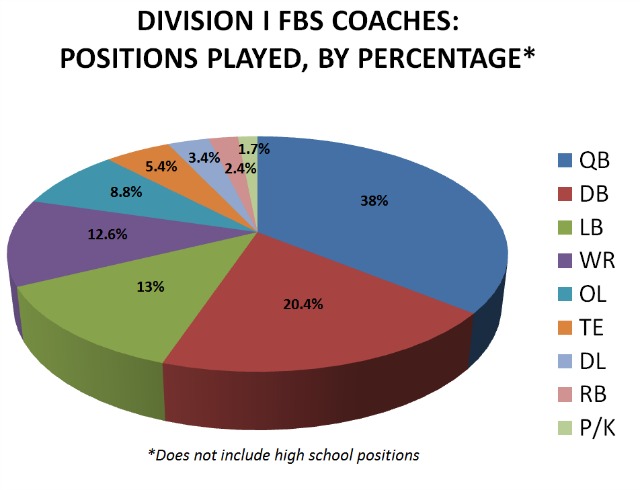 We attempted to rank the coaches as players, and much like in our basketball study, there was virtually no connection between playing greatness and coaching greatness. Some of the most successful coaches on this list scarcely played a meaningful down, and some of the best players have a long way to go before their coaching success matches their exploits between the lines of the gridiron.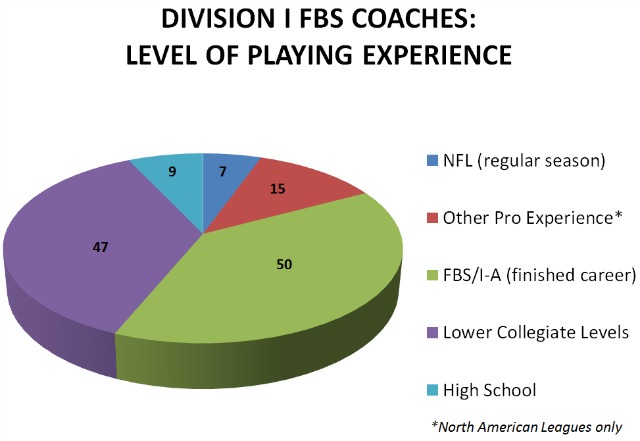 A caveat that deciding whether the career of a one-year, walk-on special-teamer at Notre Dame (Skip Holtz) should be considered better than that of a star QB at the Division II level (Chris Petersen) is really in the eye of the beholder, sort of like asking whether the Sex Pistols' one album is better than AC/DC making the same album over and over for 40 years. There were a lot of impossible value judgments like that to make, so take the author's actual rankings with a grain of salt -- all this is just for fun. We'll again count down the hits in the style of the dearly departed Casey Kasem:
128. Charlie Weis, Kansas -- Weis played just one year of high school football, as a backup center at Middlesex (NJ) High School, and was also the starting catcher on the baseball team.
127. Mike Leach, Washington State -- Leach was a backup at Cody (WY) High School through his junior season and reportedly played rugby while a student at BYU.
126. Dennis Franchione, Texas State --  Franchione's playing career ended at Southeast High School in Cherokee, KS. He did not play football at alma mater Pittsburg State (KS).
125. Paul Johnson, Georgia Tech -- Johnson attended Western Carolina, but his playing career ended at Avery County High School in North Carolina. He reportedly tried out for basketball at WCU but did not make the team.
124. Bobby Hauck, UNLV -- Hauck lettered in track at the University of Montana, but his football playing career ended at Sweet Grass (MT) high school. Hauck's brother, Tim, played 13 years in the NFL.
123. Sonny Dykes, California -- Dykes attended Texas Tech while his father, Spike was the head football coach there, but played baseball. The younger Dykes did not play beyond the high school level at Coronado High School in Lubbock.
122. David Cutcliffe, Duke -- Cutcliffe was a student assistant at Alabama during the Bear Bryant era, but his playing career ended at Banks High School in Birmingham. Cutcliffe reportedly played in the first integrated high school football game in state history in 1969.
121. Hugh Freeze, Ole Miss -- Freeze was a three-sport athlete at Senatobia (MS) high school, including football, and played baseball at the junior college level but did not play sports at his alma mater, Southern Miss.
120. Brian Kelly, Notre Dame -- Kelly was an undersized linebacker for the club football program at Assumption (MA) College, becoming a two-time team captain for the Greyhounds.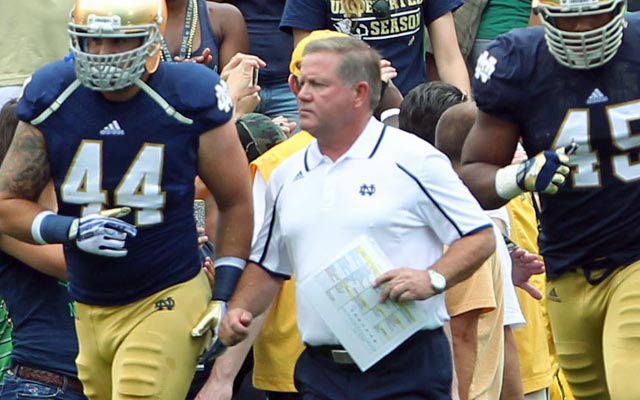 119. Bill Clark, UAB -- Clark was a decorated high school player at Piedmont High School in Alabama, where he earned all-state honors as an offensive lineman while playing under his father, Ragan. But a back injury eliminated a chance at a collegiate playing career for Clark at his alma mater, Jacksonville State.
118. George O'Leary, UCF -- Though O'Leary's false claim of a playing career at New Hampshire prompted a forced resignation just days into his tenure at Notre Dame in 2001, the forgotten truth is that O'Leary did play college football ... at the University of Dubuque in 1964. O'Leary -- an all-league and all-county quarterback at Central Islip (NY) High School -- apparently intended to play football after transferring to UNH, but a bout with mono and a knee injury prevented him from playing for the Wildcats.
117. Butch Jones, Tennessee -- Jones played two years at Division II Ferris State (1986-87) in Michigan, working as a running back and wide receiver before a knee injury helped hasten the end of his career.
116. Jeff Monken, Army -- Monken is one of two FBS-level head coaches who played college ball at Division III Millikin (1985-88), along with his one-time teammate Chuck Martin of Miami (OH). Monken played wide receiver for the Big Blue.
115. Charlie Partridge, Florida Atlantic -- Partridge was a three-year starter as a defensive lineman at Drake, and a team captain during his senior season (1995).
114. Dave Doeren, North Carolina State -- Doeren was a blocking tight end at Drake from 1990-93, finishing with career numbers of 19 catches for 237 yards for the non-scholarship program.
113. Dave Clawson, Wake Forest -- Clawson was a converted quarterback who became a quality defensive back at the Division III level for Williams (MA) College (1985-89), where he played for Dick Farley.
112. Scott Shafer, Syracuse -- Shafer started his career at Ohio University before a knee injury prompted a transfer to Division III Baldwin-Wallace for the remainder of his career (1987-89). Shafer was a three-year starter at QB in the Yellow Jackers' run-and-shoot attack.
111. Dan Mullen, Mississippi State -- Mullen started two years at tight end for Division III Ursinus College in suburban Philadelphia, earning All-Centennial Conference first-team honors as a senior.
110. Pete Lembo, Ball State -- Lembo was a four-year starter on the offensive line for a Georgetown team that was a quality program on the Division III level during his time at the school. Lembo played center and was a captain as a senior.
109. Kyle Flood, Rutgers -- Flood played at Iona as an offensive lineman from 1989-82, earning all-conference honors in 1991 for the then-Division III program. Flood also served as the Gaels' captain in 1992.
108. Brian Polian, Nevada -- Polian was a three-year letterman as a linebacker at Division III John Carroll (1994-96) and was named to the All-Ohio Athletic Conference team as a senior.
107. Chris Creighton, Eastern Michigan -- Creighton was a star QB on the Division III level for Kenyon (OH) College, earning North Coast Athletic Conference honors and setting a number of league and school records as a senior. Creighton would later become player-coach of the Limhamn Griffins of Malmo, Sweden, winning a championship there in 1993.
106. Chuck Martin, Miami (Ohio) -- Martin was a Division III All-American safety and an all-conference kicker at Millkin (OH), where he played from 1986-89.
105. Jeff Quinn, Buffalo -- Quinn was a Division III All-America offensive lineman at Elmhurst (IL) College, also wrestling for the university.
104. Todd Monken, Southern Miss -- Monken was an All-American quarterback at Knox (IL) College from 1985 to 1988, leading Division III in pass attempts, completions, and completion percentage during his senior season of 1988. Monken also lettered in baseball at Knox.
103. Darrell Hazell, Purdue -- Hazell was a star wideout at the Division III level for Muskingum College, winning All-Ohio Athletic Conference honors three times and honorable mention All-America honors as a senior in 1985. Hazell graduated with school records in receptions (132) and receiving yards (1,966).
102. Matt Campbell, Toledo -- Campbell was a standout defensive lineman for the nation's premier Division III program, Mount Union, from 1999-2002. Campbell was a part of three national championship teams (2000-02) and earned two All-America citations during his time at the school.
101. Bill Snyder, Kansas State -- Snyder started his career as a backup QB on the freshman team at Missouri (1958), but flunked out of Mizzou and later transferred to William Jewell (MO) College, where he played defensive back.
100. Jimbo Fisher, Florida State -- A quarterback, Fisher followed coach Terry Bowden from Salem (WV) College to Samford for his senior season of 1987, and was named Division III's national player of the year after accounting for 40 TDs in his lone year as Bulldog. Fisher was a backup QB for the 1988 Chicago Bruisers of the Arena League before getting into coaching.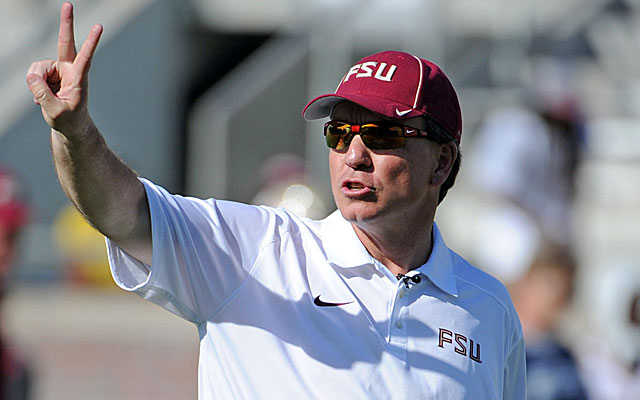 99. Tommy Tuberville, Cincinnati -- Tuberville played free safety at then-NAIA Southern Arkansas (1972-75) and was also a member of the school's golf team.
98. Tim Beckman, Illinois -- Beckman started his playing career at Kentucky but transferred to the University of Findlay (OH), an NAIA program. Beckman lettered at linebacker on two NAIA playoff teams at Findlay, but his career was cut short due to a vertebrae problem in his neck.
97. Gus Malzahn, Auburn -- Malzahn started his career as a walk-on wideout at Arkansas before transferring to Division II Henderson State (AR) University, where he served as a backup wide receiver and punter (his college numbers suggest he was more of the latter) during his final two seasons.
96. Larry Coker, UTSA -- Coker played three seasons as a defensive back at NAIA Northeastern (OK) State (1966–69). Coker was inducted into the school's Athletics Hall of Fame in 1998.
95. Mark Hudspeth, UL Lafayette -- Hudspeth was a four-year letterwinner at Division II Delta State (1987-90), starting at safety as a junior and at quarterback as a senior.
94. Paul Rhoads, Iowa State -- Rhoads was a three-year letterman at defensive back for Division II Missouri Western (1986-88).
93. Jim McElwain, Colorado State -- McElwain was an all-state quarterback as a Montana high schooler, then played collegiately under Dick Zornes at Eastern Washington (1980-83), primarily as a backup.
92. Bob Davie, New Mexico -- Davie started his career at Arizona, but transferred to Youngstown State before playing a down for the Wildcats. Davie was a three-year starter at tight end for the Penguins (1973-75), catching 32 career passes and helping YSU to the Division II playoffs in 1974.
91. Willie Fritz, Georgia Southern -- Fritz was a four-year starter at defensive back under Ron Randleman at Division II Pittsburg (KS) State, and earned all-conference honorable mention honors twice.
90. Urban Meyer, Ohio State -- After a failed career in professional baseball, Meyer lettered for two years as a walk-on football player at Cincinnati (1984-85), where he was a backup safety and held on PAT and field goal attempts.
89. Randy Edsall, Maryland -- Edsall was a backup QB at Syracuse (1976-79), rarely seeing time as a drop-back quarterback in an option-heavy system for the Orange.
88. Charlie Strong, Texas -- Strong was a good player at the NAIA level for Central Arkansas (1980-83), earning three all-conference citations as a safety and leading the team in interceptions twice.
87. Jerry Kill, Minnesota -- Kill was an undersized linebacker at Division II Southwestern (KS) but developed into an all-conference player and was elected team captain during his final two seasons.
86. Trent Miles, Georgia State -- Miles was a wide receiver on some good teams at Indiana State from 1982-1986 Indiana State, including two that went to the FCS playoffs.
85. Todd Berry, Louisiana-Monroe -- Berry was an all-state quarterback in Oklahoma and played college ball at Tulsa (1979-81), though a knee injury prevented him from earning any meaningful time as a collegian.
84. Bobby Petrino, Louisville -- Like brother Paul, Petrino played quarterback at NAIA Carroll (MT) College for their father, Bob Petrino Sr. Petrino was named Frontier Conference MVP in 1981 and 1982, and also played four years of basketball at Carroll.
83. Dana Holgorsen, West Virginia -- Holgorsen played wide receiver under Hal Mumme and offensive coordinator Mike Leach at NAIA Iowa Wesleyan (1990-92), catching 145 passes for 1,711 yards and 12 touchdowns in his three-year career.
82. David Bailiff, Rice -- Bailiff was an offensive lineman and tight end at Texas State (then Southwest Texas State) from 1977-80, earning All-Lone Star Conference and All-America honorable mention citations in addition to serving as team captain for the then-Division II program in 1980.
81. Larry Fedora, North Carolina -- Fedora was a star at the NAIA level for Austin (TX) College from 1981-84, earning honorable mention All-America honors twice as a wide receiver and helping the Kangaroos to the 1981 NAIA title.
80. James Franklin, Penn State -- Franklin was a standout QB on the Division II level for East Stroudsburg (PA), setting several school records and earning a nomination for D-II player of the year honors in his senior season of 1994.
79. Mark Helfrich, Oregon -- Helfrich was an NAIA All-American quarterback at Southern Oregon (1992-95), setting a number of school records with the school. The launch of Helfrich's coaching career coincided with the end of his playing career, as he served as a player-coach for the Vienna Vikings of the Austrian Football League in 1997.
78. Paul Petrino, Idaho -- Petrino was a four-year starting quarterback (1985-88) and two-time All-American at NAIA Carroll (MT) College, where he played under his father, Bob. Petrino set 16 school records as a collegian.
77. Mark Whipple, Massachusetts -- Whipple was a starting quarterback for two years at Brown (1977-78), accounting for 23 touchdowns and earning All-Ivy honorable mention status twice. Whipple also played four years of baseball at Brown.
76. Skip Holtz, Louisiana Tech -- Holtz played one year as a walk-on at Notre Dame, playing in all 11 games of the 1986 season on special teams and as a backup tight end.
75. Chris Petersen, Washington -- Petersen transferred from Sacramento City College to Division II UC Davis, where he played two years as a quarterback (1985-86) despite the coaching staff's original intention to move him to defensive back. Petersen led all of Division II in passing in 1985 and was conference player of the year and a second-team All-American.
74. Blake Anderson, Arkansas State -- Anderson was a quarterback and wide receiver at Baylor in 1987-88, before a torn ACL prompted a transfer to FCS Sam Houston State for his final two seasons.
73. Art Briles, Baylor -- Briles was an all-state high school quarterback who switched to wide receiver under Bill Yeoman at the University of Houston, though a torn ACL limited his minutes as a collegian.
72. Bryan Harsin, Boise State -- Harsin was a four-year backup quarterback at Boise State (1996-99), playing mostly behind Bart Hendricks during his collegiate career.
71. Troy Calhoun, Air Force -- Calhoun started his collegiate playing career at Air Force in 1985, and was the starting QB as a sophomore in 1986 before being supplanted by legendary Falcons signal-caller Dee Dowis. "I had a very limited role the rest of the time," Calhoun said in 2006.
70. Kirk Ferentz, Iowa -- Ferentz was a quality linebacker at UConn from 1974-76, earning a captain role as a senior.
69. Derek Mason, Vanderbilt -- Mason was a four-year letterman and two-year starter at cornerback for Northern Arizona (1989-92), where he played for Larry Kentera and Steve Axman.
68. Bobby Wilder, Old Dominion -- Wilder played quarterback at Maine (1983-87), graduating as the school's all-time leading passer and leading the Black Bears to the FCS playoffs as as senior.
67. Curtis Johnson, Tulane -- Johnson was a four-year starter at wide receiver for Idaho (1980–1983), earning All-Big Sky honors once and playing on the team that reached the 1982 FCS playoffs under John L. Smith.
66. Scott Satterfield, Appalachian State -- Satterfield started 27 games at QB for App State (1992-95) and was an All-Southern Conference first-teamer as a senior, when the Mountaineers went 12-1 and reached the FCS playoffs.
65. Ron Turner, Florida International -- Turner caught a team-best 40 passes for 666 yards and three TDs as a starting wideout at Pacific in 1975-76.
64. Tim DeRuyter, Fresno State -- DeRuyter played outside linebacker under Ken Hatfield and Fisher DeBerry at Air Force (1982-84), and was part of three bowl game victories with the Falcons.
63. Mark Stoops, Kentucky -- Stoops followed in the footsteps of brothers Bob and Mike, going to Iowa to play safety (and wearing the same No. 41) from 1986 to 1988. Stoops was credited with two interceptions during his Iowa career.
62. Steve Addazio, Boston College -- Addazio was a four-year starter on the offensive and defensive lines at Central Connecticut from 1978 to 1981, and according to his school bio earned tryouts with the NFL's New England Patriots, USFL's Jacksonville Bulls and CFL's Ottawa Roughriders before beginning a career in coaching.
61. Doc Holliday, Marshall -- Holliday was a three-year letterwinner at West Virginia (1976-78), where he played linebacker under Frank Cignetti and was a teammate of Terry Bowden.
60. Mark Dantonio, Michigan State -- An all-state player in his native Ohio, Dantonio played defensive back for three seasons under Jim Carlen at South Carolina (1976–1978).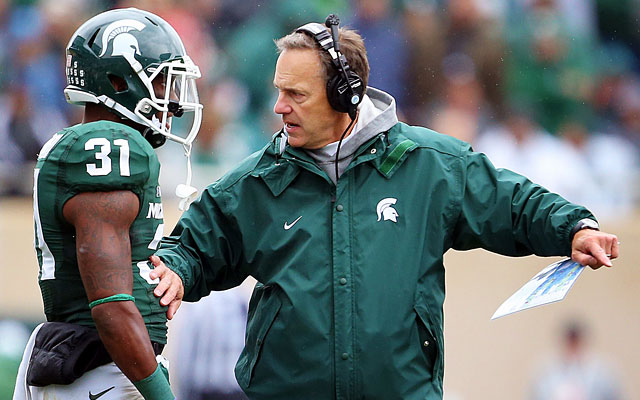 59. Ron Caragher, San Jose State -- Caragher was a backup quarterback at UCLA from 1986-89, where his most notable work was serving as an understudy for future Hall of Famer Troy Aikman. Caragher appeared briefly in the Bruins' 1989 Cotton Bowl win over Arkansas.
58. Mike London, Virginia -- London played defensive back at Richmond from 1979–82, earning team MVP honors as a senior, when he led the team in interceptions. London went to camp with the Dallas Cowboys in 1983, and also tried out for the USFL Chicago Blitz, but was released.
57. Mike Riley, Oregon State -- Riley was a celebrated high school quarterback in Corvallis, but opted to play college ball all the way in Tuscaloosa (his uncle, Hayden, was the baseball coach at Bama), where he was a backup cornerback under Bear Bryant and played on the 1973 UPI national championship team.
56. Terry Bowden, Akron -- Bowden played parts of three seasons as a backup running back at West Virginia (1976-78) graduating with career totals of 17 carries for 50 yards.
55. Matt Rhule, Temple -- The State College native Rhule walked on at Penn State, working as a reserve linebacker with the program from 1994 to 1997.
54. Sean Kugler, UTEP -- Kugler was a four-year letterwinner along the offensive line at UTEP (1985-88), playing on the team that reached the Independence Bowl under then-coach (and current AD) Bob Stull in 1988.
53. Gary Patterson, TCU -- After starting his collegiate career at Dodge City Community College, Patterson transferred to Kansas State and played as a walk-on linebacker for two seasons (1980-81). Patterson was a student coach for the K-State team that played in the 1982 Independence Bowl.
52. Paul Chryst, Pittsburgh -- Chryst was a backup quarterback and tight end at Wisconsin (1986-88), playing under Jim Hilles and Don Morton. Chryst caught 12 passes for 106 yards as a senior, when the Badgers went 1-10.
51. Craig Bohl, Wyoming -- Bohl played under Tom Osborne at Nebraska from 1977-80, serving as a reserve defensive back for teams that went a combined 38-10 during his time with the program.
50. Mike MacIntyre, Colorado -- MacIntyre was a safety and punt returner at Vanderbilt under his father, George, before transferring to Georgia Tech when George MacIntyre resigned followed the 1985 season. MacIntyre started for two years (1987-88) under Bobby Ross with the Yellow Jackets.
49. Bronco Mendenhall, BYU -- After transferring from Snow Junior College, Mendenhall started for two years as a safety and linebacker at Oregon State, and was team captain as a senior in 1987.
48. Matt Wells, Utah State -- Wells played quarterback at Utah State from 1993-96, receiving most of his time as a collegian during the 1994 season, when he threw 11 touchdown passes versus 11 interceptions for a team that went 3-8 under Charlie Weatherbie.
47. Nick Saban, Alabama -- Saban played multiple secondary positions under Don James at Kent State (1970-72), including on the 1972 team that won the MAC and reached the Tangerine Bowl (Saban was injured in late October and did not play in the bowl game). Saban's teammates on the 1972 team included Gary Pinkel and future Pro Football Hall of Famer Jack Lambert.
46. Ken Niumatalolo, Navy -- Niumatololo was a quarterback at Hawaii (1986-89), where he worked mostly as a backup to Garrett Gabriel but finished his career with 367 rushing yards in the team's option-based attack.
45. Doug Martin, New Mexico State -- Martin played quarterback under Jerry Claiborne at Kentucky (1981-84), getting most of his playing time during the Wildcats' winless season of 1982. (Master motivator Claiborne promoted Martin to the starting job the week of the Auburn game, noting, "Doug is one of those quarterbacks who isn't fast and doesn't throw very well.")
44. Bill Blankenship, Tulsa -- Blankenship was a quarterback at Tulsa from 1976 to 1979 under F.A. Dry and John Cooper, accounting for 14 career touchdowns and throwing for 2,113 yards.
43. Dabo Swinney, Clemson -- Swinney walked on as a wide receiver at Alabama, lettering on three teams (1990-92) and catching seven passes for 81 yards in his collegiate career. Swinney caught four balls for 48 yards during the Tide's 1992 national championship season.
42. Dan McCarney, North Texas -- McCarney was a linebacker at Iowa from 1972-74, a period when the Hawkeyes went a dismal 6-26-1 under coaches Frank Lauterbur and Bob Commings. McCarney was a captain on the 1974 team that upset No. 12-ranked UCLA early in the season, however.
41. Rich Rodriguez, Arizona -- Rodriguez was a serviceable defensive back at West Virginia University from 1982-84, recording 54 career tackles and three INTs over three seasons. 
40. Mark Richt, Georgia -- Richt (who discussed his college career here) served mainly as a backup quarterback at Miami from 1978-82, where he was stuck behind Jim Kelly but received significant playing time as a senior after Kelly was injured. Richt would later try out with the Broncos and Dolphins, but did not stick as a pro.
39. Kevin Wilson, Indiana -- Wilson walked on at North Carolina, eventually earning a scholarship and playing on the offensive line for four bowl teams (1980-83).
38. Gary Andersen, Wisconsin -- Andersen was a junior college All-American along the offensive line while at Ricks (ID) College, before transferring to Utah for the final two years of his career, where he played center under Jim Fassel (1985-86).
37. Frank Beamer, Virginia Tech -- Beamer was a three-year starter at cornerback under Jerry Claiborne at Virginia Tech, playing on the Hokies' 1966 and 1968 Liberty Bowl teams.
36. Larry Blakeney, Troy -- Blakeney started at quarterback for Auburn for most of the 1966 and part of the 1967 seasons, before losing his job to Loran Carter and switching to defensive back for the concluding stages of his Tigers career.
35. Jim Mora, UCLA -- Mora walked-on for Don James at Washington, eventually earning a scholarship while serving mostly as a reserve defensive back/linebacker from 1980 to 1983. More appeared in two Rose Bowls while a player with the Huskies.
34. Les Miles, LSU -- Miles played at Michigan, where he was an undersized offensive lineman who lettered under Bo Schembechler in 1974 and 1975. Miles was a starter at guard on the 1975 team that lost to Oklahoma in the Orange Bowl.
33. David Shaw, Stanford -- Shaw was a serviceable wide receiver under Dennis Green and Bill Walsh at Stanford (1991-94), catching 57 passes for 664 yards and scoring five touchdowns in his career.
32. Dino Babers, Bowling Green -- Babers started at safety and linebacker at University of Hawaii but was probably best remembered for his work as a running back under then-head coach Dick Tomey. Babers' best season was a 295-yard, 3-TD campaign in 1983. He went to training camp with the CFL British Columbia Lions before a knee injury ended his playing career.
31. Rod Carey, Northern Illinois -- Carey was a three-year starter at center during his career at Indiana (1990-93), winning team offensive MVP honors as a senior. The Hoosiers went to three bowl games during Carey's time with IU.
30. Rick Stockstill, Middle Tennessee -- Stockstill played quarterback at Florida State (1979-81), starting a pair of Orange Bowl losses to Oklahoma in 1979 and 1980.
29. Todd Graham, Arizona State -- Graham was a two-time NAIA All-American as a defensive back at East Central University in Oklahoma. The undersized Graham went to training camp with the 1987 Arizona Cardinals but did not make the team.
28. Ruffin McNeill, East Carolina -- McNeill was a three-year starting DB under Pat Dye at East Carolina, and spent two years as a captain at ECU. McNeill was a part of the program's Independence Bowl victory over Louisiana Tech in 1978.
27. Paul Haynes, Kent State -- Haynes walked on as a d-back at Kent State but made an immediate impact, leading the team in interceptions as a freshman (1987) and tackles as a sophomore (1988), and earning all-conference honors as a senior (1990). Haynes' 440 tackles rank seventh in Golden Flashes history.
26. Bo Pelini, Nebraska -- Pelini was a free safety under Earle Bruce and John Cooper at Ohio State (1987-90), serving as a starter for two years and co-captain as a senior.
25. Gary Pinkel, Missouri -- Pinkel was a quality tight end at Kent State (1970-73), where he was roommates with Jack Lambert and a teammate of Nick Saban's. Pinkel caught 70 passes over his final two seasons and earned honorable mention All-America status as a senior. Pinkel was invited to multiple NFL training camps but did not make a team at the next level.
24. Dan Enos, Central Michigan -- Enos was a two-year starting QB at Michigan State, leading the Spartans to a pair of bowl wins along with a Big Ten co-title in 1990.
23. Brady Hoke, Michigan -- Hoke played linebacker for four years at Ball State (1977-80), three as a starter, recording 99 tackles for the 1978 team that won the MAC title. Hoke was a captain and second-team All-MAC performer as a senior in 1980.
22. Kevin Sumlin, Texas A&M -- Originally a walk-on, Sumlin would become a four-year starting LB at Purdue (1983-86), graduating with 375 tackles and playing on the 1984 team that reached the Peach Bowl. He also earned All-Big Ten honorable mention honors as a senior.
21. Willie Taggart, South Florida -- Taggart was a four-year starting QB at then I-AA Western Kentucky, winning All-America honors as a senior under head coach Jack Harbaugh (father of John and Jim), and twice serving as a finalist for the Walter Payton Award.
20. Will Muschamp, Florida -- Muchamp was a walk-on strong safety for Ray Goff at Georgia, but quickly earned a scholarship and ended up playing in 44 games and earning a captain role as a senior (1994).
19. Tony Levine, Houston -- Levine progressed from walk-on to three-year starter at wideout at Minnesota, catching 71 balls in three years as a Golden Gopher. Levine also played a year for the short-lived Minnesota Fighting Pike of the Arena League.
18. Justin Fuente, Memphis -- Fuente was a starting QB for the John Blake-era Oklahoma Sooners before transferring to Murray State for the final two years of his career. He won OVC Player of the Year honors and set 11 school records as a Racer before playing parts of two seasons as a backup with the Oklahoma Wranglers of the Arena League.
17. Norm Chow, Hawaii -- Chow was an All-WAC first-teamer and earned All-America honorable mention status as a guard at Utah, before playing briefly for the Saskatchewan Roughriders of the CFL.
16. Bob Diaco, Connecticut -- Diaco played linebacker for four years under Hayden Fry at Iowa (1992-95), earning all-Big Ten second-team honors and becoming a Butkus Award semifinalist while leading the Hawkeyes in tackles as a senior.
15. Bob Stoops, Oklahoma -- Stoops was a four-year starter at defensive back (1979-82) for Iowa, playing in a Rose Bowl as a junior in 1981 (a loss to Washington) and earning an All-Big Ten citation as a senior in 1982.
14. Bret Bielema, Arkansas -- Bielema worked his way up from a walk-on to a starting defensive lineman under Hayden Fry at Iowa (1989-92), and was a Hawkeyes' captain as a senior. Bielema was cut during training camp with the Seattle Seahawks in 1993, and went on to briefly play for the Milwaukee Mustangs of the Arena League.
13. Al Golden, Miami (Fla.) -- Golden was a productive tight end at Penn State (1989–91), where his highlight was a game-tying TD catch in an eventual upset of then-No. 1 Notre Dame in 1990.  A captain as a senior, Golden went on to spend some time with the New England Patriots but did not see regular season game action at the next level.
12. Mike Gundy, Oklahoma State -- Gundy was a star quarterback at Oklahoma State from 1986-89, throwing for nearly 8,000 yards and 54 touchdowns for a team that won 10 games twice with him at QB. Thanks to the dissolution of the Big 8, Gundy will permanently remain the leading passer in conference history.
11. Steve Sarkisian, USC -- Sarkisian was a two-year starting QB at BYU, earning All-WAC first-team honors for a 33-TD, 4,000-yard season in 1996. Sarkisian went on to a brief starting stint with the CFL Saskatchewan Roughriders before beginning his career in coaching.
10. Kyle Whittingham, Utah -- Whittingham was the WAC Defensive Player of the Year as a senior linebacker at BYU in 1981, and went on to play professionally in the USFL and CFL. Whittingham also wore an NFL uniform for three games, as a replacement player with the Los Angeles Rams in 1987.
9. Rocky Long, San Diego State -- Long was the WAC player of the year in 1971 as New Mexico's QB, then went on to play as a DB and return man during a fruitful career in the CFL and short-lived World Football League. Long was named a Western All-Star as a member of the BC Lions in 1977.
8. P.J. Fleck, Western Michigan -- Fleck was a star wideout and punt returner at Northern Illinois (1999-2003), including a 1,000-yard receiving season and All-MAC first-team citation in his senior year. Despite less-than-optimum size (5-10, 191), Fleck had a cup of coffee in the NFL, appearing in one game as a punt returner with the 2004 49ers. Fleck spent 2005 on injured reserve with the Niners and was released prior to the 2006 season.
7. Frank Solich, Ohio -- Solich was a star fullback at Nebraska (1963-65), earning All-Big 8 honors in 1965, when he rushed for 580 yards and averaged 5.4 yards per carry for a team that reached the Orange Bowl (losing to Alabama). Solich was pictured on the cover of Sports Illustrated the same season, after a 204-yard game against Air Force.
6. June Jones, SMU -- Jones was a double-transfer before it was fashionable, spending time at Oregon (1971–1972), Hawaii (1973–1974), and Portland State (1975–1976). It was at PSU that he made his name as a run-and-shoot QB under Mouse Davis, and would make money in the NFL as a backup with the Falcons (1977-81) and CFL Toronto Argonauts. Jones was 1-4 as an NFL starting QB, the lone win coming in the Falcons' 1978 season-opener against the Oilers.
5. Joey Jones, South Alabama -- The diminutive Jones was an All-SEC wideout under Bear Bryant at Alabama (1979-83), graduating third on the team's all-time list in TD catches. Despite his size (5-8, 165), Jones got a shot at the next level, catching seven balls for 141 yards and returning some punts for the 1986 Atlanta Falcons, in addition to a stint with the Birmingham Stallions of the USFL.
4. Kliff Kingsbury, Texas Tech -- Kingsbury threw 95 touchdown passes and for over 12,000 yards in his career at Texas Tech (1999-2002). A sixth-round pick of the Patriots, Kingsbury hung around as an NFL and CFL backup before beginning his career in coaching in 2008. Trivia: Kingsbury's lone NFL completion went to Dante Ridgeway in the Jets' 27-0 loss to the Broncos on 11/30/05.
3. Jeff Brohm, Western Kentucky -- Brohm was a Kentucky high school star and a starting QB at Louisville (1989-93) under Howard Schnellenberger, leading the Cardinals to bowl wins in his final two seasons. Brohm made money at the next level, throwing 58 passes as a backup to Steve Young with the 49ers (trivia: his lone NFL TD pass was to Terrell Owens), and was also a first-team all-XFL player with the Orlando Rage.
2. Pat Fitzgerald, Northwestern -- A linebacker and College Football Hall of Famer, Fitzgerald was in many ways the face of Northwestern's resurgence of the mid-90's, winning Big Ten Defensive Player of the Year honors twice, winning both the Nagurski and Bednarik Awards twice each, and earning consensus All-America honors in his final two seasons. Despite those accolades, Fitzgerald went undrafted in 1997, and was released by the Dallas Cowboys after training camp that season.
1. Steve Spurrier, South Carolina -- The only Heisman Trophy winner on this list, Spurrier won the honor after a senior year at Florida (1966) in which he threw for 2,012 yards and 16 TDs and helped the Gators to a win over Georgia Tech in the Orange Bowl. Mostly a backup at the next level, Spurrier went 13-24-1 as a starter in 10 seasons as an NFL quarterback with the 49ers and Bucs, and also amassed more than 8,800 yards as a punter.  
CBS Sports HQ Daily Newsletter
Get the best highlights and stories - yeah, just the good stuff handpicked by our team to start your day.
Please check the opt-in box to acknowledge that you would like to subscribe.
Thanks for signing up!
Keep an eye on your inbox for the latest sports news.
Sorry!
There was an error processing your subscription.
Everything you need to know to tune into this week's Friday night showdown

Our advanced computer model simulated Thursday's Arkansas State vs. Georgia State matchup 10,000...

Auburn might want to look into switching up the offense a bit
Three top-10 teams, including the Wolverines and Tigers, should be on alert in Week 8

Our advanced computer model simulated Thursday's Stanford vs. Arizona State game 10,000 ti...

Navy took the term GOAT a bit literally