Rating coaching hires: Petersen, Franklin moves are far from silly
It's not quantity, it's quality. Only 19 schools changed coaches, but those that did -- Washington, Penn State -- set themselves up for nice futures.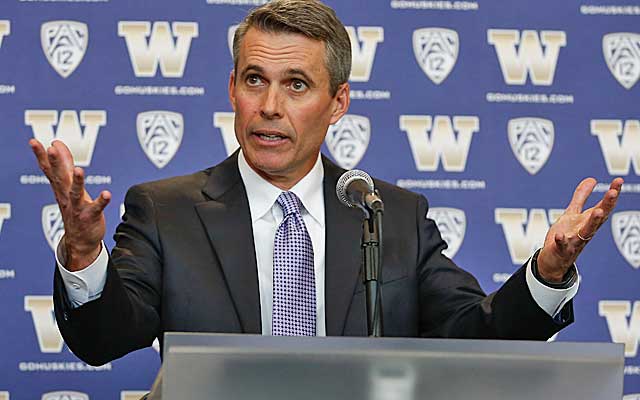 Fowler: Lessons from hiring season | Coaching carousel
It was the quietest silly season in recent memory.
Only 19 schools -- 15 percent of FBS -- changed coaches. But for the first time in 15 years, Texas Longhorns went looking, then Bobby Petrino came back to Louisville Cardinals and enlightenment reigned.
Four of the 19 openings went to African-American coaches.
Five of the new guys came from the FCS.
Chris Petersen finally left Boise. USC made a familiar -- if not altogether popular -- choice. Vanderbilt Commodores , of all programs, might be even more successful with its coaching change.
James Franklin went "home," Brian Kelly lost both of his coordinators and there will be a lot less cussing -- if not more winning -- at Eastern Michigan Eagles " data-canon="Michigan Wolverines" data-type="SPORTS_OBJECT_TEAM" id="shortcode0">.
Told you it was the silly season.
Here's how I ranked the hires …
1. Chris Petersen, Washington Huskies : By interviewing at USC and taking U-Dub, CP told the world that the BCS era is officially over at Boise. His move indicates it will be hard for the Boise State Broncos  of the world to emerge in the new playoff era.
Why?
• We're kind of numb to Cinderellas. UCF Knights  beating Baylor Bears was as good as it got in the BCS bowls last season.
• The new College Football Playoff era is going to make it more difficult for Cinderellas to emerge. The decision is now subjective for the best team in the Group of Five (MAC, Mountain West, Conference USA, Sun Belt, American) to emerge.
Petersen had maxed out at Boise State. His 8-4 record in 2013 was his "worst" with the Broncos. It was just ... time.
Washington becomes the winner in the CP sweepstakes. Look for the Huskies to rise to a new level.
2. James Franklin, Penn State Nittany Lions : There's a reason Franklin's name was attached to every opening from the NFL to USC.
The industry loves his organization, his recruiting, his energy. Penn State is the big winner. With the Nittany Lions coming out of NCAA hell, Franklin is the perfect pick. I've written it before, but with Franklin's six-year deal, Penn State is now on track to win a Big Ten title before 2020. It was hard to even think that two years ago.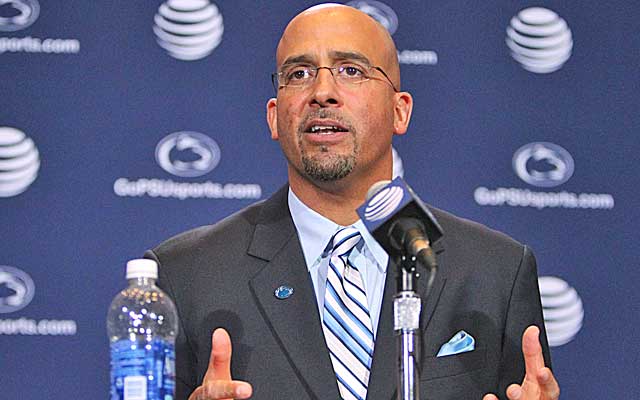 3. Charlie Strong, Texas Longhorns : Not a home run, but who was Texas going to get? Saban, Fisher, Meyer, etc. weren't coming.
In addition to getting the Horns back to title contention, Strong will have to negotiate the program's political land mines. So far, so good, after Red McCombs stuck his cowboy boot in his mouth.
Strong's crusade will speed up if he has a quarterback right off the bat. David Ash reportedly will be ready for spring practice. That's a start.
4. Derek Mason, Vanderbilt Commodores : Like Franklin, Mason seemingly could have had his pick of jobs. He chose Vandy because there is a future and there is hope. When's the last time anyone said that about Vanderbilt during a coaching change?
It's a seamless transition to Stanford Cardinal 's former defensive coordinator. The days of the Commodores being a stock exchange -- up and down -- are over. Mason had me when he said at the presser, "SEC East title, here we come," and no one laughed.
Nor should they. The roster is ready to win. There are 20 redshirts ready to move up. And Vandy will play defense.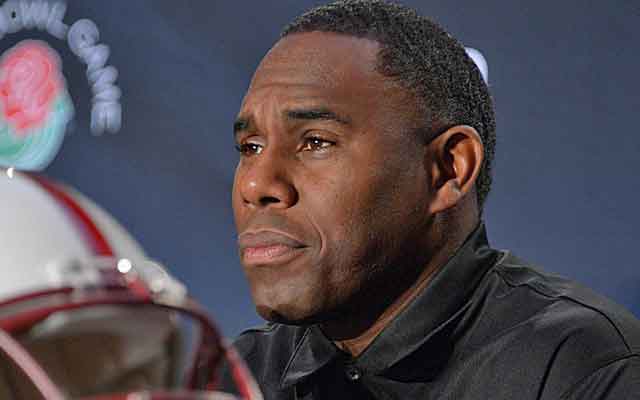 5. Bobby Petrino, Louisville Cardinals : Disclaimer: This ranking is based on the assumption that Petrino will not flirt ... with jobs and … well, you know.
AD Tom Jurich says this is a new Bobby Petrino. I trust Tom Jurich. As far as his coach, a .735 winning percentage trumps all at this point.
Going into the ACC, this hire was crucial. For as long it lasts -- ahem -- this is one of the best.
6. Bryan Harsin, Boise State Broncos : If the Broncos are going to continue their excellence, they got the right guy.
Harsin is young (37), accomplished and, as he puts it, "home." He spent a decade at Boise as an assistant before going to Texas (co-offensive coordinator) and spending one year as a head coach at Arkansas State.
This might be as close to replicating Petersen as possible. Harsin was Peterson's OC for five seasons during which the Broncos were 61-5.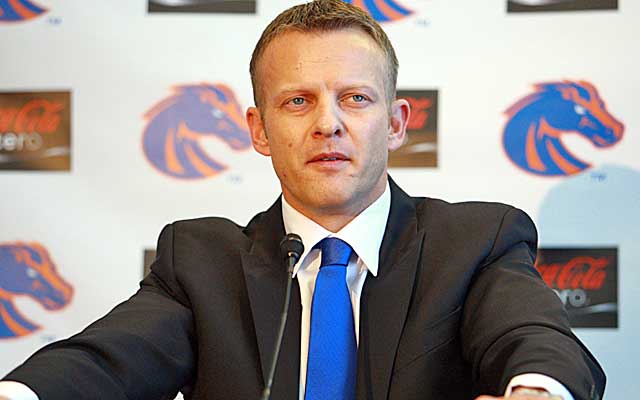 7. Craig Bohl, Wyoming Cowboys : This may be the biggest redemption story of the silly season.
Bohl was run out of Nebraska Cornhuskers , only to go down to FCS and build a dynasty at North Dakota State. The Cowboys just want to be relevant again. They will under Bohl, who will build Wyoming into an old-school, physical replica of the Bison.
It won't be flashy, but it will be successful.
8. Chuck Martin, Miami (Ohio) RedHawks : Martin begins his seventh season as a head coach -- yes, seventh -- with two national championships already to his credit.
Yes, they were all with Division II Grand Valley State, but Martin already has coordinated a BCS Championship Game offense ( Notre Dame Fighting Irish , 2012). He's glib, he's experienced, he's ready to win big again.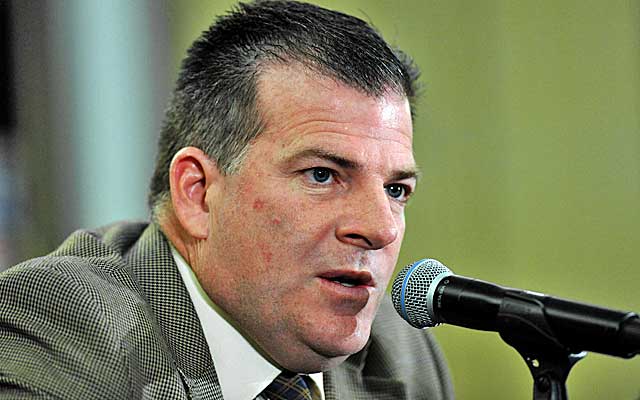 9. Blake Anderson, Arkansas State Red Wolves : Most of the world doesn't know this Blake Anderson from this Blake Anderson.
That's OK. They're both workaholics in their own way. (Cue rim shot.)
This ranking is based on karma, if nothing else. Coaching the Red Wolves assures North Carolina's former offensive coordinator some level of success. The last three coaches (Hugh Freeze, Gus Malzahn, Bryan Harsin) oversaw teams that have won at least eight games. Freeze and Malzahn coached teams that won 10. Both left after a season for the SEC. Malzahn won the league in his first season.
There's something about Arkansas State that allows it to lose successful coaches and keep winning. The only offense -- other than North Carolina Tar Heels 's -- that played at a faster tempo that I saw last season was Auburn Tigers . With their fifth coach in five seasons, history alone would tell you Arkansas State and Anderson are going to succeed. The Red Wolves have won at least a share of the Sun Belt three straight seasons.
Anderson might even stay for a second year. He has a $3 million buyout for his first two seasons in Jonesboro.
10. Steve Sarkisian, Southern California Trojans : Putting the band back together continues at Troy.
Sark is the safe choice for AD Pat Haden, but is he the right choice? Hours after popular Ed Orgeron told the Trojans he was not being retained, Sarkisian won over the players in his first meeting. That was key.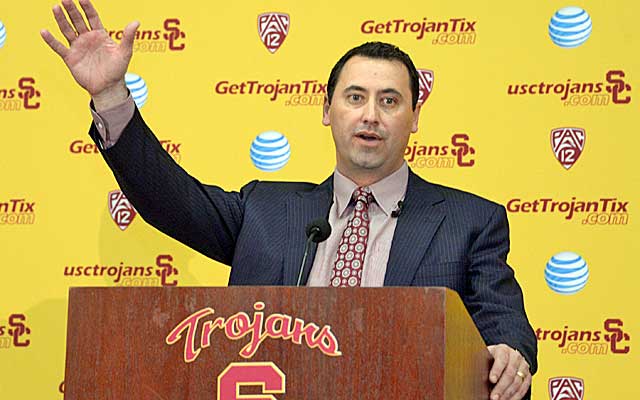 Sark will be able to coach/lure quarterbacks. Restoring USC to a championship level in a vastly improved Pac-12 is a taller order.
11. Dave Clawson, Wake Forest Demon Deacons : Clawfense arrives in Winston-Salem.
It was the perfect time for Clawson to leave Bowling Green Falcons . For Wake, the perfect candidate was available. Under Clawson, the Demon Deacons will be relevant and competitive again in the ACC.
12. Bob Diaco, Connecticut Huskies : Perfect place to start for the 2012 Frank Broyles Award winner. If Diaco succeeds, he moves up and gets a BCS job. Either way, UConn football stays outside the velvet rope of the BCS.
Their best chance in the playoff era is to win the American and hope. This program has fallen far since going to the Fiesta Bowl in 2011. Maybe that's why the Huskies didn't make the BCS cut.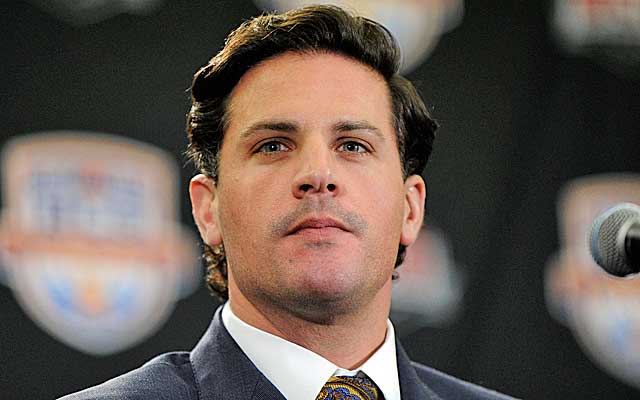 13. Jeff Monken, Army West Point Black Knights : It's one of the great mysteries of life why Army isn't more competitive for the Commander-In-Chief's trophy.
Monken figures to narrow the margin between Army and Navy Midshipmen . He's fresh off a win over Florida at Georgia Southern Eagles Southern" data-canon="Georgia Bulldogs" data-type="SPORTS_OBJECT_TEAM" id="shortcode0">, where he ran an option offense and regularly visited the FCS playoffs.
Monken fits the profile -- option coach, former assistant under Paul Johnson at Navy and Georgia Tech Yellow Jackets . If he can't get it done, who can?
14. Mark Whipple, Massachusetts Minutemen : In his first run with the Minutemen, Whipple won a national championship and went to the FCS playoffs two other times in addition to winning three Atlantic-10 titles.
That was more than 10 years ago. In the now, UMass is arguably the worst program in FBS, having gone 2-22 in its first two years in the division. The fan base -- which has to travel 92 miles to Gillette Stadium for "home" games -- has been alienated. The program looks completely unprepared for the jump up to the big time.
But Whipple is about as good a hire as the school could have made. He knows the landscape. He wants to be there. At 56, it looks like retirement job for Whipple one way or another.
15. Dino Babers, Bowling Green Falcons : Watch for a Baylor clone at BG.
Babers worked under Art Briles for four years and is an offensive guy, having coached 27 NFL receivers. Clawson left a lot behind so the Falcons will continue to be exciting.
Babers comes from Eastern Illinois, where he got the Panthers to the FCS quarterfinals.
16. Jeff Brohm, Western Kentucky Hilltoppers : The former Louisville quarterback and NFL veteran should keep the Hilltoppers near the top as they move to Conference USA.
Brohm coordinated a top-30 offense -- second in the Sun Belt -- under Petrino last season.
17. Charlie Partridge, Florida Atlantic Owls : Partridge is a respected career assistant taking over in a familiar area as a Florida native who has recruited the state. Plenty of upside here after the mess of the Carl Pelini era is cleaned up.
18. Chris Creighton, Eastern Michigan Eagles : The new coach doesn't curse and doesn't allow his players or coaches to curse.
That's a good start for a program that was embarrassed by former coach Ron English's profanity-laced tirade.
Creighton's policy will be put to a tough test. Eastern Michigan hasn't had a winning season since 1995.
19. Bill Clark, UAB Blazers : Nothing against Clark, who left after one season at Jacksonville State, but it's a question of whether UAB should even be in FBS.
The Blazers play in the shadow of Alabama and just about everything else in Birmingham. The facilities are -- to be kind -- sub-par.
How bad is it? Garrick McGee left as head coach to be Petrino's offensive coordinator at Louisville.
Mills was arguably Georgia Tech's most important player coming into the season

Hugh Freeze's phone records reportedly show another troubling pattern for Ole Miss

They aren't necessarily great teams, but they're teams I'm really interested in following this...
The Irish will wear them on Nov. 18 against Navy

The fourth-year coach of the Nittany Lions led the program to the 2016 Big Ten Championshi...

Yes, you read that right: The Bad Boy Mowers Gasparilla Bowl will be held in St. Petersbur...