Recruit: Mack Brown told Texas commitments to 'look around'
Four-star safety and Texas commitment John Bonney explained his visits to Baylor and Auburn by saying that was what Mack Brown encouraged him to do.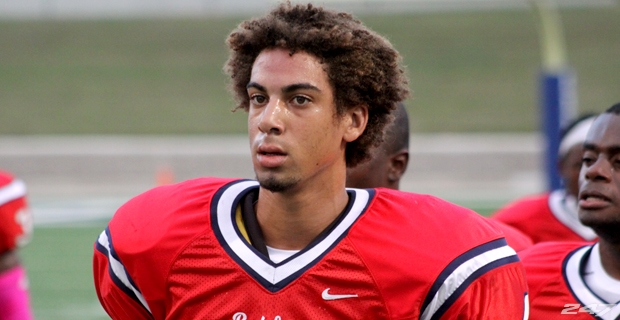 Despite resigning as Texas' football coach in December, Mack Brown hasn't really gone anywhere. He's reportedly stayed on the university payroll as a special advisor to president Bill Powers. Last week the city of Austin declared Jan. 30 "Mack and Sally Brown Day," an event covered by Texas's own official football site.
Those facts make the conversation between four-star safety recruit John Bonney -- a long-time Texas commitment -- and Houston ABC station KTRK all the more potentially awkward. In this video, Bonney says that Brown told recruits visiting during the same weekend Brown resigned they should "look around" before signing with the Longhorns:
The complete quote from Bonney:
I was at my official visit when Mack Brown resigned and he told us to go look around. [He said] he'll even talk to other coaches for you and everything because he really just wanted the best for us as players.
Bonney would go on to visit both Auburn and Baylor this month, though he says he's still firmly committed to the Longhorns and new coach Charlie Strong.
A few things to keep in mind: first, Brown's the sort of coach who really might simply want the best for the Longhorns' recruiting targets, and without knowing who his replacement might be, maybe he genuinely believed double-checking into other options would best serve them amid the uncertainty. Second, most coaches (though not all) are OK with commitments visiting other schools, since restricting them from doing so can lead to friction and uncertainty. And lastly, though Bonney doesn't seem to have any motivation here to exaggerate or distort what Brown said during his visit, until or unless Brown comments it's also possible that there was some sort of miscommunication or misunderstanding.
All that said: Given all he had put into the Longhorns program, how richly that program had rewarded him for it, and how closely he remains tied to it and the university it represents, it really doesn't seem like too much to ask -- at all -- for Brown to support that program unconditionally. And that unconditional support probably extends to telling recruits that Texas -- the school, the team, everything --will be the right place for them regardless of who happens to fill his head coaching shoes, right?
Texas hasn't had the best of months, recruiting-wise, since Strong and his staff took over. If Brown did indeed tell Bonney and other Longhorns to "look around," well, that's only one minor factor in a long list of reasons Texas might not be thriving on the trail. But should something Mack Brown did ever be an impediment to Texas's recruiting efforts rather than a boost?
The movie will zero in on former Penn State coach Joe Paterno during the Jerry Sandusky sc...

Bidding for Salaam's trophy, which the auction house says was obtained legally, ends Satur...

Locksley has been the offensive coordinator at Illinois and Maryland during his coaching c...
Many NFL-eligible juniors ignore advice provided by the league and risk going undrafted each...

Snyder died in Manhattan, Kansas, on Wednesday

Locksley joined Alabama's staff in 2016