Recruiting Five Take: Oregon in good shape for speedster
Oregon has positioned itself nicely for one of the top playmakers in the Pacific Northwest, plus Florida, Iowa, Notre Dame and Michigan State are in good position for top prospects.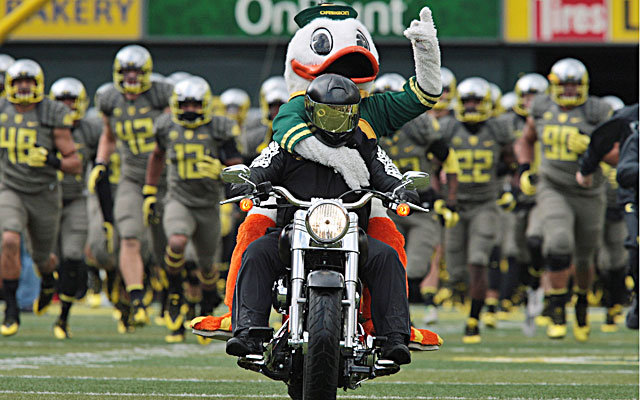 Five quick hitters from college football recruiting today ...
• Oregon is no stranger to landing elite, speedy playmakers and four-star Budda Baker (Bellevue, Wash.) is one of the best in the 2014 class. His official visit to Oregon this past weekend put the Ducks, who were already in excellent shape, in the lead for his services. According to a report from Justin Hopkins of 247Sports (VIP link), Oregon's coaches did an excellent job of making his mother, who has health concerns, feel comfortable. "They had a wheelchair out for my mom and helped her out a ton," Baker said. 247Sports Crystal Ball predicts Oregon at 88 percent with Washington at 12 percent. The health of Baker's mother and proximity to home (Bellevue is in the greater Seattle area) gives the Huskies hope to keep the the 5-foot-9, 174-pound speedster local. Watching Baker live at "The Opening" this past summer, the U.S. Army All-American is not the biggest player, but he's extremely instinctive and will make his share of plays wherever he heads, which right now is trending Eugene.
• U.S. Army All-American offensive tackle David Sharpe (Jacksonville, Fla./Providence) will announce his decision Thursday. The 6-foot-6, 288-pound, ultra-athletic Sharpe is expected to pick Florida over Tennessee and others (that's my personal prediction as well based on information obtained this afternoon). The Gators have long been the favorite, but there was some talk that perhaps he would end up elsewhere. Sources close to the situation, however, say Florida looks to be the pick.
• Quarterback Tyler Wiegers (Franklin, Mich./Detroit Country Day), a recent Rutgers de-commit, could be Iowa-bound according to the latest trends on the 247Sports Crystal Ball. The 6-foot-3, 190-pound passer is an excellent fit in the Hawkeyes' pro-style offense and is the type of heady quarterback that Iowa has made a living on over the years (similar to current starter Jake Rudock). Wiegers is the No. 5 overall prospect in the state of Michigan according to 247Sports Composite rankings. The Scarlet Knights, who have had their share of de-commits, were high on his ability and felt like they had gotten a steal.
• Linebacker Nile Sykes (Lombard, Ill./Montini Catholic) has had a big senior season and thus his offer sheet has expanded considerably. Notre Dame offered on Nov. 14 and the Irish now are trending according to 247Sports Crystal Ball. The Chicago area has historically been very good to Notre Dame and Sykes is certainly one of the Windy City's top risers in this cycle. The Irish offer is not a welcomed development for Missouri, which previously looked to be the team to beat for the 6-foot-2, 230-pounder.
• At least two college coaching staffs have raved privately about Class of 2015 running back Michael Weber (Detroit, Mich./Cass Tech), using words like "elite" to describe his ability. The 5-foot-10, 190-pounder has enjoyed an excellent junior season and in the early stages of his recruitment, Michigan State looks like the team to beat. Should he ultimately select the Spartans, he could be the next great one at that position. Weber is the No. 15 overall running back prospect in the 2015 class according to 247Sports Composite rankings. It would not be a surprise if he moves up 8-10 spots before all is said and done.
McElwain will coach receivers and help coordinate the offense for the Wolverines

Nathaniel Watson Jr. was involved in a car accident that injured a passenger in early Febr...

The honorable Tom Fornelli presides over the ASU vs. UM case
Arkansas State is seeking $650,000 for a canceled home game last September due to Hurricane...

Friday Five is tackling the big questions this week

Two unnamed players are being investigated for an incident at an off-campus apartment