Seemingly everywhere you look this college football season, high-profile officiating controversies continue to add up.
If it's not highly questionable targeting calls, it's inadvertent whistles that get mismanaged. If if's not the winning touchdown coming when a wide receiver is mistakenly ruled to have been forced out of bounds, it's the winning score on a lateral after replay misses a knee being down. The ACC and Pac-12 have suspended crews in recent weeks.
In reality, bad mistakes don't happen everywhere. Officials are human so mistakes will naturally happen. No one is perfect -- not the coaches, players or officials. Still, college football is a multi-billion dollar industry. Increasingly, the sport struggles with how to raise the standards for officiating to meet that reality -- or at least change the public's perception of poor officiating.
One veteran official from a Power Five conference, who wished to remain anonymous, said there are deep and systemic officiating problems in college football that need to be addressed.
"The accountability for officials is messed up," the official said. "Sometimes you get a high level of accountability for things you really don't deserve, and sometimes you have no accountability for things that deserve it. It's really not handled well from league to league, from incident to incident.
"You can see across the grid those officials who are in it for the right reasons and those who aren't. Our evaluation process is all over the map. It's really not that good. It appears accountability tends to rest in the eyes of how big (a mistake) gets publicly rather than doing what most organizations say and that is just say, 'This is what we expect.'"
The topic isn't going away. Officiating will be a major offseason conversation as conferences discuss ways to fix replay, perhaps eventually moving to centralized command centers. To get an idea of what's working and not working in officiating, CBS Sports separately interviewed two conference officiating coordinators (Bill Carollo of the Big Ten and Terry McAulay of the American Athletic Conference); one conference commissioner (Bob Bowlsby of the Big 12); one anonymous official (a respected veteran from a Power Five conference); and the president of the National Association of Sports Officials (Barry Mano, who founded Referee magazine).
As the scrutiny on officials increases, some people within the officiating community have fundamental concerns that focus on maintaining and recruiting quality officials, paying them enough to justify their time worked and the scrutiny, and providing appropriate accountability and transparency when mistakes happen. Others aren't as concerned about officiating compared to the public perception.
"I don't know that things are as bad as people say," McAulay said. "Social media makes it appear worse than it really is. I think officiating, in general, is very good considering how much more complex the game has become with tempo and different plays and more plays.
"I really believe the muffed punt at Michigan, the poor defense called by a coach or the wrong call made by an official is a major, major part of our game and is very exciting about sports. If every aspect of a game was perfect, I think people would turn away because the human foibles that take place are very, very important to the game. That's not trying to excuse the mistakes that are made."
Should officiating be a more professional avocation?
Full-time officials are probably never going to happen. If the NFL hasn't done it yet, then it surely won't come to college football. Mano said there aren't enough football games, unlike in basketball or baseball, for management to justify officials being full-time employees.
Said Bowlsby, chairman of the NCAA Football Oversight Committee: "In the NFL, you're talking about a relatively few number of crews, similarly in the NBA. We're managing hundreds and hundreds of games compared to 16 games on a Sunday. I don't know that we're headed there, but the comparisons with how the professional officiating programs are administrated is not really apples to apples."
Maybe not. But Carollo, who is on the new 12-member College Football Officiating Competition Committee, said college football officiating hasn't been professionalized enough to change with the times.
"I get these guys to come in and do replay training for a couple days a year. It's good," Carollo said. "I need year-round training, just like the coaches, just like the players. This is not part-time anymore. I think it's an important job and needs to be recognized like that. It's not organized that way right now. I think we can do a lot better to make it a real professional avocation."
It's already close to a full-time job for the best officials. The anonymous Power Five official estimated he spends 30 to 40 hours per week on officiating during the season in addition to his full-time job. During the offseason, he spends about 20 hours a week to study the rules. Not everybody puts in that much time, he said. Some officials gather for weekly study sessions in the offseason. Officials who care about staying sharp will attend several clinics across the country for trips they pay for out of pocket.
"If you don't spend the time, you'll suck," the official said. "If you suck in a big game, you know how much time these coaches and players spend and what it means to them. It's just a real sad thing when you see an officiating crew that doesn't have their mind wrapped around officiating for the right reason and doesn't prepare themselves to the best of their ability."
Carollo believes officiating would improve if college football applied a more professionalized approach, such as required training and higher pay.
"Now, if you quadruple the expense, are you going to quadruple the impact? Maybe not. There's a little bit of diminishing return," he said. "But we pay it like it's a part-time job. When you look at our officials today, and even at the NFL, and you look at the hours they put in, it's a little embarrassing how much they're paid per hour."
Are officials getting paid enough?
Carollo said a Big Ten official gets paid $3,000 per game, a flat fee he must use to pay for travel and hotel expenses. Every year Carollo bumps up the Big Ten pay by $100 per game, and every third year he conducts a complete analysis of the pay structure.
"I'm an official at heart and I know when people are motivated and appreciated you get better production out of them," Carollo said. "You treat them poorly, they think this isn't worth it and they wonder, 'Why am I doing this when I get yelled at, my name is in the paper and after taxes, I'm not making much? Does it say stupid on my forehead?' But we do it because we love it. It is a concern if we're getting the right talent in officiating. It's not always money. We can improve it if we're smart about it and get better people, younger people, athletic people -- whatever it may be."
The anonymous Power Five official said officials routinely believe they are "grossly underpaid" given the impact they have on games. When this official does his taxes each year, he realizes he gets paid less than a dollar an hour for his officiating work.
"Even if the model stays the same, make it worth the while," Carollo said. "They're doing it right now for $20,000 to $30,000 (a year). If you pay a little bit more and ask a little more time from them and have required training, it would be better. They're doing it on the back of a napkin, really."
Bowlsby declined to reveal how much the Big 12 pays officials, saying it's proprietary information and that they are "well compensated." McAulay said the American pays each official between $2,200 to $2,500 per game, an amount they use for travel costs.
"I think every official is underpaid at every level given the pressure and scrutiny, but there's only so many dollars to go around," McAulay said. "At what point would you see measurable improvement? I tend to think that regardless of whether they're full-time, part-time or the salary goes up, there's going to be this outcry week after week that this call and that call is missed."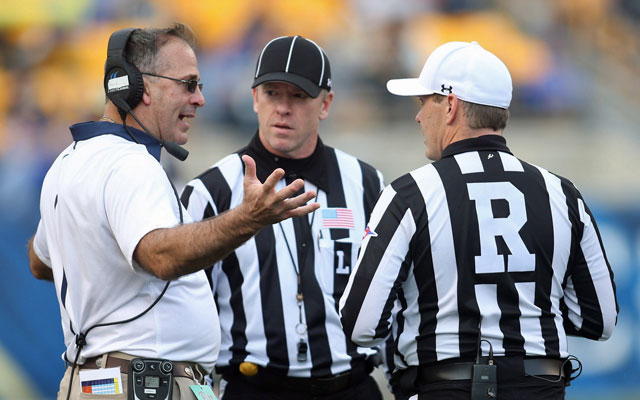 Are the right people in replay?
The vast majority of college football replay officials are ex-referees. Carollo questions if these are necessarily the right people reviewing calls upstairs.
"I think my last five replay hires are lawyers," Carollo said. "They're really smart people. (Replay officials) have to be really smart and understand the rules. I think we can get much better people up there. I've got a 24-year-old guy working Division I replay who has never officiated before and he's one of my top replay guys."
McAulay said one of the biggest problems with replay is how little training exists to determine who is good and who is bad at reviewing calls. McAulay has pushed for years to have the on-field referee -- often considered the best official in a crew -- to make the replay decisions.
"This replay job doesn't exist at the lower levels," McAulay said. "It's a very difficult job to fill. How do you know they will handle the pressure? Can they officiate well with video or is it gut instinct? I've seen the best on-field officials become poor replay officials and vice versa and everything in between. I'm not really sure what the answer is. People say younger. My NFL replay official that's been with me for years is 80 years old and he may be the best there is."
Keep in mind, replay is still young in college football. The Big Ten first experimented with replay in 2004 and the NCAA adopted it for all conferences in 2006. The NFL used replay on a limited basis from 1986-91 and then discarded it before bringing replay back in 1999.
"I think we can learn from the NFL and they can probably learn a bit from us," Bowlsby said. "I think what feeds we get, what vantage points we have and how many camera angles are involved in which games are all issues, and they determine whether or not cameras create an advantage or a disadvantage. We're looking at a bunch of different approaches to it and where that lands is not clear at this point."
Increasingly, replay in pro sports has moved to centralized command centers, a concept that commissioners and officiating coordinators are discussing. The NFL, NHL and MLB use people stationed in a command center to make replay calls. The anonymous Power Five official wants this in college football.
"Let's take our three best replay officials in our conference and put them in one spot," the Power Five official said. "We've got the technology to centralize it and we can limit the number of officials, which limits the inconsistency from one to the other. Right now, everyone knows there's a wide range of inconsistency from one replay official to another."
Mano, the president of the National Association of Sports Officials, said replay has become a "super judgment" that isn't necessarily always better than the call on the field.
"I think we better take a deep breath and look at the replay system and where it's going," Mano said. "We should be looking for indisputable video evidence. I've been in the Major League Baseball command center. You look at a play and we're arguing in the command center. That's just substituting a judgment on the field with a judgment in the command center, and it turns out sometimes it's not much better."
How should accountability and transparency be handled?
There was some satisfaction from the public when the ACC suspended the entire Miami-Duke officiating crew and replay officials for two games due to mistakes they made on the Hurricanes' winning touchdown. But within the officiating community, there is deep concern about suspensions.
"We do this all the time where we suspend an entire crew for something one or two people are responsible for doing," the Power Five official said. "There were people who were suspended who had nothing to do with it, yet they sit for a week for something someone on their crew did. If a player or coach does something wrong, the entire team doesn't sit."
Mano said officials want management to apply a consistent policy instead of suspending crews for public relations purposes. For instance, the Eastern College Athletic Conference recently suspended a crew that made controversial calls in a Division III game between St. Lawrence University and Hobart.
"Really? Where the hell is this going?" Mano said. "There's no replay during that game, but they take those raw (video) materials and look at it and say, 'This crew screwed something up.' You're out there for 40 to 50 bucks a game and you want to subject yourself to this kind of (expletive)? The vast majority of mistakes made are reasonably made. It doesn't mean they're not wrong, but what do you want us to do?
"I'd like to use what we use in a court of law. Is what the official did reasonable? It might turn out to be factually wrong because of technology, but was it unreasonably done? If the answer is yes, there needs to be some penalty. But if it passes the reasonable test, even though it's wrong, then shut up and stand up to the rest of the world. This is going to cause college referees to think about unionizing."
(Carollo said college officials, who are independent contractors, would face legal difficulties to unionize.)
The NBA has started publicizing last two-minute reports of calls or no-calls in games which are within five points at the two-minute mark. The report identifies the time of the call, what got called, the committing player, the disadvantaged player, whether the call was correct or not, and a brief comment. Mano said officials are fine with these reports and they "play to the entertainment package" of fans who have opinions about officiating.
Said the Power Five official: "Why not do that in college football? I love transparency. I love being held accountable. If you do that, I know I have to be held accountable to my peers. I love that. I think if we were way more transparent with the public, people would understand us better. Everyone's fearful of that and I don't understand why."
McAulay, the American officiating coordinator, questioned the purpose of the NBA two-minute report.
"I'll tell you what I learned when I first took this job and I think you saw this in the Duke-Miami situation in spades," he said. "When you start identifying various errors that give an indication that the wrong team won the game because of officials' mistakes, you have indeed tainted the win of the other team. Football is played for 60 minutes and maybe a mistake late seems important, but mistakes are made throughout. Who's to say if not for a mistake at the beginning of the fourth quarter, the game couldn't have turned into a blowout?"
McAulay said the American is exceptionally transparent to its customers -- that is, coaches and schools. Generally, he said, the American is careful on what it says publicly, but coaches and schools know when mistakes occurred and if officiating crews get suspended.
"That's transparent enough for now, and maybe the times will change soon and we have to go that direction," McAulay said. "There was a coach on the West Coast a couple years ago that was espousing for a ref to get in front of the microphone like he does after a game to explain himself. My thought was, 'When my referee gets a bonus for $2.5 million, then we might consider that.' But for the relatively small fee he makes, I don't see why it's appropriate to put him through that additional pressure or attention."
Is there a pipeline for future college officials?
Approximately 60,000 to 70,000 people are amateur football officials in America, according to the National Association of Sports Officials. Mano said that's slightly down from five years ago and it's getting harder to convince people to officiate. On the association's surveys, the No. 1 reason people cite for why they stop officiating is unsportsmanlike behavior at games.
"We don't see (recruiting problems) firsthand at our level, but there are some troubling signs in terms of the front end of the funnel," Bowlsby said. "There aren't as many young men and women that want to be officials. I am concerned for the future of it because if we don't have quality people coming in the front side of the funnel, we won't have quality people at our level before long."
Carollo, the Big Ten coordinator, said recent attacks on officials in high school and youth sports could cause more people to avoid officiating. Most notably, two Texas high school football players intentionally attacked an official during a play. The incident gained widespread national attention.
"We don't get a lot of people raising their hand saying, 'I want to be a ref to get yelled at by 50,000 people,'" Carollo said. "Let's start with the people we have now. Can we fix what we have right now? Then we need to step back and say, 'In five years and 20 years, what are we going to do?'
"People say, 'Why don't you make it full-time? Why not have a national Division I officiating group not tied to the conferences and pick the best 100?' There's something to be said about all of this. Can we make it better? It's important. We have to try."
Follow and read more from Jon Solomon on Facebook and Twitter.