Reinstate UAB football? New study shows both options are 'viable'
Report: Bringing back football, bowling and rifle could help UAB capitalize off interest. Initial assumptions about staying in C-USA were flawed.
Reinstating football, bowling and rifle at the University of Alabama at Birmingham or keeping them cut are both "viable" options, but reviving the sports could create a "unique opportunity" to capitalize off the interest, according to a new study commissioned by UAB.
College Sports Solutions produced a 97-page report that became the third — and presumably final — study examining life with or without UAB football. The study, first reported on by AL.com, offers material that football supporters will undoubtedly cling to as justification to reinstate the sport.
Ultimately, though, the decision rests with UAB president Ray Watts, who has said he will announce whether the teams are reinstated by June 1. Watts said last week UAB would consider the CSS report's findings, "along with other important, valuable and mission-critical data" when determining if the sports are reinstated.
Conference USA leaders meet June 8 to formally vote on the future of UAB, which has spent five months mired in local blowback over the decision. C-USA has communicated to UAB that it won't keep the Blazers unless they change their decision last December to kill football. C-USA bylaws require members to play football.
CSS, which interviewed dozens of UAB employees and had access to school financial records, said there was a "flawed assumption" that UAB could stay in C-USA without football. That was evident in the first study by CarrSports Consulting — a document heavily used by UAB last December to justify killing football — since it had no financial model without C-USA revenue.
"Consequently, it appears there were no definitive discussions with other conferences regarding possible membership" before the Dec. 2 announcement to end football, CSS wrote.
Reinstating or killing the sports "are viable in very different ways," the CSS study said. "The real questions become what does UAB want to be in intercollegiate athletics, in whose company does it want to stand, and what is the best fit to match the mission and vision of the University?
"We do believe that if a decision is in fact made to reinstate these sports, it would foster much good will and stimulate a substantial amount of spiritual and financial support from alumni, donors, ticket holders, friends, students, faculty and the community. It could create a unique opportunity, not only through that support, but also through unprecedented positive national attention to the University."
The longstanding belief by many UAB supporters is that some members of the University of Alabama board of trustees, which oversees UAB, never fully supported football and decided to have it killed. Board member Ron Gray recently said to AL.com that he told Watts more than a year ago that university resources for athletics were better suited to develop a top-10 basketball program.
The CSS report said it assumes Alabama's board would "look favorably upon [the] return of football, bowling and rifle if such a return were made with sound financial considerations and plans." CSS cited interviews with Watts and Finis St. John, who chairs the board's athletics committee, as its reason for that assumption.
The study was conducted by CSS president and former San Diego athletic director Jeff Schemmel; former Ohio State/Oregon/Minnesota AD Rick Bay; former New Mexico/Houston AD Rudy Davalos; former Washington State/Arizona/UNLV AD Jim Livengood; former Collegiate Consulting chief operating officer Heather Ould; and sports business reporter Kristi Dosh.
Different financial projections
CSS projected UAB's loss of C-USA revenue will easily surpass $2 million per year and the gap will widen given the growth of the College Football Playoff and other C-USA revenue streams. UAB's current budget when including football is competitive within C-USA and its use of student fees and subsidies "is not extraordinary within Conference USA or compared to other peer universities," CSS wrote.
If football started back in 2016, CSS projected UAB would lose $18.9 million over a five-year period. CarrSports' previous study projected UAB would lose $25.3 million over five years through 2019, not counting an incremental capital investment of $22.2 million needed to improve the football facilities.
Without football, CSS projected an initial $3.5 million loss for UAB in 2016, and a total five-year loss of $4.2 million. By contrast, CarrSports projected a net gain of about $2 million for UAB over five years without football. CSS noted that UAB will have nearly $2 million in penalties for the 2016 fiscal year because of canceled football games.
UAB has said it wants teams to compete in the upper half of C-USA. This year, UAB's $29.2 million budgeted revenue ranks fourth in C-USA, almost $4 million above the conference median, according to the study. UAB ranked within the top-half of the conference for corporate sponsorships (fifth) and fundraising/donations (seventh) and last in football gate receipts. (UAB's 2014 football attendance was the second-largest increase in the country.) UAB's budgeted football expenses ranked 10th in C-USA for 2014-15 and $446,000 below the median.
Over the past three years, UAB's season ticket sales in football have ranged between 6,233 to 7,008. C-USA's median ranged from 6,911 to 8,789 season tickets over that period, leaving the Blazers ranked between seventh and ninth within the conference.
Study: Facilities need improvement, but no indoor field
One major source of discontent for UAB football supporters is that the athletic department regularly carries no annual debt service. CSS said most, but not all, FBS schools carry debt.
"The question of whether or not there is room within the annual athletics budget for debt service payments on other investments is a critical question that must be answered prior to incurring the debt," CSS wrote. "Our projections will provide latitude to UAB in this regard, depending upon the revenue and expense path chosen."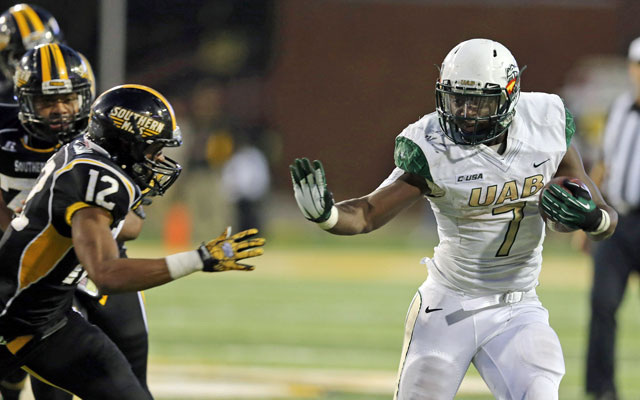 CSS said the UAB football coaches' offices were "less than impressive" and "in need of improvement" if football returns. The study said there's a "strong need" to improve team meeting areas and at least some of the practice area needs artificial turf for wet weather. CSS said it was told that up to $775,000 has been raised by donors to install turf.
However, CSS stopped short of supporting UAB football coach Bill Clark's goal of an indoor practice facility with coaches' offices. The estimated price tag is $12 to $15 million. CSS concluded "this was not an essential piece needed in conjunction with the reinstatement of football — that it was a longterm desire rather than a short-term need."
The Alabama board of trustees ended UAB's attempt to build an on-campus stadium in 2011. CSS said it was "impressed" with UAB's past feasibility report of a new stadium that could produce revenue. The past report could be used in any future study for an on-campus stadium if football is reinstated, CSS said.
CSS wrote that Legion Field, UAB's home stadium, is "somewhat lacking and worn in infrastructure" with "exceptional grass surface and good general seating." CSS said Legion Field's capacity is probably too big for UAB, but noted that Clark said "he can win" at Legion Field and that the city of Birmingham is willing to work toward a future lease agreement with UAB that benefits the university more financially.
Intangible impact of no football
The study pointed out that more than $7 million of UAB's $29 million budget for athletics is directly paid back to the university for tuition, room and board, books and other fees. This is apparently in reference to a previous study by consultant OSKR, which believes tuition costs have no impact on the true costs of a scholarship. OSKR, which UAB initially hired to conduct this latest study, determined the university was "ill-advised" to drop the three sports.
CSS found that almost 60 percent of UAB's athletes on the three eliminated teams are from out-of-state, compared to about 20 percent of the general student body from out-of-state. "Although not critical, this represents a significant loss of out-of-state tuition revenue that would not be replaced," CSS wrote.
The impact of losing football remains a controversy at UAB. Donors say they have more than $7.5 million in pledges if football returns and the student government has shown interest in raising student fees to provide additional funding.
CSS said one unidentified UAB head coach provided emails documenting the loss of multiple recruits and donors due to the negative impact of discontinuing football. In one case, a $1 million pledge was discontinued, although CSS said "the last information we received is that relationships with these donors is being repaired."
The CSS study also reflected the frustration UAB coaches and athletic administrators had about the university's "zero-based budgeting," in which coaches were encouraged to embed wish lists into their budget numbers. "Those inflated numbers, the coaches felt, were then utilized to build expense budgets that showed numbers that were not sustainable," CSS wrote.
CBS Sports HQ Daily Newsletter
Get the best highlights and stories - yeah, just the good stuff handpicked by our team to start your day.
Please check the opt-in box to acknowledge that you would like to subscribe.
Thanks for signing up!
Keep an eye on your inbox for the latest sports news.
Sorry!
There was an error processing your subscription.
The lawsuit claimed Colorado officials failed to properly address domestic violence claims...

The cupboard isn't bare in Tuscaloosa

Media members are now on the record for their picks for the 2018 season
Bubba Cunningham believes his coach's remarks were 'poorly communicated'

Ball is still life for Malzahn, but he now has some space to be himself as he leads the Ti...

Swinney is happy to have his current quarterback situation