Report: $700,000 raise pushes Steve Spurrier salary to $4 million
Steve Spurrier's third-straight 11 win season will reportedly pay off in a raise of $700,000 per year.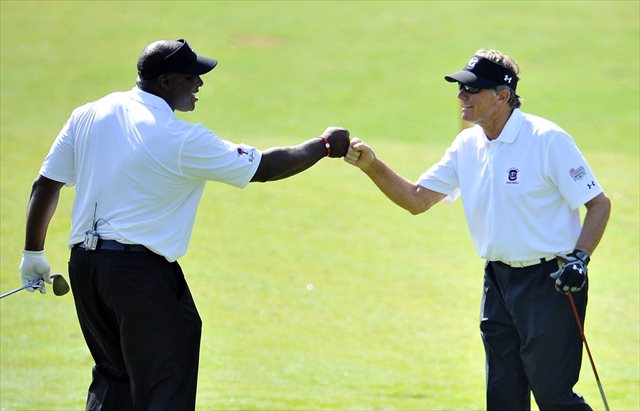 The Ol' Ball Coach is about to have a good bit more money to stash in the ol' bank account.
The State reported Wednesday that the South Carolina Board of Trustees will approve an extension and raise for Steve Spurrier Thursday that will increase his salary by $700,000, boosting his annual pay from $3.3 million to $4 million. Per The State, the raise will make Spurrier the nation's ninth-highest paid coach.
The Spurrier raise is part of a package of across-the-board extensions and pay increases for the Gamecock coaching staff in the wake of the team's third consecutive 11-win season. According to The State, the Gamecocks' total coaching salaries ranked ninth in the SEC entering this offseason.
Though Spurrier has frustratingly been unable to get South Carolina back to Atlanta since the Gamecocks' lone SEC Championship Game appearance in 2010 -- 2013 marked the third straight time Carolina has watched a team they beat head-to-head take the division title -- the three straight finishes in the AP top 10 represents an unprecedented level of sustained success for the program.
So no, it's no surprise that Spurrier and his assistants are being rewarded for their strong work. (For an entertaining list of what the OBC can get for his $700,000, visit Garnet and Black Attack.) The only question is whether the success can continue without the likes of Connor Shaw and Jadeveon Clowney -- and if it doesn't, how long the money can keep the 68-year-old Spurrier out of retirement.
The Terps will wear these against Indiana on Oct. 28.

The coach of the Eagles isn't here for no science talk

These are the teams that are getting too much -- or too little -- love before the season
The Crimson Tide start atop the AP Top 25 poll for the second straight season

Taking a close, detailed and opinionated look at the ACC a week before the start of the 2017...

There are new names to learn every season, and here are five to keep an eye on from the AC...