Report: Alabama RB Kenyan Drake charged with entering crime scene
According to the Tuscaloosa News, Alabama running back Kenyan Drake was arrested early Saturday after ducking under police tape at a crime scene.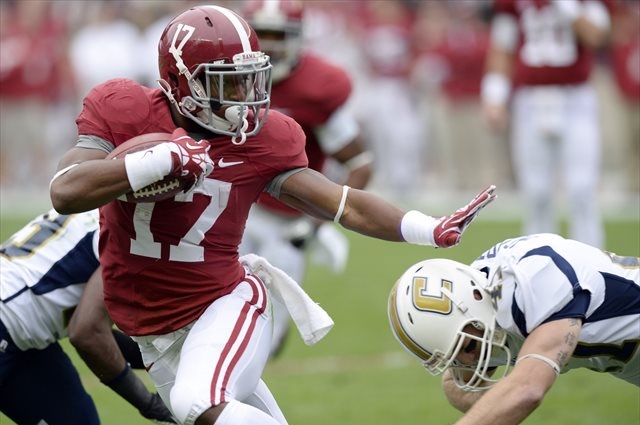 More college football: Jon Solomon | Dennis Dodd | Jeremy Fowler | Latest news
Alabama junior running back Kenyan Drake was reportedly arrested early Saturday morning in Tuscaloosa and charged with obstructing governmental operations.
According to the Tuscaloosa News, Tuscaloosa Police spokesperson Sgt. Brent Blankley said that Drake ducked under the tape at a secured crime scene in downtown Tuscaloosa and attempted to reach his car, which was inside the secured area -- despite police orders to the contrary.
Officers reached Drake before he reached his car and arrested him. The obstructing governmental operations charge is a Class A misdemeanor, with the News reporting that as of 10 a.m. CT Saturday Drake remained in Tuscaloosa County Jail on a $1,000 bond.
As a sophomore in 2013, Drake finished second on the Crimson Tide with 694 yards rushing and eight touchdowns.
Alabama has not yet commented on the arrest. 
Florida State and Alabama will face off in a highly touted game in Atlanta in Week 1

Five NC State freshman were punished team rules and code of conduct violations

Browne was benched in favor of Darnold early into last season
There are new names to learn every season, and here are 14 to keep an eye on from the SEC

Taking a close, detailed and opinionated look at the SEC a week before the start of the 2017...

Rosier will start for the Hurricanes in their opener against Bethune-Cookman