Report: Anthony Jennings to start for LSU
Anthony Jennings will reportedly start at quarterback for LSU against Wisconsin.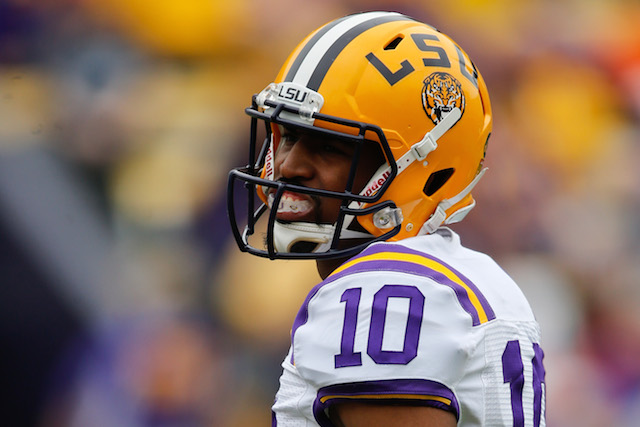 It seems we may finally have a starting quarterback for LSU.
The Times-Picayune is reporting that Anthony Jennings will start for the Tigers against Wisconsin Saturday night. Jennings had been in a battle with freshman Brandon Harris in camp, but apparently a strong week of practice leading up to the opener is what pushed Jennings ahead in the competition.
Jennings certainly had the experience edge over Harris, as he played in nine games for LSU last season, though he only threw 29 passes for 181 yards, a touchdown and an interception. Jennings did replace Zach Mettenberger in LSU's regular season finale against Arkansas and then led a 99-yard touchdown drive to help LSU escape with a 31-27 win over the Razorbacks.
His lone start came in the Outback Bowl, in which LSU beat Iowa 21-14, but Jennings completed only seven of his 19 passes for 82 yards and threw an interception. He was also sacked four times four times in the game, but he did rush for a touchdown.
Of course, just because Jennings is going to start the game, that doesn't mean that Brandon Harris won't see the field. You have to think that if the competition during camp was close enough that it was just decided in the last week that Miles would consider using the four-star recruit should Jennings get off to a rough start.
Ross Bowsher claims KSU was well aware of his certification status during his employment

Find out which of your favorite team's players are among the nation's best entering the 2017...

Rosen, a junior, will be eligible for the upcoming NFL draft
Texas A&M has to be better defensively to stand a chance in the SEC West

A letter indicated that there is a growing awareness of the persistent problem in college...

The series will follow the Navy football program throughout the 2017 season