Report: Attorneys say Franklin spoke to alleged rape victim
Attorneys for former Vanderbilt player Brandon Vandenburg filed a motion to dismiss the rape charges against their client claiming, among other things, that James Franklin contacted the alleged victim.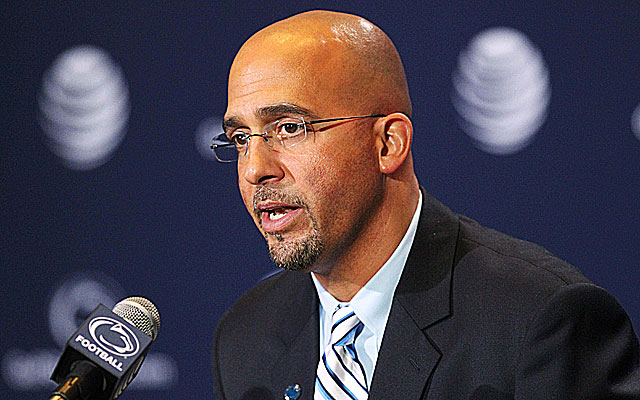 On Franklin's hire: Dodd: Wrong move for PSU | Doyel: Right coach, right place
The Tennessean reported Tuesday that defense attorneys in the Vanderbilt football rape case have filed a motion to dismiss the case -- a motion that claims, among other things, that now-Penn State coach James Franklin contacted the alleged victim shortly after the incident.
According to the filing, Franklin and then-Commodores strength and conditioning coach Dwight Galt -- now also at Penn State -- contacted the victim during a medical examination four days following the alleged rape, to assure her "they cared about her because she assisted them with recruiting."
The filing claims that at an unspecified point, Franklin had asked the victim to "get fifteen pretty girls together" for a team of recruiting hostesses because "all the other colleges did it."
When reached by phone by the Tennessean, Franklin declined to either hear the allegations or comment. Penn State and Vanderbilt also declined comment to the paper.
Franklin later issued a prepared statement through Penn State.
"The allegations that I did something wrong are simply not true," he said. "I have cooperated fully with the authorities in this matter but, out of respect for the legal process, I am not able to comment any further."
The motion was filed by attorneys for Brandon Vandenburg, the former Commodore who along with teammates Corey Batey, Jaborian "Tip" McKenzie and Brandon Banks was charged with five counts of aggravated rape and two counts of sexual battery last August. Former Vandy wide receiver Chris Boyd pleaded guilty to misdemeanor charges of misleading the police investigation into the incident in exchange for testimony against his former teammates.
The motion argues for a dismissal (or a reprimand of prosecutors) over the defense's claim that evidence provided to the defense by prosecutors during the discovery phase was missing "crucial and material information to the defense ... [that] was destroyed or not preserved." That evidence reportedly includes thousands of messages, texts and calls from the victim's phone; texts and calls between the victim and Vandenburg; texts and phone records from Franklin, Galt and associate director of athletics Kevin Colon; and many other records.
Vandenburg attorneys first filed a motion in November 2013 seeking texts and phone records from Vanderbilt coaches.
Rhoads led Iowa State to three bowl games in seven years as head coach

The Georgia middle linebacker is one of the most valuable players in college football

Explaining my 2017 Heisman Trophy ballot and Jackson's tremendous season
Mayfield is the sixth Oklahoma player to win the Heisman since its inception

The Heisman Trophy will be presented to the best college football player this season

Army topped Navy for the second straight year in an absolute thriller in Philadelphia