Report: Auburn president making preparations for Gene Chizik's firing
According to a report from AuburnUndercover.com, Auburn president Jay Gogue is making preparations to fire the embattled Gene Chizik.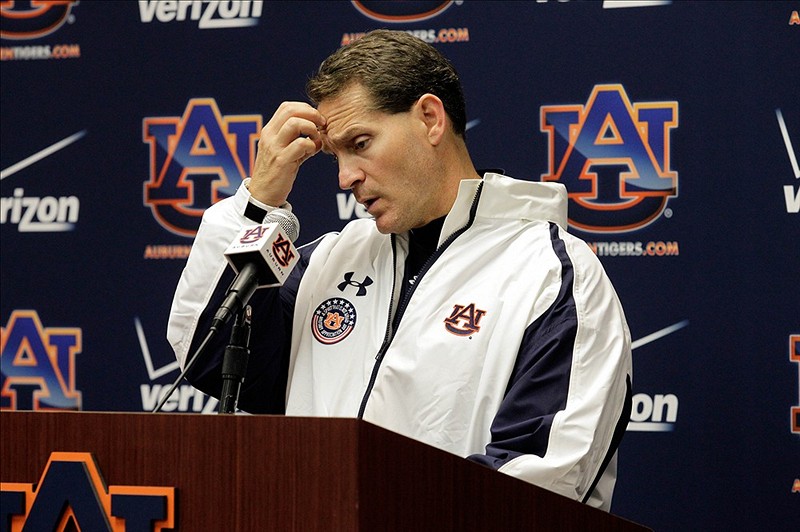 Gene Chizik's 2012 season has left Auburn fans scratching their heads. (US Presswire)
It looks more likely than ever that Gene Chizik will not survive his Auburn team's disastrous 2012 to coach again in 2013.
The Sporting News revealed details of a Thursday report from 247Sports affiliate AuburnUndercover.com (pay link), one citing multiple sources claiming Auburn president Jay Gogue has told members of the school's board of trustees that he is making preparations to fire Chizik.
Though the final decision on Chizik has not been made, the report states Gogue intends to form a committee to help with the search for Chizik's replacement, a search that could begin "within days after the end of the season should the decision be made that Chizik will not be retained."
The only potential candidate named by the sources was (somewhat surprisingly) Louisville offensive coordinator Shawn Watson.
The report indicates that embattled Auburn athletic director Jay Jacobs will remain in his current position but that executive associate athletic director Tim Jackson -- who helps oversee the football program -- will be reassigned.
Gogue issued a statement on Oct. 25 that "the football program will be evaluated in an objective, thorough and professional process" at the close of the 2012 season but he has had no other public comment on the Tigers' 2-7 record, one that will likely lead to the program's worst season since 1952.
Chizik's dismissal would represent an unprecedented fall from grace for a coach only two seasons removed from winning a national championship. That the gears are already turning toward his departure is hardly unexpected given the Tigers' abysmal performance this season. Despite returning a wealth of 2011 starters, the loss of offensive coordinator Gus Malzahn has left the Tigers at 116th in the FBS in total offense. Among SEC teams, only Kentucky is outgained by a wider margin per play than the Tigers' mark of minus-.79 per-snap. Barring a miraculous upset vs. Georgia on Saturday or Alabama in the season finale, the Tigers will finish 3-9 and 0-8 in the SEC.
The possibility of those miracles likely represents the only reason that Gogue's decision isn't final yet. But without Chizik pulling off one of them, it's now next to impossible to imagine him coaching on Auburn's sideline next season.
CBS Sports HQ Daily Newsletter
Get the best highlights and stories - yeah, just the good stuff handpicked by our team to start your day.
Please check the opt-in box to acknowledge that you would like to subscribe.
Thanks for signing up!
Keep an eye on your inbox for the latest sports news.
Sorry!
There was an error processing your subscription.
The lawsuit claimed Colorado officials failed to properly address domestic violence claims...

The cupboard isn't bare in Tuscaloosa

Media members are now on the record for their picks for the 2018 season
Bubba Cunningham believes his coach's remarks were 'poorly communicated'

Ball is still life for Malzahn, but he now has some space to be himself as he leads the Ti...

Swinney is happy to have his current quarterback situation