Report: Big Ten earned record revenue, Delany paid $2.8M
The Big Ten's federal tax return showed a record $315 million in revenue, 'USA Today' reported. Big Ten commissioner Jim Delany earned a record salary.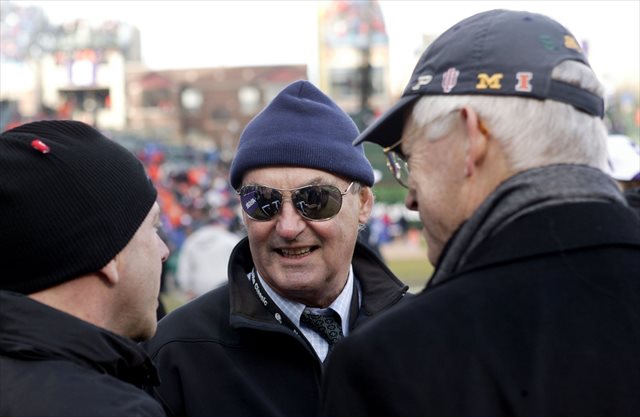 Once again, financial records have shown that however serious the Big Ten's issues on the football field vs. the rest of BCS-level college football might be, they don't stem from a lack of monetary muscle.
USA Today reviewed the league's federal tax return for the fiscal year ending June 30, 2012, and reported Thursday that the return showed a record revenue of $315 million -- some $42 million more than the SEC reported for its fiscal year ending Aug. 31, 2012. Thanks in no small part to the Big Ten Network's continued success, that number represented an increase of more than $50 million over the league's 2011's revenues.
Of course, that the Big Ten trumped the SEC in terms of 2012 revenues isn't exactly news; early reports showed the SEC's team-by-team distribution lagging behind the Big Ten's by nearly $4.5 million per team. (SEC partisans will point out that for many teams, much of that gap can be closed by third-tier local media rights, which each school is allowed to sell individually.)
What might raise eyebrows is that the Big Ten's teams aren't the only ones benefiting financially from the uptick in BTN profits. Commissioner Jim Delany earned a whopping $2.8 million in compensation for the calendar year 2011, the return disclosed -- some $1.2 million more than the $1.6 million hauled in by Mike Slive.
There's some serious disclaimers to apply here, though. One is that the fiscal year that ended in June 2012 began in June 2011 -- nearly a full two years in the past, a time period during which plenty could have (and has) changed. (Budget projections show the Big Ten is expecting to distribute $25.7 million in 2013, an increase of just over $1 million per school despite Nebraska claiming a full league share for the first time. A figure for an SEC payout has not yet been reported.) A second one is that both Delany's and Slive's salaries quoted here were the product of retention bonuses that may or may not apply in 2013. And a third, most obvious one, is that whatever the Big Ten's financial advantages, they're likely to be slimmed or dissolved entirely once the SEC Network is fully operational.
But none of that changes the bottom line. As long as the Big Ten Network continues to thrive, the Big Ten has the financial wherewithal to challenge the rest of the BCS on the football field. Now it's about the much more difficult matter of taking that windfall and actually doing it.
Stay with us all day Saturday for updates and highlights from Week 4 of the 2017 season

It didn't count on the scoreboard, but it counts in our hearts

SEC races kick into high gear with some fun matchups that will shape the landscape of each...
These are the best bets to make in Week 4 including Florida-Kentucky and Oklahoma State-TC...

Top-ranked Alabama hits the road to take on upstart Vanderbilt in Nashville on Saturday

Byron Murphy reportedly sustained a foot fracture in practice