Report: Bo Pelini miffed about Dominic Walker's decommitment
According to new Auburn commitment Dominic Walker, Nebraska's coaches were none too happy he won't be signing with the Huskers.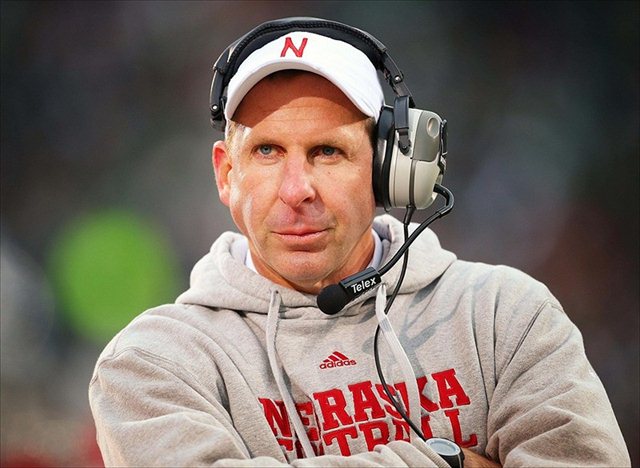 Bo Pelini reportedly told a decommitting recruit, 'Best of luck, you're going to need it.' (US Presswire)
If the account from new Auburn commitment Dominic Walker is accurate, the fact that he's also a new Nebraska decommitment didn't go over well at all with Cornhuskers coaches.
A senior at Orlando's Evans High School and three-star wide receiver at 247sports, Walker told the Orlando Sentinel he phoned Nebraska coach Bo Pelini and other staff members Friday to tell them he would be signing with Auburn, after having been committed to the Huskers since Dec. 30.
"It was a very tough decision. They were [mad]. They were very mad," Walker said." But I thought I had to call them like a real man should.
"But yeah, they were mad. Coach Pelini said, 'Best of luck, you're going to need it.' "
Nebraska receivers coach Rich Fisher was also unhappy with Walker's decision.
"Coach Fisher said, 'I can't believe you,' " Walker said. "It was really awkward."
Although those comments are harsh, there are several reasons to suspend any sort of judgment on the Nebraska coaches, starting with the fact that these may not be exact quotes; it's Walker's version of events being represented, and because Pelini and Co. can't comment on specific recruits, they can't refute that account if they think it's inaccurate.
On top of that, there's no doubt some strong emotions are involved anytime a recruit switches schools -- especially with only days to go before signing day -- and even if the remarks attributed to Pelini and Fisher are accurate, they weren't knowingly made in a public forum.
In short: We're still a long way away from reaching Les Miles and Gunner Kiel territory here.
But that doesn't mean saying whatever "mad," "awkward" words the Huskers coaches used -- and "best of luck, you're going to need it" comes across as pretty doggone mad -- was anything like a good idea. As much as Walker's change-of-heart must sting, he's still a high school senior trying to make the best of his college decision. Auburn only entered the picture after the school's coaching change, and represented a chance for Walker to play closer to home and alongside a high school teammate. It hurts for the Huskers, but isn't that recruiting?
It's also worth remembering Walker wasn't required to contact the Nebraska coaches at all -- he said he felt he needed to do the right thing after switching his commitment from Vanderbilt to Nebraska in less transparent fashion -- and that his story may force future recruits to reconsider bothering to tell Pelini at all. (It can even be argued it could cause recruits to think less positively about committing to Nebraska in the first place.)
Pelini already has a reputation for letting his emotions get the better of him when things don't go well, and this incident won't help that image at all.
The Alabama QB has a new look after the Tide claimed another national title

Young was injured during Miami's Orange Bowl loss to Wisconsin

The movie will zero in on former Penn State coach Joe Paterno during the Jerry Sandusky sc...
Bidding for Salaam's trophy, which the auction house says was obtained legally, ends Satur...

Locksley has been the offensive coordinator at Illinois and Maryland during his coaching c...

Many NFL-eligible juniors ignore advice provided by the league and risk going undrafted each...