Report: Booster gave money to Mississippi State freshman Will Redmond
A 7-on-7 coach from the Nashville area told a radio show that he saw a booster give money to Mississippi State freshman defensive back Will Redmond and that former receivers coach Angelo Mirando was aware of the transaction.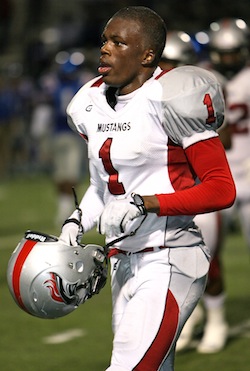 Mississippi State freshman Will Redmond is yet another athlete from Memphis that the NCAA is investigating. (Chris Evans/MaxPreps)
A Nashville 7-on-7 coach told a radio show in Mississippi and, later, The Clarion-Ledger that he witnessed a booster give Mississippi State freshman defensive back Will Redmond about $200.
The coach, Byron De'Vinner, has talked with NCAA investigators looking into the matter and said on the Mississippi-based radio show Head to Head that he saw a "handshake" between a booster and Redmond that involved passing money and that former Bulldogs receivers coach Angelo Mirando was aware of the transaction.
"Will Redmond is a kid that was basically taken advantage of by a booster and by an assistant coach," De'Vinner said on the radio show.
"But did I physically see inappropriate benefits? Yes, I did," he said, adding that the booster said he mailed Redmond a jacket and "lined up some other things" according to the report.
Mirando resigned less than two weeks before the season started on August 19 but has not responded to any media requests. According to a school-issued statement following a Clarion-Ledger request, the program had been working with the NCAA to examine a "potential recruiting irregularity."
According to the most recent report:
An MSU booster was found to have had "impermissible contact" with a recruit and may have engaged in other NCAA rules violation, according to documents provided to The Clarion-Ledger on Aug. 28. The booster refused "multiple" requests by MSU's compliance department to be interviewed by an NCAA representative, according to a letter dated July 13 and written by MSU's outside counsel. The name of the booster was redacted in three documents, including two emails.
Redmond was rated as the 142nd player in the class of 2012 by MaxPreps coming out of Memphis East High School in the spring. The talented athlete verbally committed to the Bulldogs in August of 2011 but also considered signing with Georgia, Tennessee and several others.
According to a Yahoo! Sports report on Wednesday, De'Vinner said he received a complimentary stay at a golf resort while Redmond was on his official recruiting visit to Mississippi State. He added that the booster, Robert Denton Herring, had arranged for the room in a violation of NCAA rules and that Mirando knew of the arrangement.
NCAA investigators have been looking into several Memphis-area players over the past few months. Auburn freshman running back Jovon Robinson was recently ruled ineligible and investigators are examining how his high school transcript was altered among other things.
Kelly led Oregon to a national championship appearance and is an innovator in the game

This week's AP Top 25 college football rankings remained largely unchanged

Mora went 46-30 since joining UCLA in 2012, taking the Bruins to four bowl games
There should not be too many changes to this week's college football rankings

Elsewhere, the top 12 remains the same in this week's college football rankings

Lane Kiffin turned around FAU remarkably fast and has the Owls in the C-USA title game