Report: Cal QB Zach Kline to transfer to Oregon State
Redshirt freshman quarterback Zach Kline will reportedly transfer within the Pac-12 North.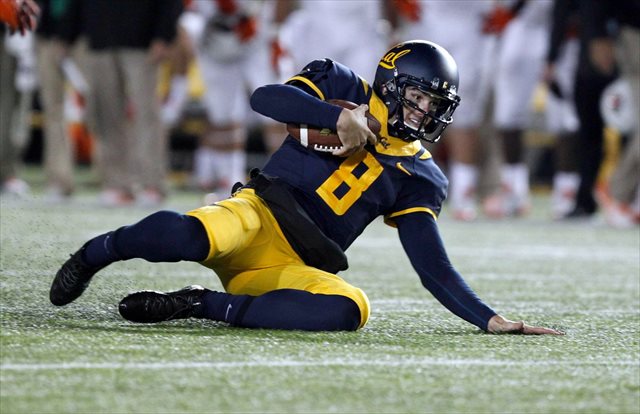 Cal quarterback Zach Kline's reported transfer destination may raise some eyebrows in the Pac-12 North.
The Portland Tribune reported Monday night that the redshirt freshman from Danville, Calif., has told Oregon State's coaches that he intends to play for the Beavers. Per the Tribune, Kline plans to attend junior college during the spring semester, sit out the 2014 season, and be eligible for the 2015 campaign.
Kline lost the Bears' starting quarterback battle to true freshman Jared Goff at the start of Sonny Dykes' debut season in Berkeley, and told the Bay Area News Group earlier this month he would explore a transfer.
"I just think from what the coaches have told me, I have a better opportunity somewhere else," Kline said. "They put it to me straight and in a professional way, which I appreciate ... It's clear that Jared's the guy. They told me, 'If you want to start, you should go somewhere else.'"
But if the hatchet sounds buried in that conversation, following through on his plans to go to Corvallis might dig it back up. Kline was a highly coveted recruit in the class of 2012, ranked as the No. 2 pro-style quarterback in the nation and the No. 47 prospect overall. 
Though Kline never started a game in the Bears' disastrous 1-11 2013 campaign, he came off the bench for seven apperances, completing 52.4 percent of his 82 passes for 5.4 yards an attempt and a 3-to-4 touchdown-to-interception ratio.
Despite those iffy numbers, Klines' recruiting pedigree suggests that he could still offer Oregon State's passing game a major boost come 2015 -- one that could make Dykes' efforts to dig Cal out of the Pac-12 North cellar just that little bit more difficult.
McElwain will coach receivers and help coordinate the offense for the Wolverines

Nathaniel Watson Jr. was involved in a car accident that injured a passenger in early Febr...

The honorable Tom Fornelli presides over the ASU vs. UM case
Arkansas State is seeking $650,000 for a canceled home game last September due to Hurricane...

Friday Five is tackling the big questions this week

Two unnamed players are being investigated for an incident at an off-campus apartment