Report: Charles Sims to look at WVU, Cal after transfer restrictions
Former Houston tailback Charles Sims is restricted from transferring in-conference or in-state and could reportedly look at Cal or West Virginia.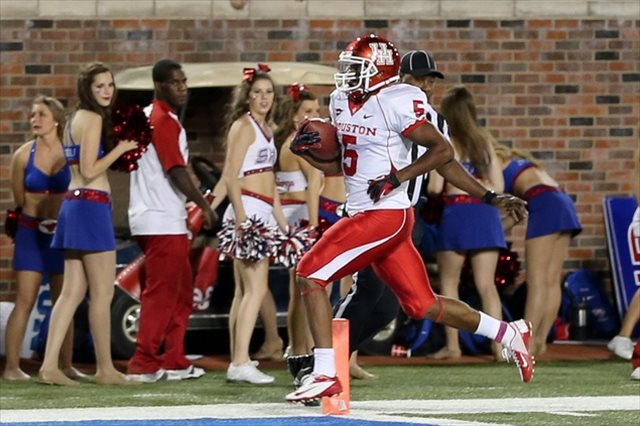 Houston tailback transfer Charles Sims might be forced to look further afield to play out his final year of eligibility after transfer restrictions placed by the Cougars.
ESPN's Joe Schad reported Thursday that the Cougars' three-time leading rusher "has been told" by the school that he cannot transfer "to any school in AAC, any school on Cougars' 2013 schedule or any team in state."
Per Schad, Sims had been "widely speculated" to be favoring a transfer to Texas Tech but will now consider either Cal or West Virginia -- schools with coaches (Sonny Dykes and Dana Holgorsen, respectively) that run offenses similar to Houston's Air Raid-inspired attack.
Sims announced his departure from Tony Levine's program in May, saying he had not yet decided whether he would transfer or enter the NFL's Supplemental Draft. But Schad reported that Sims, who flirted with the possibility of entering the 2013 draft, still wants to improve his stock heading into 2014.
Sims leaves Houston with 4,077 total yards and 37 touchdowns, having led the team in rushing in 2012, 2011 and 2009, despite battling injuries in multiple seasons. It remains unclear what motivated Sims' decision to leave the program after saying in January that he would return.
Restrictions similar to those imposed by Houston (recently imposed on transfers like Oklahoma State's Wes Lunt and Maryland's Danny O'Brien) have drawn criticism as being unfair to players, though the Cougars and Levine may get something of a pass since all three groups of schools named -- UH's conference mates in the American Athletic Conference, their recruiting rivals in Texas and schools on future Cougar schedules -- represent teams with which Houston is in direct competition.
The junior will take the snaps for the defending national champions in 2017

MetLife Stadium is about 10 miles away from where the World Trade Center buildings once st...

The Terps will wear these against Indiana on Oct. 28.
The coach of the Eagles isn't here for no science talk

These are the teams that are getting too much -- or too little -- love before the season

The Crimson Tide start atop the AP Top 25 poll for the second straight season