Report: Clemson WR Sammy Watkins to enter draft
Not a surprise, but Clemson star wide receiver Sammy Watkins will reportedly enter the 2014 NFL Draft.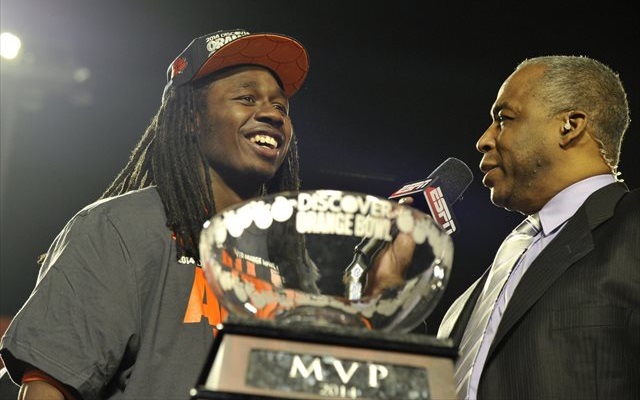 Anyone who saw Sammy Watkins rip Ohio State for 16 catches, 227 yards, and a pair of highlight-reel touchdowns in the Orange Bowl must have known a senior season at Clemson wasn't likely. And according to reports, the All-American receiver will officially make his junior season his last in short order.
Multiple reports, including from Yahoo Sports, have the Fort Myers, Fla. native going pro after three mostly spectacular seasons at Clemson .  Watkins finished 2013 with 101 receptions for 1,464 yards and 12 touchdowns.
The 6-foot-1, 205-pound Watkins is universally expected to be one of the first receivers off the board -- if not the first -- in the draft, with both the latest CBSSports.com mock drafts slotting him at the No. 7 pick to Tampa Bay. From Rob Rang's scouting report from the Orange Bowl:
A more dynamic athlete than former teammate and Houston Texans' 2013 first round pick DeAndre Hopkins, Watkins caught his passes on a variety of routes, including quick screens to take advantage of his ability to make defenders miss in close quarters, deep passes due to his acceleration and jump balls to highlight his leaping ability and hand-eye coordination ...

Every college football team in the country uses screen passes to get the ball into the hands of their top playmaker in space. Most teams rely on blocking to free their athlete. Watkins showcased the vision to follow his blockers when they were in position but rather than wait, he often simply caught and ran in one fluid motion, consistently catching a fast Ohio State defense flat-footed. This wasn't a demonstration of lethargy or poor coaching by the Buckeyes, instead it was a lesson for scouts that Watkins' engine has a nitro burst.
Watkins leaves Clemson with 3,391 receiving yards and 27 receiving touchdowns. 
Locksley joined Alabama's staff in 2016

Saban reportedly wants to hire Freeze, but there may be things keeping that from happening

Florida State-Miami will be on Oct. 6, and the Seminoles will play Clemson on Oct. 27
Weis Jr. was an offensive assistant for the Atlanta Falcons in 2017

Lott is joined by three current athletic directors and will serve a three-year term

These are the top guys every school is still chasing