Report: Cowboys, Cotton Bowl form nonprofit to bid on college football championship
Jerry Jones sets his sights on college football's unclaimed title game.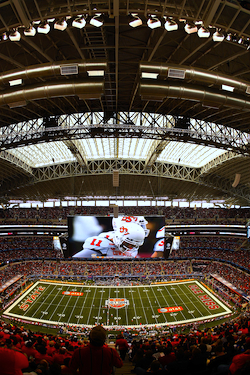 Jerry Jones has come a long way from his days as a fortune-seeking Arkansas wildcatter, but between awkward cameos, weird commercials and drunken rants, the man still appreciates a good land rush when he sees it. And now that a four-team playoff is all but certain, there is no more fertile, unclaimed territory in sports than the evolving college football postseason.
According to Chuck Carlton of the Dallas Morning News, the crown jewels of Jones' sporting empire – the Dallas Cowboys and their palatial lair, Cowboys Stadium – are already in the process of joining with the Cotton Bowl to form a new non-profit entity with the explicit goal of bidding on a national championship game. (No word on whether the subsequent bid will include the promise of an oil well.) If so, the move supports the assumption that the event will travel among several sites on a rotating basis, like the Final Four and Super Bowl, and that competition for the distinction is going to be every bit as fierce.
To date, the mere prospect of a championship game has caught the eye of assorted politicians, businessmen and other rich folk in Detroit (Ford Field), Indianapolis (Lucas Oil Stadium), Jacksonville (Everbank Field), Tampa (Raymond James) and St. Louis (Edward Jones Dome), all of which – like Cowboys Stadium – have experience hosting conference championships and/or bowl games. And those are just the cities we know of because someone there has thought to mention it to a reporter: We can probably assume that the usual suspects in Atlanta, Houston and New Orleans are going to join the fray, if they haven't already in quieter fashion. And let's just toss New York in the mix, too, because they just built an oppressively expensive new stadium up there and why not New York? Rich folk in New York are always interested in a piece of the action.
If you want a piece of the action, of course, you'll have to resign yourself to betting on which site actually lands the first game in (presumably) January 2015. The odds-on favorite, frankly, must be Cowboys Stadium: Jones' personal Taj Mahal is extravagant, still relatively new, climate-controlled, centrally located on an East-West axis and has already gone out of its way to establish itself as a destination for major college football games. There was the seating snafu at the Super Bowl, but how tough a fix can that be? A few million, tops. As with everything else he's ever pursued, if Jones wants it badly enough, everyone else might as well get in line.
The Alabama QB has a new look after the Tide claimed another national title

Young was injured during Miami's Orange Bowl loss to Wisconsin

The movie will zero in on former Penn State coach Joe Paterno during the Jerry Sandusky sc...
Bidding for Salaam's trophy, which the auction house says was obtained legally, ends Satur...

Locksley has been the offensive coordinator at Illinois and Maryland during his coaching c...

Many NFL-eligible juniors ignore advice provided by the league and risk going undrafted each...