Report: Cowboys Stadium to host inaugural playoff championship
Cowboys Stadium will be the site of the first College Football Playoff championship game, ESPN has reported.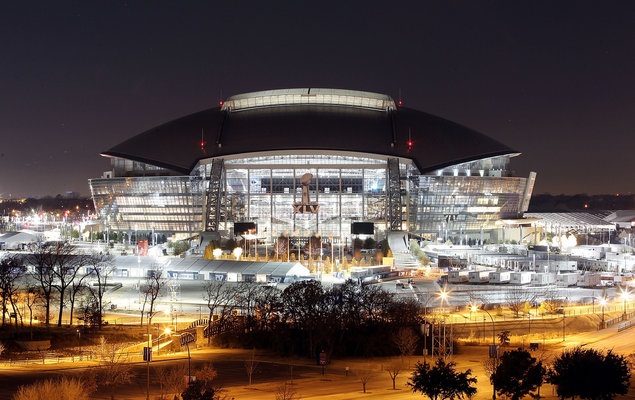 The name of the new college football playoff -- the "College Football Playoff" -- has caught many fans and pundits by many surprise. The reported site of the College Football Playoff's first championship game will not.
ESPN reported Tuesday night that Cowboys Stadium in Arlington, Texas will host the inaugural playoff championship in January 2015. The game will be played Monday, January 12, and host the winners of the playoff's first semifinals, to be played New Year's Day.
"JerryWorld" has been the heavy favorite to host the first playoff championship since the former BCS first announced that it would open bidding on the game to any site that wished to, a la the Super Bowl, regardless of any bowl affiliation or college football history. CBSSports.com reported this week, however, that Tampa had also made a serious charge at winning the bid; a source told ESPN that the decision between the two "was closer than a lot of people thought it would be."
ESPN also reported that -- as widely expected -- the Rose and Sugar bowls will host the playoff's inaugural semifinal games, with the Fiesta, Cotton and Chick-Fil-A bowls joining the Rose, Sugar and Orange in the six-bowl semifinal rotation. All six games are expected to be played each year on New Year's Eve and New Year's Day.
The College Football Playoff may have underwhelmed in its first official day of existence when it came to its name. But the burgeoning reality of a winner-take-all four-team tournament means that come Jan 12. two years from now, no one will much care.
Leach wants a rally outside Texas Tech's stadium for $2.5 million he believes he is owed

It's the beginning of the end for a number of teams with College Football Playoff hopes

Every season has early surprises, but which ones are most capable of finishing the job?
Our computer model simulated every Week 8 college football game 10,000 times with surprising...

The bye weeks means there's more time for Smart to hit the recruiting trail

The Cowboys and Longhorns look to stay in the Big 12 title hunt on Saturday